For an ordinary city dweller, there are many disadvantages in such ecovillages, because everyday amenities here can differ significantly in terms of comfort. The presence of certain conditions depends on the owner of the site, his preferences and financial capabilities. As a rule, ecovillages are based on agricultural land, that is, practically in a bare field. It is difficult and expensive to carry out centralized communications there. As far as I know, the maximum they do is fill up the roads and sometimes draw electricity (what is the difference between an ecovillage and a village). And then because of the latter, disputes always arise, because not everyone has that kind of money, and it violates certain concepts of settlements, for example, autonomy and aesthetics. On the other hand, if there is centralized electricity in the house, then all household issues are easily implemented with the help of technical devices, progress allows. And for me, it is better to invest once and extend the power line, if possible, and only then save on other devices. And if an autonomous one is used, then the spending will be on equipment more, and all sorts of nuances will appear. But in any case, you can create urban conditions in an open field, if you have money and desire.
Since a person is not fed up with common household amenities, people in ecovillages do not settle at all to create supercomfortable conditions. So we decided to check whether we would like it if we complicate life, but give nature, sun, fresh air and water from a well. We described our impressions in the article Why is it worth leaving for the village and ecovillage. Of course, people here are still doing their homework, planting plants in the garden, going on holidays and organizing all kinds of seminars. This is also an important part of life, but it has not yet been possible to test it. And at the moment we were only interested in being in nature due to ecology and raising a son, the rest is secondary.
The content of the article
Roads
The main element of the infrastructure is the road inside the settlement and from it to the asphalt. As a rule, the road is made everywhere, and here it was too. We did it recently, finally got together, chipped in and made it. A very useful thing, now we our car we pass in any weather 🙂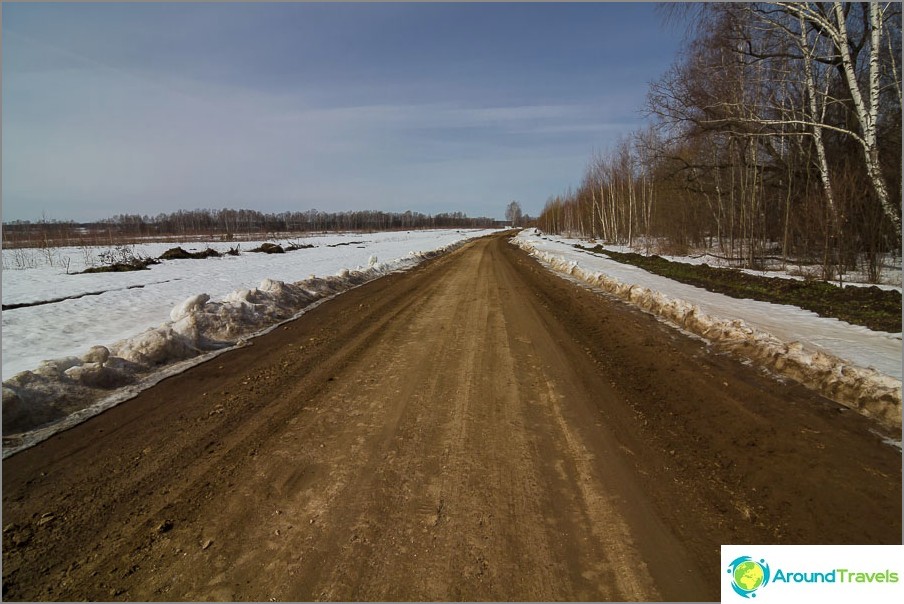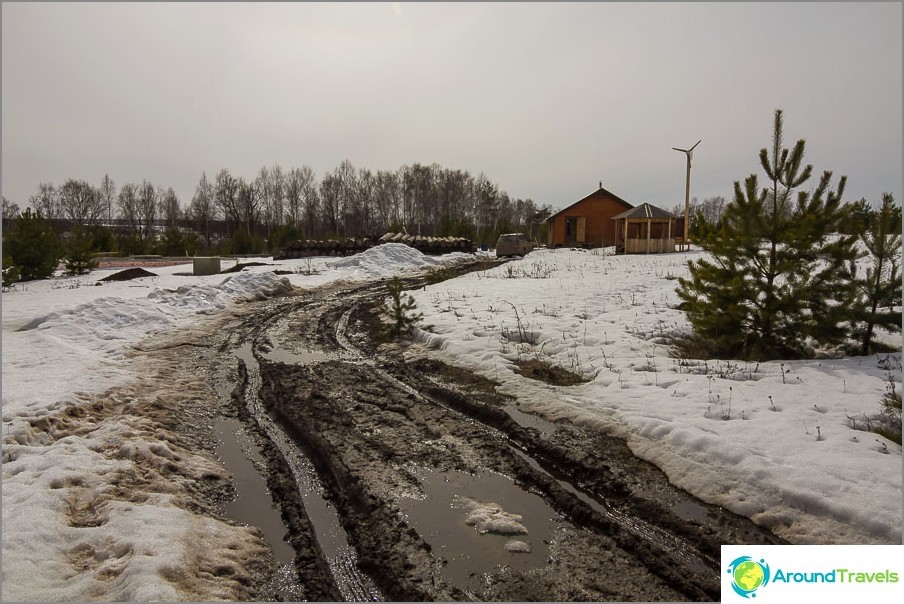 I don't need to write anything about the dirt at the entrance, it's a superficial glance and snobbery. I do not like? So drive a couple of dump trucks with rubble and fill it up. Why didn't the guys do it? Without a clue, maybe it suits them, because their jeep is passing by calmly, and in muddy roads you will not walk along the entrance, but along small paths. Or maybe because their site is only a couple of years old, and they only built a house six months ago, and there are so many cases that it is not up to the road now.
Heating
The heating here is stove, and the stove is metal, slow burning. If it is completely filled with wood, then it will be heated all day. As it turned out, the heating process is not at all burdensome with pre-prepared firewood (you can buy it, not make it yourself). And from her such warmth is pleasant when there is a dubak or chilly weather outside. You can sit nearby and warm yourself, which does not occur to you to do next to the battery in the apartment, or in the evenings you can look at the fire dancing inside (this stove has a very large door, everything is clearly visible). It's strange, there was a lot to do here, which you won't do in the city and don't even think about it.
Only one thing bothered in terms of heating - a large vertical range of temperatures. It is still cold near the floor, but the face is already hot, and it turns out that it is impossible to drown any further, and the child cannot crawl on the floor. It was like this somewhere: at face level 25, on the floor 19, that is, somewhere between 5-6 degrees of difference, versus 2-3 degrees in an apartment. The problem is partially solved by puzzle mats, but in general, the floor needs to be insulated more seriously than is customary, and tempered so as not to be sensitive to such temperatures. Our other friends, 10 minutes from this house, have a warm floor and a large brick oven ...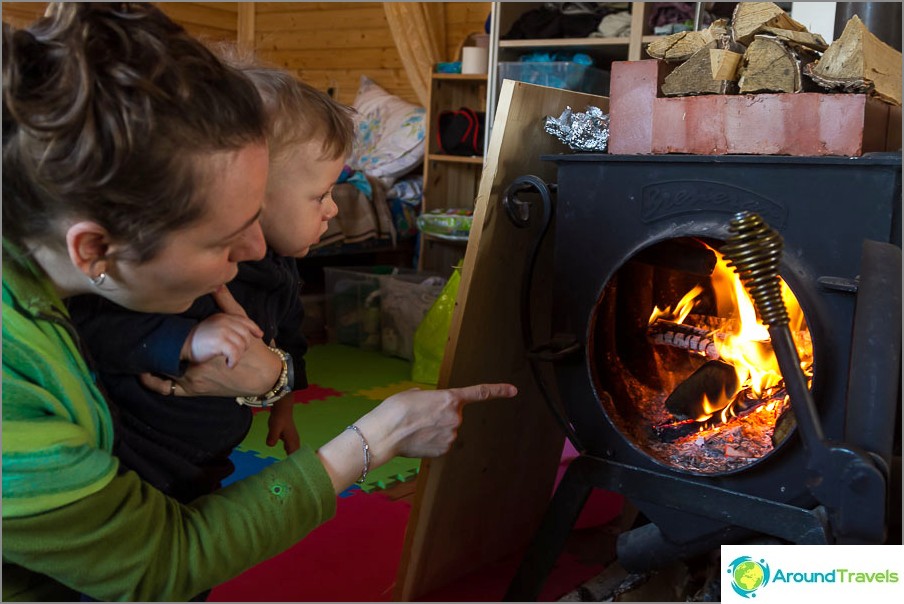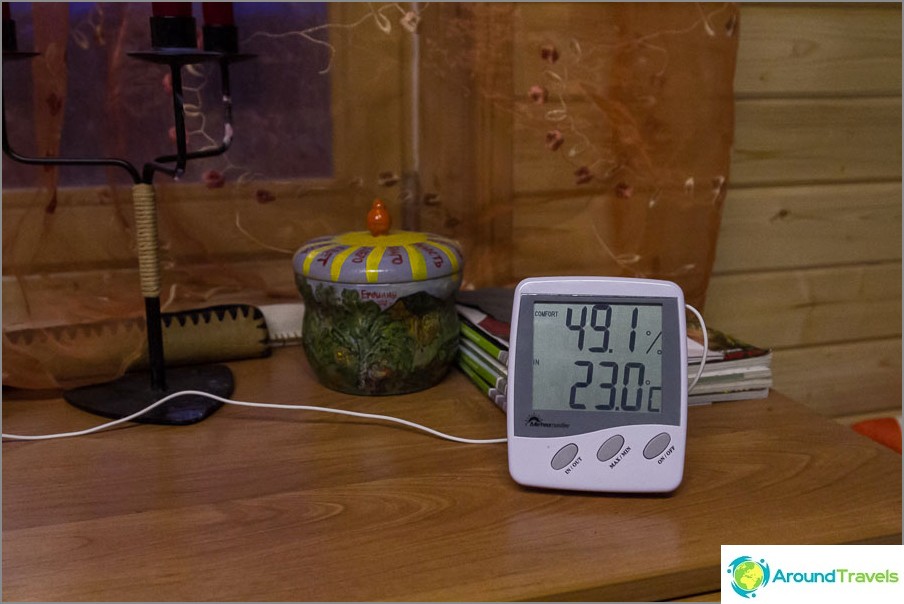 By the way, the stove is fireproof, the required distances from the walls, which are also closed with non-combustible panels, are observed. Wooden boards near the stove are our life hack so that Yegor doesn't get burned.
Electricity
The children have autonomous electricity, the main source is two solar panels and a windmill. The windmill is some kind of low-power, but in sunny weather, and it is not particularly needed, unless, of course, household appliances are used a lot. Actually, if the autonomous power supply system is simple, then it usually has a small power, and there are restrictions on the power of devices or their simultaneous number.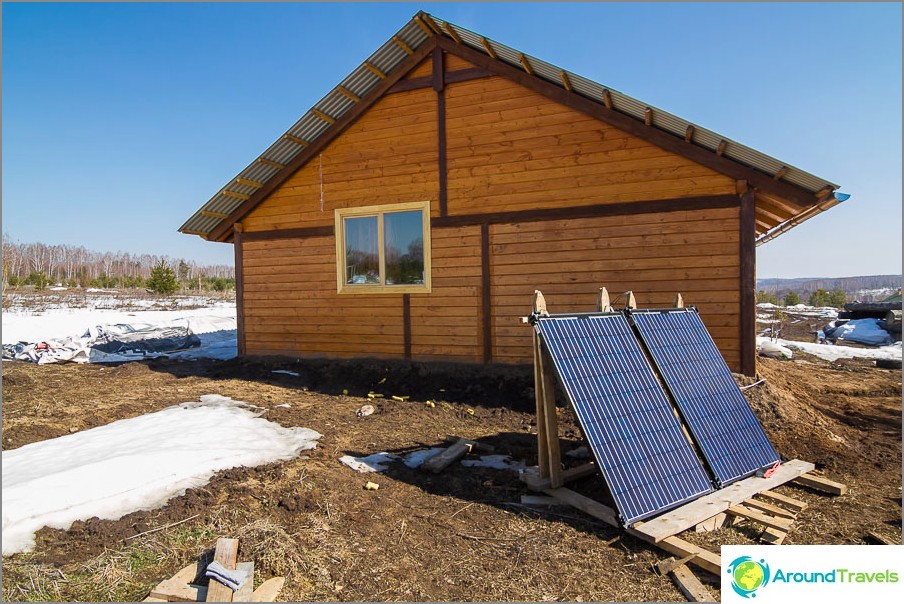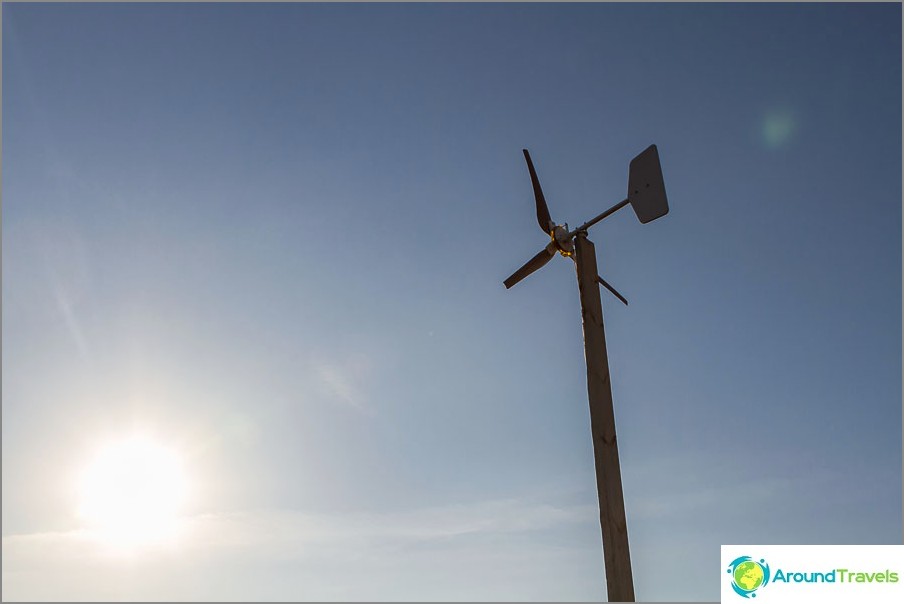 We mainly used only a laptop and chargers for phones and tablets. I also needed a blender and mixer a couple of times a day. The light here is made of LED strips, very bright and economical, although it was turned on for a very short time, for some reason I wanted to go to bed much earlier. And to use a washing machine, a water pump, or an electric tool, they started a gasoline generator, it took literally a minute.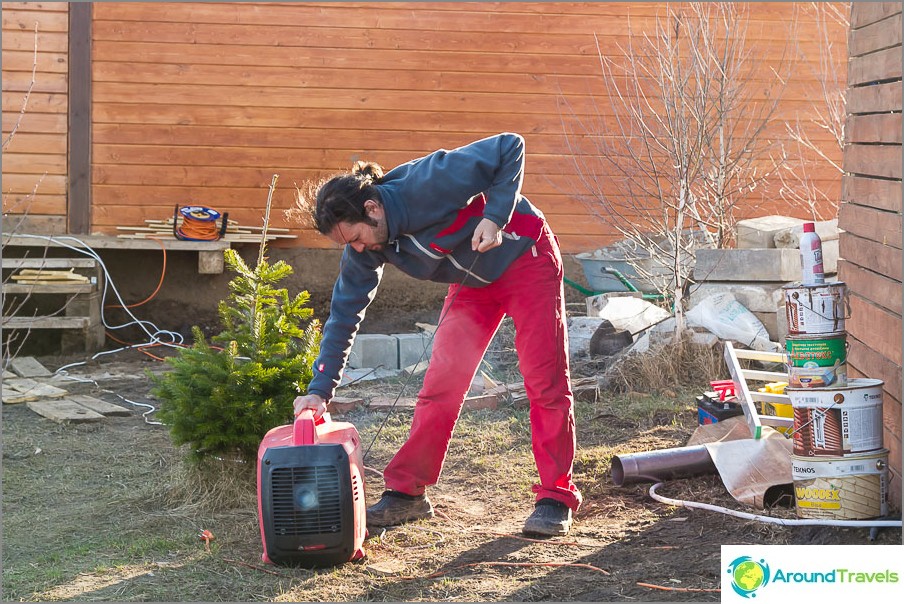 All week we thought that we still lack the devices and did not come up with anything, the above is enough, it is quite possible to live on autonomous electricity, sometimes connecting a generator for powerful equipment. Maybe just another refrigerator is worth putting, although in this weather (+ 2 + 10 on the street) it was never needed, and its absence stimulates more often to cook, and not eat food of a week ago. And the kettle, by the way, is heated here on the gas stove, like all other food.
According to the assurances of our friends, such a scheme is sufficient all year round. The weak point is the batteries (it is in them that electricity is stored), which need to be changed periodically (special batteries are changed less often, but they are more expensive) and dying generators. The service life of solar panels is about 20 years, the controller that controls the entire system also lives for a long time, wind turbines have a different service life.
Water
Cold water is taken from the well and used for drinking and cooking, for washing dishes and for washing ourselves. You don't need to carry it in buckets from the street the old fashioned way, there is a pump. True, although it supplies water directly to the house, but only when the street generator is operating (the pump is too powerful), yes, and it is not connected to the tanks in the house. Therefore, they turned on the street generator and began to collect buckets from the tap, and poured them into the washbasin tank, the stove tank for heating water, and a container of drinking water. But in general, you can automate this whole process, the owners just have not yet reached their hands.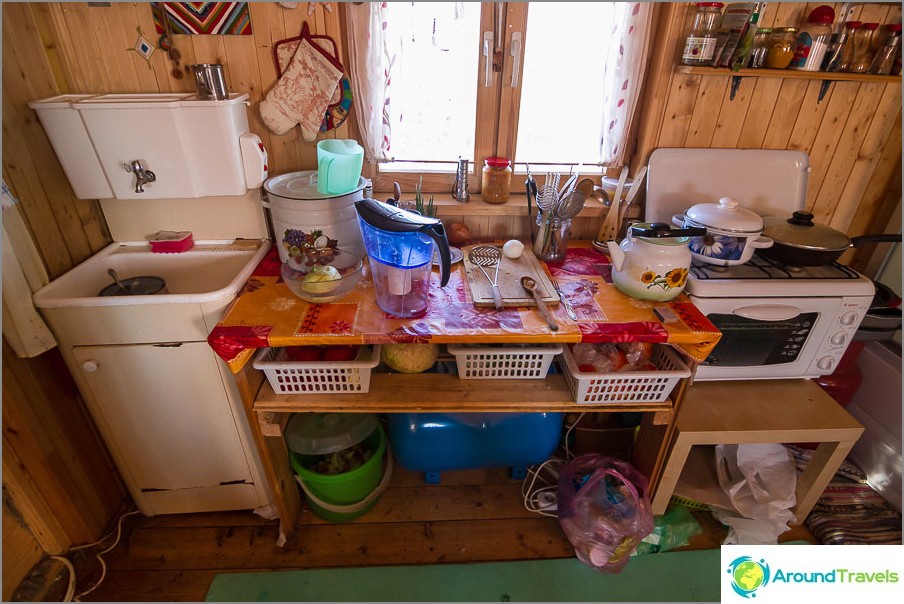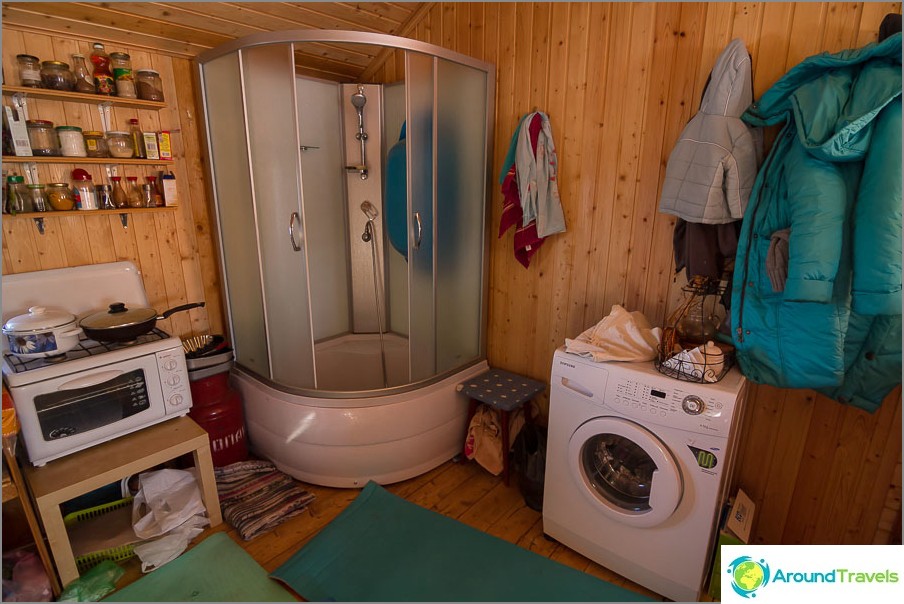 There is no hot water in the classical sense, but, as I said, there is a tank near the stove, and there will always be warm / hot water when the stove is heated, that is, from autumn to spring. In the warm season, hot water is not particularly needed. The only thing I would do is not only automatically filling this tank, but also supplying hot water from it to the shower stall. And while it turns out, in the same way we take hot water with a bucket and carry it where we need it. By the way, the traditional country way of washing with a ladle and a basin is not at all terrible, as I thought before, if you use a shower cabin with a drain instead of a basin. A bucket of water and 5 minutes of time is enough for everything..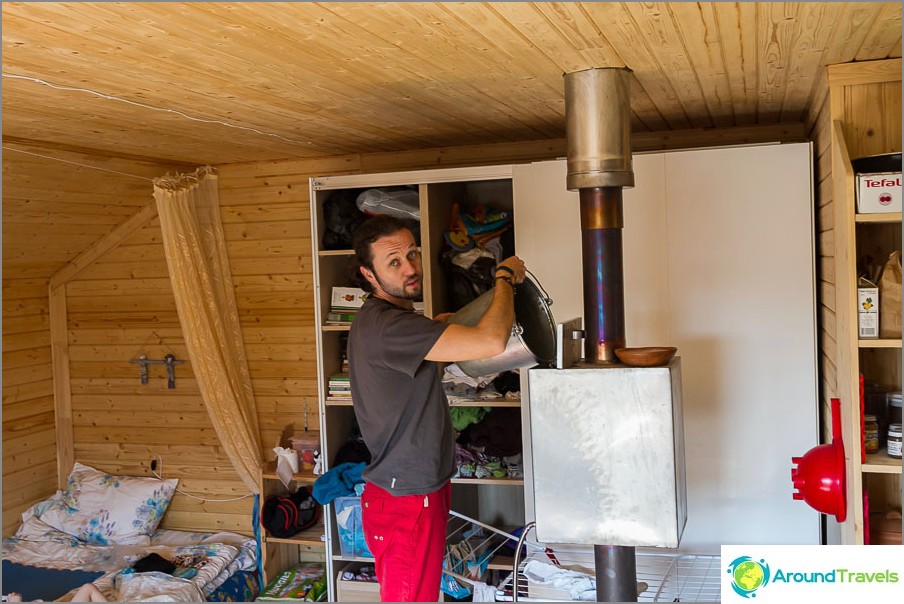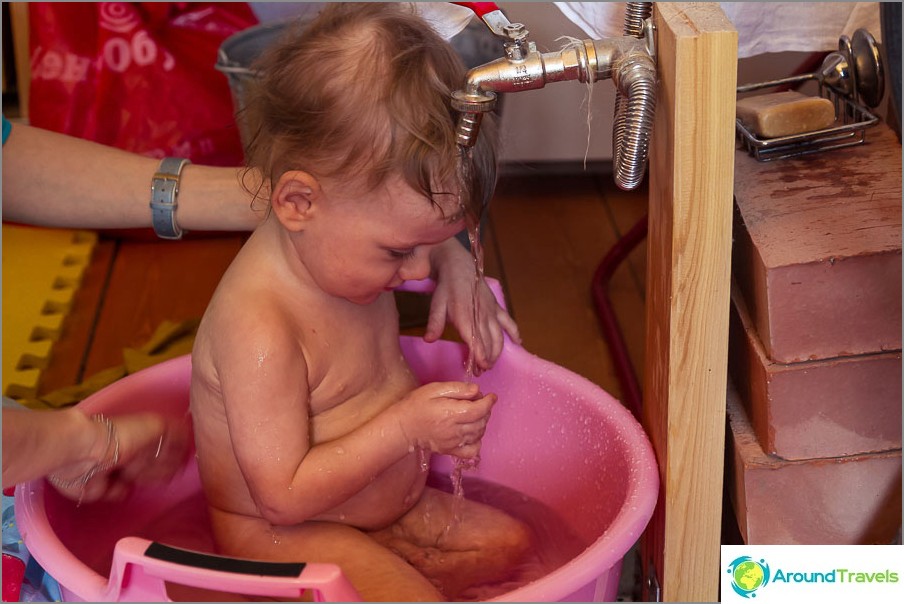 Internet
After 3G networks began to develop in Russia, I think that the problem with the Internet disappeared for many. Yes, the connection is not as fast as in the city, and sometimes traffic is limited, but for a blogger or programmer, as well as for regular surfing and watching youtube, it is quite enough. And for films, you can sometimes go to the city to visit friends, and immediately pump up there for six months in advance..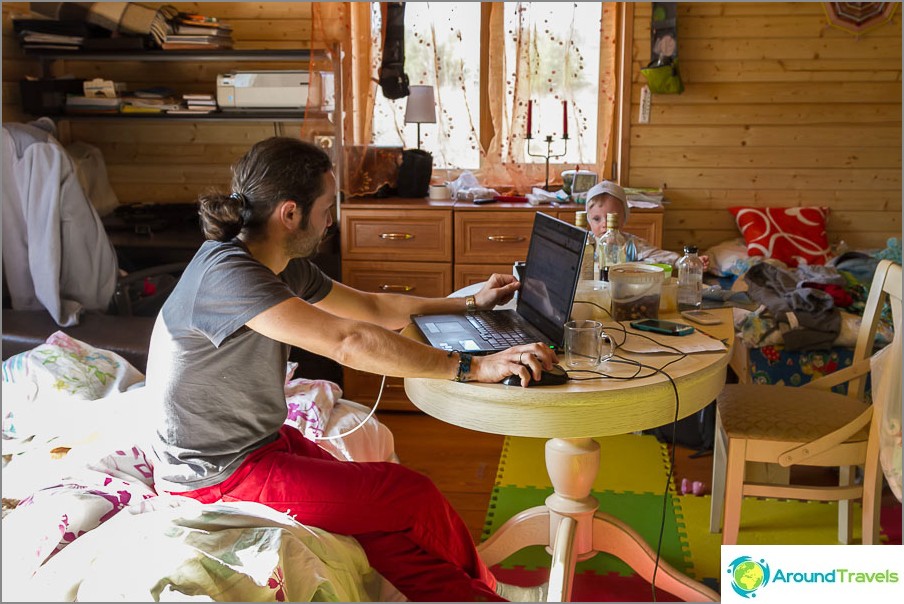 In very remote areas, you can use satellite Internet. If we take a unidirectional system, then mobile communication is still needed for the outgoing channel. But technologies are getting cheaper and even now you can afford to install a bidirectional system, and for even more cost reduction, the costs can be shared with neighbors.
Toilet
There is no story sadder in the world than the tale of a country toilet. Unfortunately, sewage is the hardest thing to do in the field. Expensive septic tanks are installed in cottages, which require maintenance, and few settlers follow this path. You can make a septic tank yourself, it will be cheaper and easier, but it will take time. As I understand it, most people use ala now «bucket» and dry closets. A bucket for a short period of time is normal, but whether I could live like this for years, I'm not sure, a dry closet is much better. By the way, I can advise you to use a styrofoam rim in cold weather, the ass warms up great! Although it is better to put a bucket / dry closet in a heated room.
The network has various schemes on how to make a septic tank on your own site. And the larger the area of ​​the site, the easier it is. What personally does not suit me in all these schemes, as well as in ready-made solutions on the market, is service, that is, you need to pump out the containers after a certain time. But still, I saw how in some schemes, it is possible to do without pumping out with a special machine, but to do it yourself, and then throw it all out on the site to improve fertility.
Infrastructure, medicine, education, communication
Initially, these sub-clauses were not in the article, but based on some comments on previous article, I thought it was worth talking about this, even though it has nothing to do with everyday life. First of all, I would like to say that the settlement owes nothing to anyone. This is not a cottage community where you, after looking at a brochure with promises, have the right to demand their fulfillment. Eco-villages are an initiative group of people who come together to do something, to create something from scratch. Therefore, the activity / passivity of each participant will determine what will be possible to implement in the current settlement and what will not, and how long it will take.
Settlements are different, both with clear leaders and with an elected council, both those who want to give up most of the benefits of civilization, and those who are passionate about progress, both fanatical and citing the books of Megre, and tolerant of «religions» specific person. But in most settlements there are some rules that include a healthy lifestyle, moving for a certain number of years, a ban on breeding animals for slaughter, mandatory fees for the road, etc. The rules are different, sometimes they are followed very zealously, sometimes not. Here you can still write for a long time various nuances that you cannot recognize from the outside, but I wanted to say something else. A certain contingent of people is moving to ecovillages, who understand why they need it. Although, of course, some are disappointed and leave back. The main goal is to live alone with nature in an environment of like-minded people, to cultivate the land according to the principles of permaculture, to plant plants that are not really in Russia, to give birth and raise children, and lead a healthy lifestyle. That is, people go there not at all for urban comfort, it would be stupid and expensive. So they live in «summer cottages» conditions even in winter and with children, it does not bother them. There is, of course, a small percentage of people with serious money and just wanting maximum comfort with a jacuzzi on every floor of the house, so they themselves build cottages with full technical stuffing. True, such people do not spend the winter there, but go as if to a dacha, and it is precisely those who want simplicity and «peasant» life. This is from experience, as they say.
Infrastructure
For those who need clubs, bars, restaurants, theaters and museums every day, then, of course, it is worth living in the city. But I personally don't know a single person who hangs out in clubs every day if he has a child. When children appear, you think about completely different things. For example, we are looking forward to summer so that Yegor can crawl on the grass, dig deeper into the sand and pebbles, so that we can show him trees and leaves, all kinds of insects. These are our mundane dreams, where we are dark to theaters ...
In the immediate vicinity, my wife and I only need a grocery store. And, speaking specifically about Glorious, then in 30 minutes from it there is a supermarket, a vegetable market, a building materials store, a photo studio, Sberbank, a swimming pool, a gym, yoga and dancing. This is from what I managed to notice when we lived in Pushchino for a week. I am sure that almost every small town has such an infrastructure, and half an hour to get there is very close. For me, this is beyond anything I've ever used. And once a year to the theater or to a lecture of some kind, I can't drive 100 km to Moscow.
The medicine
After they could not help us in the vaunted Moscow, even for money, I was a little disappointed in Russian medicine. And given that I don't give a damn about the psychological factor, I thought hard about treatment abroad. Now I know that if some non-standard situation happens, then again there will be no one to help us. By the way, there are no other situations in our life along the way, always such that diagnoses differ, and doctors only look smart, but know only their placebos are prescribed. And this cart with «find your doctor» on the way there is only in our country, where everyone decides for himself what he would like to treat on the basis of his own fantasies. Thank God that there are still normal specialists who at the university did not drink beer in pairs, but studied the textbooks, and then after the university, realizing that the textbooks were 30 years behind, they also went to all kinds of conferences, raised their level of education and tracked the last changes. In principle, if you set yourself a goal and stock up on time, then in any large city you can find such doctors, well, I hope ....
In short, you have to live near a large city, that's all. It takes only an hour and a half to drive from Slavny to Moscow. And such a moment - why those who talked about an ambulance or about medicine in Moscow are not embarrassed by how the rest of Russia lives (yes, not only Moscow is in our country), the remaining 120 million. It seems that they do not complain much, many would not even want to move, they live and raise children ... And to be honest, you have to go to Germany or some Israel for medicine..
Education
A rolling stone gathers no moss. If you want a school in the settlement, do it, organize the people, build a building, invite teachers. A good friend of ours is doing just that, though in another settlement. By the way, when the settlement is large, there are always teachers, both professionals and not quite. Even Daria managed to work in the elementary grades at Montessori school. In addition, home education up to a certain age is quite a lifting topic. Only you don't need to tell me anything about socialization, I see living examples. And it's better to educate children at home than in Moscow schools, where Lezginka will soon be a compulsory subject. Well, and if your child is your usual most, without neurological problems, then the nicest thing is distance education in English from Oxford, which will then be quoted everywhere. True, the last infa is not verified, good people told me about it. In general, I am sure this issue is being resolved, there would be desires to find an option. Well, if you are lazy, then you can take to the city nearest to school + private tutors.
Communication
Someone wrote to me about sociopathy ... Um, do you even know the definition of this term yourself? A person who lives in an environment of like-minded people and next to friends suffers from a personality disorder, right? Oh well.
During these two weeks in the settlement, we communicated with people more than we do in Moscow. Do you know why? Because in the city, we need to drive two hours through traffic jams to visit someone, and then also back. And for us now it is a great feat to go to our friends, and more often than not they all have to come to us when they can, so we almost never see each other. And in the settlement you crossed the road, and you are already drinking tea at a party. As a last resort, I got on a bike and a car, and in 10 minutes you are already on the other side of the settlement in other guests. Yes, you can say that this is our special case, that we already have friends in different ecovillages. Maybe. But I see how they settled there and did not know almost anyone, found good friends for themselves, and how they communicate there every day. How many people do you need to communicate, how many? Our close friends can be counted on one hand. Is it different for many? I'm sure most people don't have 100 friends for constant communication, and also don't meet 50 new people every day. The main, what is the difference between an ecovillage and a village - these are people, their community, and if the interests of this community are close to you, then there will be much more communication than in the city.
In Slavnoye there are still not 160 families, as it is supposed, but only 20-25 (this is in winter, and in summer 100 families come), and this saddens many. But no one bothers to find that settlement, where the rules require moving within a short period of time, or where many people already live. But we must understand that the settlements are all young, many mistakes are made, some people leave. The trend for living outside the city appeared not so long ago.
conclusions
In short - we really enjoyed living in nature, although living conditions became more difficult and we were tired because of this. But! We are tired not because of the conditions themselves, this is a piece of cake and does not bother at all, but precisely because it takes up time, which we now have catastrophically little. Actually, we also lack him in an apartment where all the conditions are there, we are already thinking about the housekeeper and about the nanny. Anyway, I understand perfectly well that «to live» and «live», completely different things, so we are in no hurry, and we look at our friends who decided to check everything on their own skin. Fortunately, the views are similar and we trust them.
In general, I see that making everyday life more suitable is not so difficult, even considering that it will only be autonomous communications. I have already figured everything out, and the system that the guys have can be slightly improved and automated: add electrical power with a couple more panels, make one large water tank in the house instead of several, throw the pipe from the stove tank with hot water into the shower room a cabin, as well as put a gas water heater for heating water, put a dry closet, and a little later you can get confused with a septic tank of your own manufacture, since a large area allows you to use cheap structures.
Judging by the comments to previous article, it became clear to me that not all our pluses are pluses. In principle, it is understandable, now the trend is for comfort, so that the body feels as comfortable as possible. But since this concept is not close to us, and it seems inappropriate to spend your life on honing comfort in your home, there are much more advantages to living in nature than disadvantages, especially for young children. Actually, «life in nature next to friends», which manifests itself as fresh air, clear water, a forest outside the window, and friends within a 5-minute walk, this is such a fat plus that all the minuses fade away, and all problems are solved sooner or later, there would be a desire to solve them. Therefore, we may someday decide to live in such a settlement or village, but not now, there are reasons. At least we definitely decided for ourselves that living in our own house with a large plot of land is great, and an excellent replacement for the city!
P.S. Please refrain from commenting in style «pitiful shacks», first do something yourself, and then criticize. There are many issues to be resolved, and it takes years. And, probably, people understand why they are doing this, it is not from scratch that the desire has appeared. Of course, if you don't want to do something with your own hands, then you pay the loot and you will have a mustache. But, as I said above, those who want to bask and work only with their intellect do not live in settlements, but only build palaces here, apparently investing in land. No need to go to the settlement / village for comfort, the goals are different. Comfort outside the city is worth looking for in turnkey cottage settlements.
P.P.S. Nevertheless, there is a slightly different view of moving out of town, read it, also interesting, our friend, a blogger, moved from Moscow 15 years ago to her house. Interestingly, even those people who want exactly urban living conditions in their home still believe that the move is justified.
P.P.P.S. The most important thing I forgot to say, I do not convince anyone to move anywhere, but I just tell you why we did it 🙂