We lived in Thailand, specifically in Chiang Mai, for two months and found out how much they cost apartments in Thailand, how much food is in Thai cafes and shops, and other small things. Not much time has passed, but we can already draw conclusions for ourselves, regarding how much life in Thailand costs (it is clear that it is priceless) for us and what is the budget for wintering in Thailand. Most likely, expenses will differ slightly by months, so it makes no sense to write about how much was spent every month..
Our spending per month in Thailand:
Apartment (apartments) - 6500 baht (our apartment)
Utility bills - water 300 baht, electricity 500 baht, cell phone 100 baht.
Internet and TV - 500 baht.
Store-bought food - 5,000 baht.
Food in Thai cafes - 1500 baht.
Unforeseen expenses - 1000 baht.
In total, it turns out about 16,000 baht per month for two. I think this is good. In Moscow, we spent about the same amount, only it did not include renting an apartment.
All other purchases (clothing, equipment, travel, etc.) I do not take into account here, since these are already unnecessary expenses, and everyone's personal business.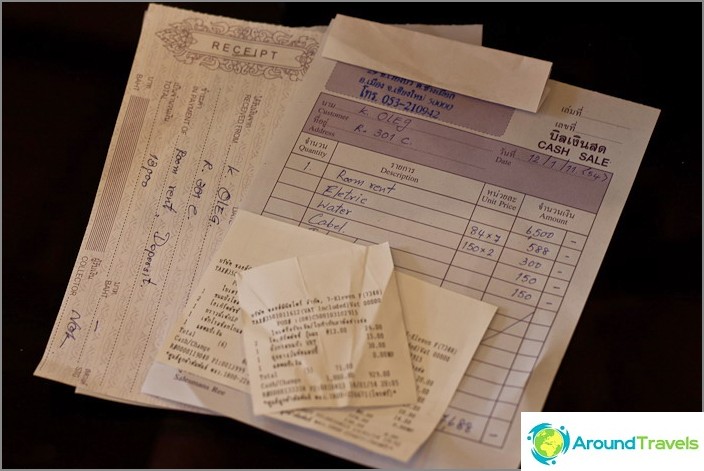 With all this, you can live both much cheaper and much more expensive. For example, you can rent an apartment for 2500 baht without air conditioning (in winter it is not really needed), and there is only in Thai cafes, but you can, on the contrary, rent a multi-room apartment with a luxurious renovation or a villa, and there is only European food. But even in the latter case, it will be cheaper than in the same Russia with the same comfort. Now I will not write in more detail, about this in other articles.
For comparison, here is our spending per month in Phuket: How much do we spend on living in Thailand in Phuket.
P.S. It is worth focusing on our spending, or the spending of other people, only when there is an approximate coincidence of needs. I met people on the forums for whom $ 100 a day is not enough in Thailand. Plus, you need to understand that it's one thing to come to Tai on vacation for a couple of weeks, it's another to live there for six months. The cost of living or recreation is vastly different.