Not so long ago, Tinkoff added the ability to open accounts in 26 currencies. They are opened online, replenished from their other accounts, for example, from ruble or dollar.
If we talk about Thailand, then we are interested in Thai baht. And Tinkoff has them. It is very convenient, I deposited several tens of thousands into the account and there is no need to track the course, calculate something. Just take and spend / take off. The write-off will be 1 to 1.
The content of the article
How to open an account in baht
In his a selection of maps for travel I have already written about this possibility, now in more detail.
An account in an additional currency can be opened both in the application and in the web version.
We go to the page of any existing account, look for the gear at the top and open «Invoice details». At the bottom of the page «Add new currency».
Add Thai baht or any other currency. Account opening is instant.
Linking an existing debit card to a baht account.
Then it remains only to periodically replenish your account in baht. Do not forget to link your card back to your ruble account after the trip, otherwise you will be paying in baht in Russia. Now any card can be linked to any account.
Apply for a regular Tinkoff debit card and get 3 months of service as a gift. Just enough to try it out.
Apply for a Tinkoff card>
I funded my Thai account from a ruble account. Conversion goes directly from rubles to baht at the exchange rate of the bank, without the participation of dollars. The rate is always visible in the app before the exchange. The rate is pegged to the exchange, so the best rate is during business hours on weekdays.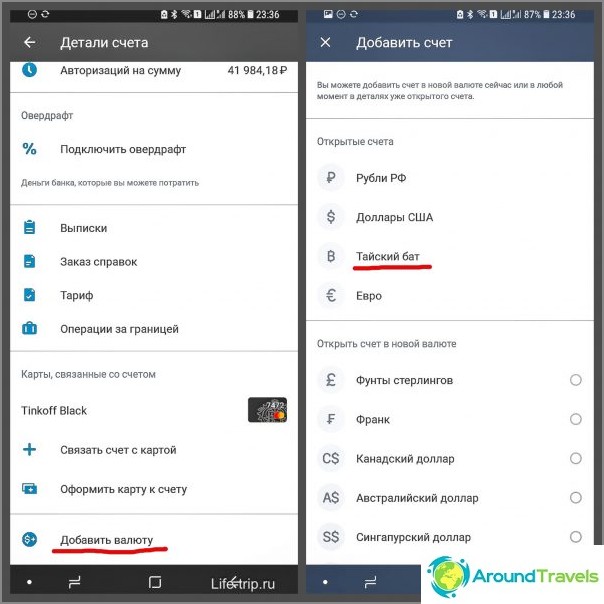 Withdrawing from an ATM from a baht account
The 220 baht commission can be avoided by withdrawing at a bank branch. Not all banks do not take a commission (the pattern has not been established), but Krungsri Bank does not take it for sure, again it is checked. More about, how to withdraw money in Thailand.
Of course, on my last trip, I opened a baht account and tried to withdraw 5,000 baht from it. Everything is as expected - 1 to 1 withdrawal goes. Plus the ATM commission of 220 baht, which does not depend on anything, neither on the card, nor on the amount, nor on the currency of your account.
You need to withdraw from the card from 2,000 baht or more so that Tinkoff does not take his commission for withdrawing from an ATM. Maximum withdrawal amount per month 100,000 baht.
I have no idea who and why periodically sows panic about the fact that the conversion from the Tinkoff baht account goes almost through rubles. Already tired of answering in the comments that everything is in order, you can not worry. You just need to be careful when you withdraw money and not agree to the conversion offered by the ATM.
Once upon a time I even specially bypassed several ATMs and took pictures of the whole process, here is my instruction. I note right away that not only in Thailand, ATMs are offered to convert at their own rate, but in other countries too. Not always, but it happens.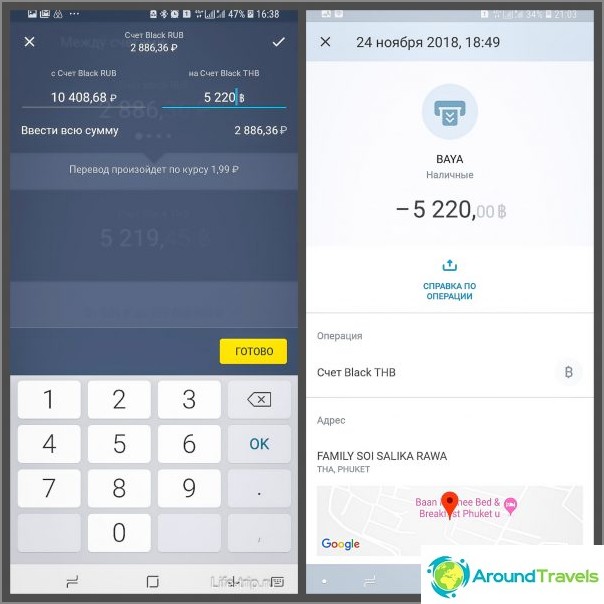 My findings
According to my estimates, use a Tinkoff dollar card or a baht card, there is not much difference. If initially you bought dollars in the Internet bank in the same way for rubles. Approximately the same costs for conversions are obtained: you will withdraw baht from an ATM from a dollar card, or from a baht card.
There is no point in buying baht for dollars. Easier to buy baht for rubles.
It is more convenient to use a Baht account, since all transactions are 1 to 1. It is more convenient to count.
In terms of financial benefits, it is the same as withdrawing from a dollar card. Plus or minus comes out, you need to watch specific courses for the day. And in any case, it is more profitable than withdrawing from a card of some Sberbank.
In terms of convenience, it got better, yes. Especially suitable for those who do not like to count anything and just want to use their money. Threw several tens of thousands of baht at the beginning of the trip and then spend them without following the exchange rates.