Lo Dalam and Ton Sai - these are two main beaches on the isthmus of Phi Phi Don island. Unlike the navigable and deeply central Ton Sai, Lo Dalam is a shallow water classic. Very beautiful at high tide, with gorgeous water color and extremely photogenic in the midday sun. Lo Dalam Beach is the main place for day and night hangouts of Phi Phi Don Island, where it is good to come for fun and sunbathing..
For living and restful sleep at night, I would advise you to choose a place away from this beach. From here it's easy to get to Monkey Beach, if you rent a kayak. And Lo Dalam is also the hallmark of Phi Phi Don, because it is exactly how it can be seen from all three viewpoints of the island.
The content of the article
Beach description
Bathing beach, but only at high tide. Lo Dalam Beach follows the bend of the isthmus and stretches from east to west between the curly mountains of Phi Phi Don, which are its natural limiters and protectors from waves and winds. There is no way to get to Lo Dalam on foot from the neighboring beaches.
The length of Lo Dalam is about one kilometer, the width of the sandy line is from 15 to 20 meters of light yellow sand of very fine, almost flour consistency. In some places there are admixtures of shells and stones, but in general it is an almost ideal beach for barefoot walks..
On the right side of the beach there are a couple of stinky rivers, so don't go far to the right and don't swim, all the more..
Entering the water, depth and waves
Lo Dalam Beach is very shallow. At low tide, the water goes up to one kilometer, leaving behind a wet bottom in holes and puddles of sea water - an excellent space for walking.
The coast near the beach is gentle, not very high and almost everywhere is protected by small concrete blocks from being washed out by waves. The entire isthmus rises only a few meters above sea level, and its length in the central part is no more than 150 meters. That is why there was such strong destruction here in 2004, when the tsunami wave simply rolled over the isthmus..
Waves during normal times and during good seasons are usually shallow, purely symbolic and do not cause any inconvenience.
Sun beds and shade
There are many sun loungers near large resorts, but they usually stand in the area behind concrete blocks, which are conventional fences for private land. I have not noticed the rent of sun loungers anywhere, but this does not bother anyone: people come with their beach mats and are located throughout Lo Dalam wherever they have - there is enough space for everyone.
The shade from the trees that grow along the entire coastline covers the entire beach in the morning hours, and from noon it becomes hot here - Lo Dalam faces the northwest and there is very little shade on the beach..
Beach photo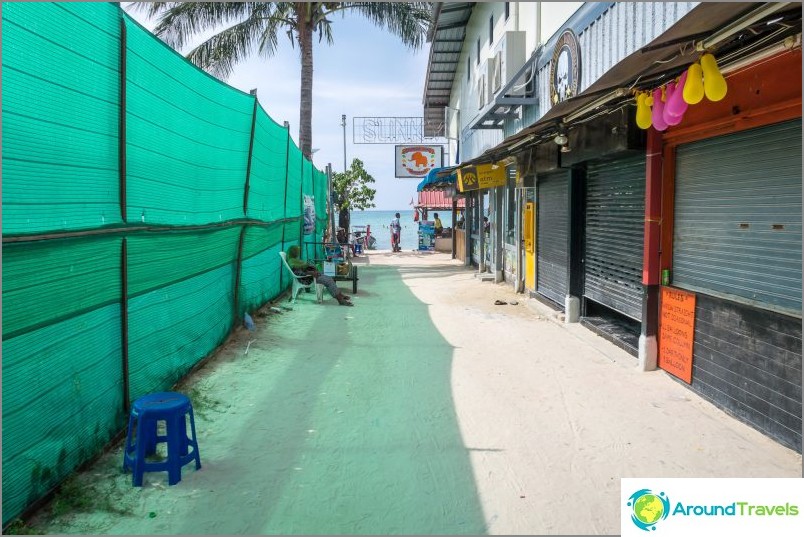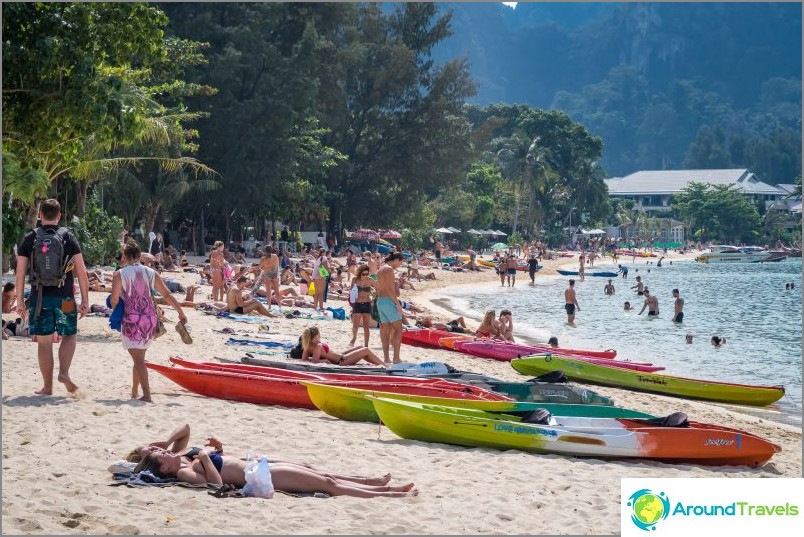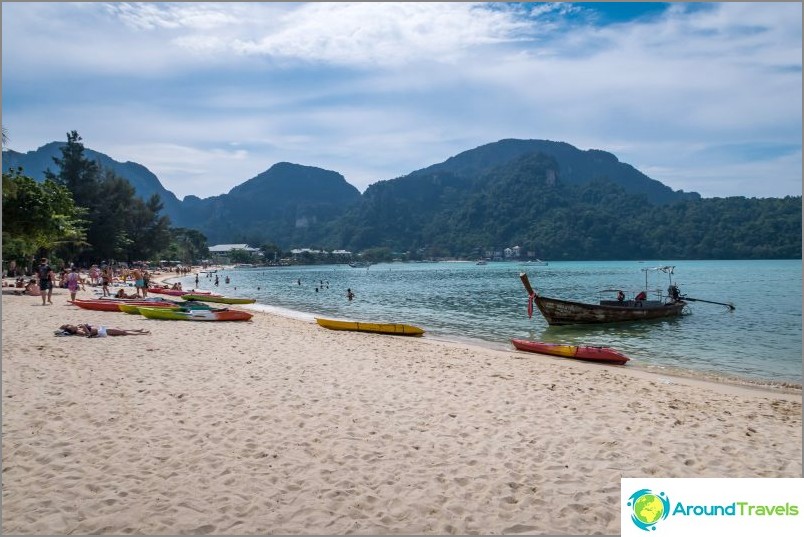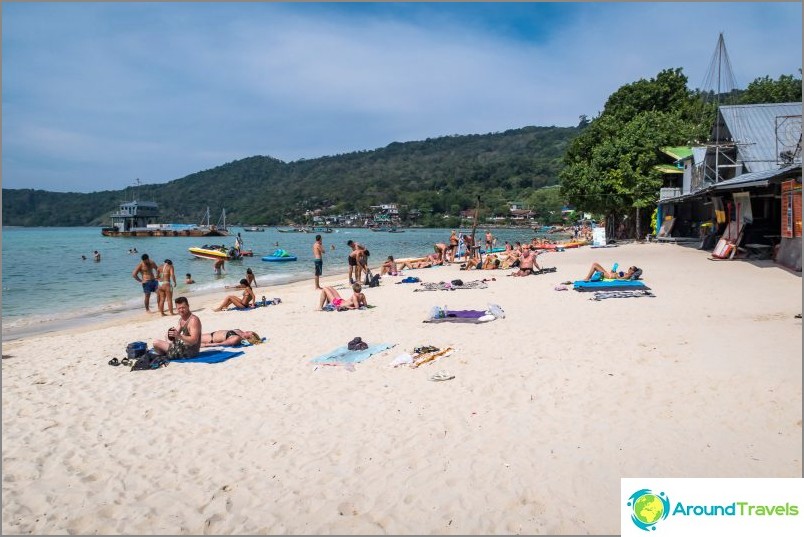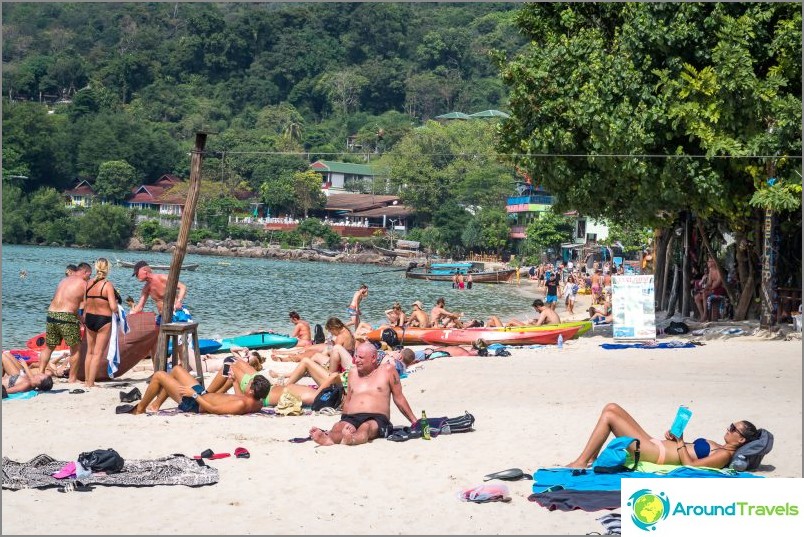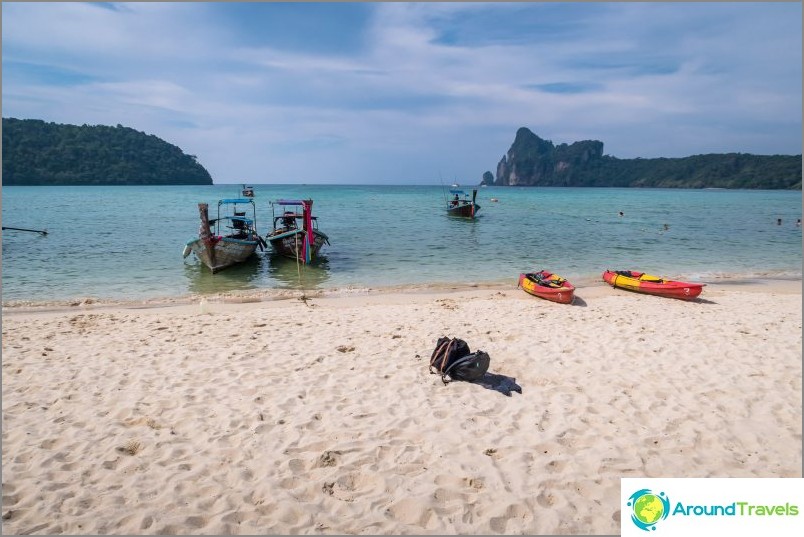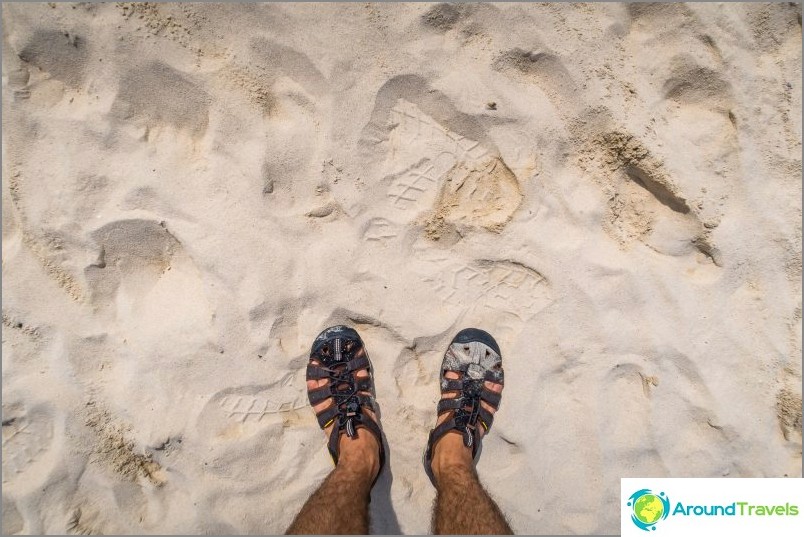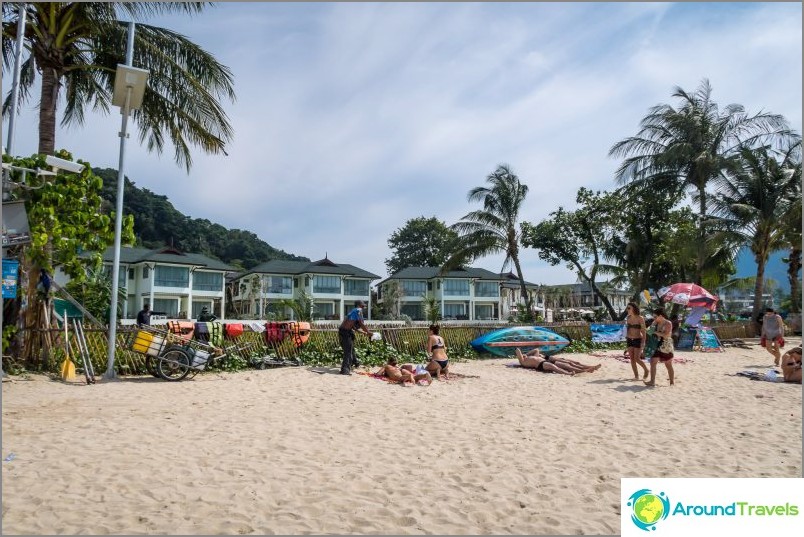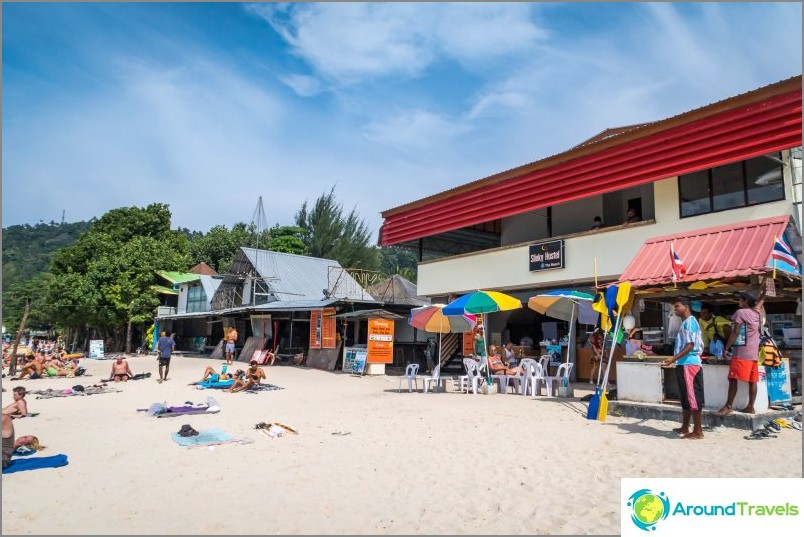 Infrastructure
Due to the diminutive size of the isthmus on Phi Phi Don, the infrastructure of Lo Dalam beach is not much different from Ton Sai and Phi Phi Town - in fact, all three toponyms make up a single whole. Ton Sai in the south, Phi Phi Town in the center and Lo Dalam in the north of the same land area. So it has all the amenities of the tourist infrastructure of a small island village..
Directly on the beach is full of kayak rentals, bars and restaurants, as well as hotels. What Lo Dalam does not have is a pier and a flotilla of boats. In the evenings, the entire beach turns into a solid get-together with music and fireshow.
Houses and hotels on the beach
Phi Phi Don pier can be considered the center of the isthmus. On Lo Dalam beach, to the left of the center, there are no normal hotels, and they are clustered closer to the rocks. But from the center and to the left, you already have a wider choice of housing of any level. Although, it should be noted that in general, the level of quality of hotels throughout Phi Phi Don does not really correspond to their price tag..
A general remark for all establishments: wherever you check in, you will be haunted by the typical (for rooms and bungalows of the island of Phi Phi Don) sloppiness. More or less decent resorts on Lo Dalam are PP Insula and PP Princess Pool Villa, with a good rating and reviews.
Using the link below, you will be taken to a general list of hotels in Phi Phi Don, but you click on the icon with a map and there you will already decide on accommodation options on Lo Dalam Beach. The island is so small that Roomguru doesn't even try to divide hotels by beaches..
Hotels near Phi Phi>
Be sure to check for discounts or specials on the excellent Roomguru service. He will quickly and easily show you discounts in all existing booking systems. In Asia, for example, there are a lot of offers on Agoda.com, which are much more profitable than in the same hotels in the Booking.com system..
For the lazy, here is a direct link to the above hotel: PP Insula and PP Princess Pool Villa
How to find the beach
You don't need to look for it. The beach is located on the opposite side of Phi Phi Town, so disembark at the pier of Ton Sai Beach and walk straight from the sea without turning anywhere. In five minutes you will reach Lo Dalam near PP Charlie Beach Resort .
Beach Map
Map of Phi Phi Town and Tonsai, Lo Dalum and Hin Khom beaches
Map of Phi Phi Town and Tonsai, Lo Dalum and Hin Khom beaches: