Military Beach, that is, Military Beach, aka Saikaew Beach. Numerous Pattaya travel agencies that sell transfers call it the Blue Lagoon. The average price of a transfer from Pattaya through a travel agency is about 350 baht. Some also offer lunch included in the price, but then the price rises to 600-700 baht. The best price among the voiced ones is 200 baht. When buying a tour from the hotel, they are picked up at around 9 o'clock (someone suggests an earlier time, someone later), from the beach a minibus with tourists leaves for Pattaya at about 4 pm.
The content of the article
Beach description
Saikaew Beach is approximately 400 m long, in the form of a lagoon between two hills. From the mainland, it is also fenced off by green low mountains.
The sand is light gray, almost white in the sun. The water is clear, azure color, there is little silt at the bottom. There are many round, slightly thorny shells in the sand at the bottom, and other living creatures are also found. This is especially noticeable at low tide..
The peculiarity of this beach is that it is located on the territory of a military base. In Thailand, the military is very nice: they allow tourists to swim in their possessions 🙂 The advantage of this location is that the beach is very clean, tidy, quiet and peaceful. There are no unnecessary crowds of people, there is the necessary infrastructure - both rental and showers. But nothing more. No hotness, fresh air and privacy. In addition, this place is located strongly outside the city and is surrounded on three sides by mountains. The downside is that the choice of shops and cafes and housing for rent is still very limited. On weekends, despite the closed nature, there are a lot of people here - mostly locals, both Thais and foreigners who permanently reside in Pattaya.
Another feature that should not be forgotten is that when entering the territory of the base at the checkpoint, they ask to leave some kind of identity document. Passport or Thai driving license will do. You can pick up your documents when leaving the territory of the base. Also at the second checkpoint you have to pay a 100 baht fee. If you buy a transfer in a travel agency, this fee is included in the price, and documents may not be asked.
Recently they stopped letting them into the territory on their vehicles. You have to ride a motorcycle-taxi for 40 Baht, then you pay 100 Baht per person, then they take you to the beach on a tuk-tuk, and it's kind of free.
Entering the water, depth and waves
The entry into the water is gentle, it is very convenient to swim here with children. At low tide, the water goes quite far, at first leaving small sand spits, which then turn into islets surrounded by shallow water - ankle-deep to an adult. But children are interested in running on this water mirror. There is a swimming area fenced with buoys. It is convenient and makes sense, because around those who want to ride jet skis and bananas. There is usually no big wave here.
Sun beds and shade
Sun loungers can be rented for 30 baht, bedding for 20 baht. Low palms and other trees are planted between the path and the sea, providing shade. There are also bamboo gazebos.
Beach photo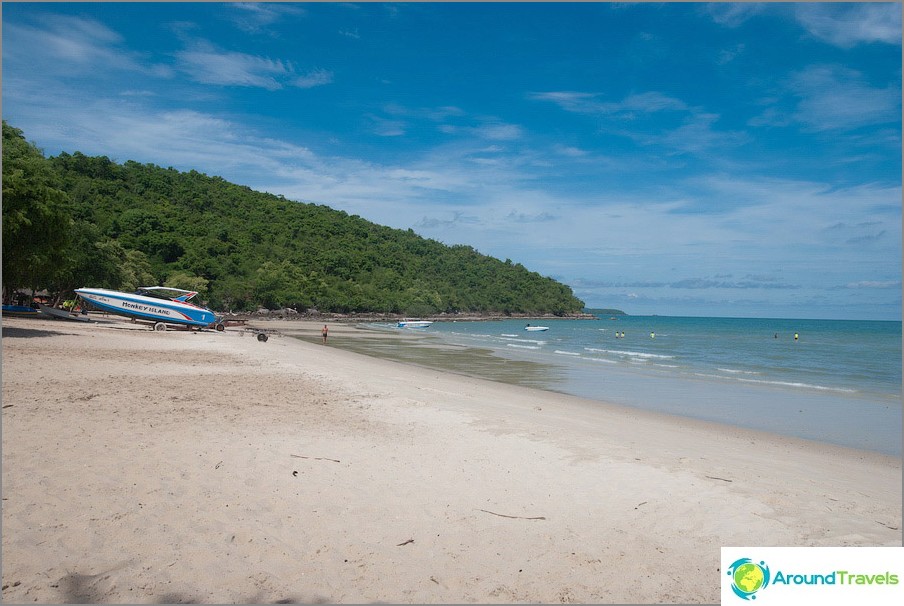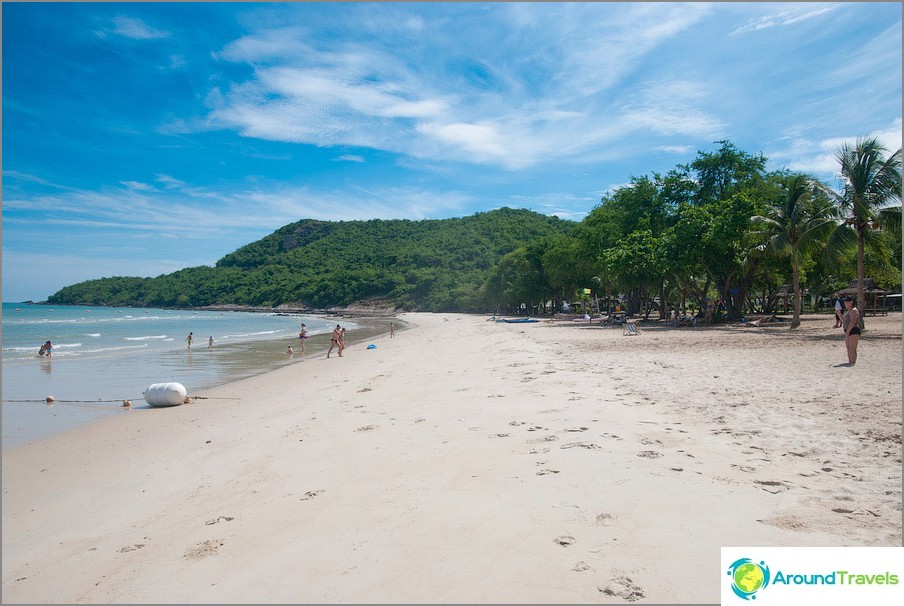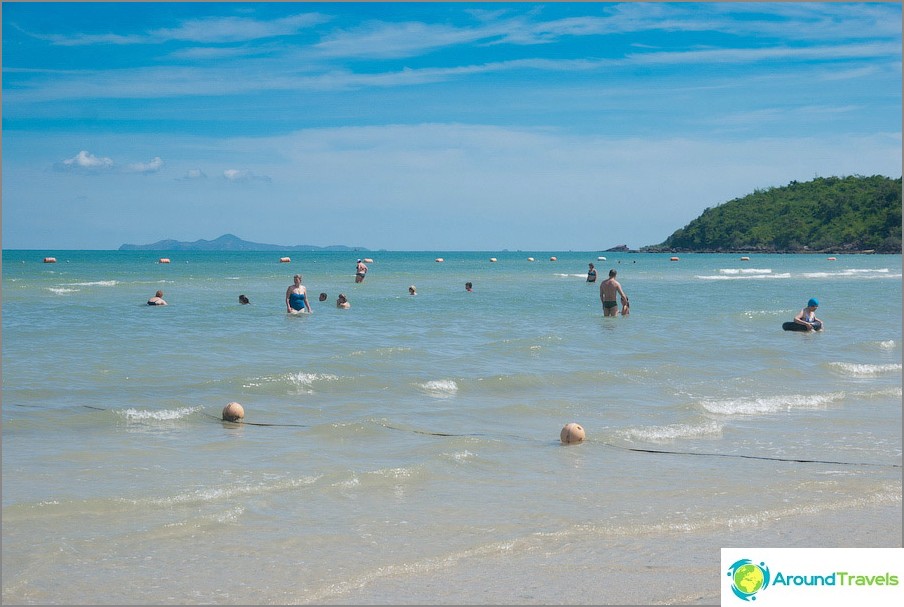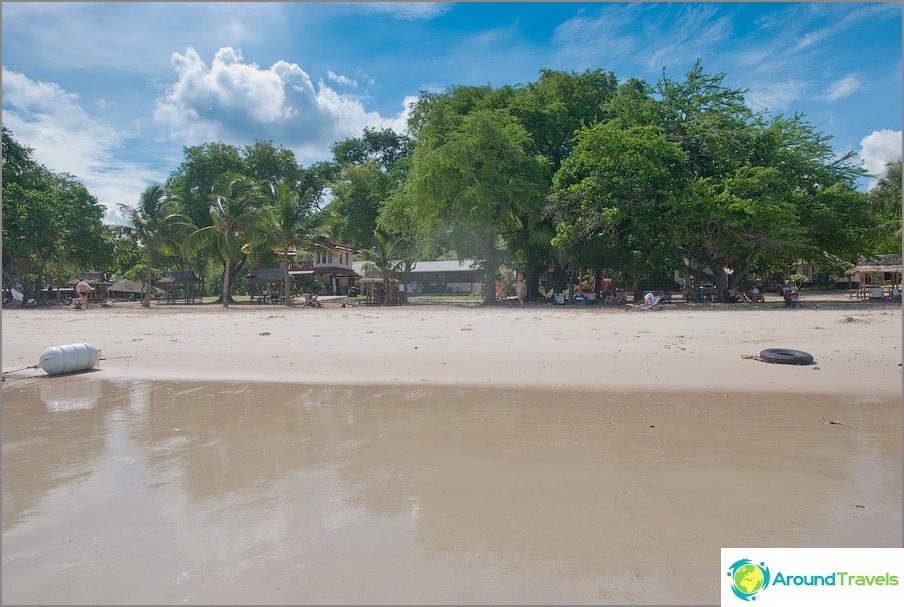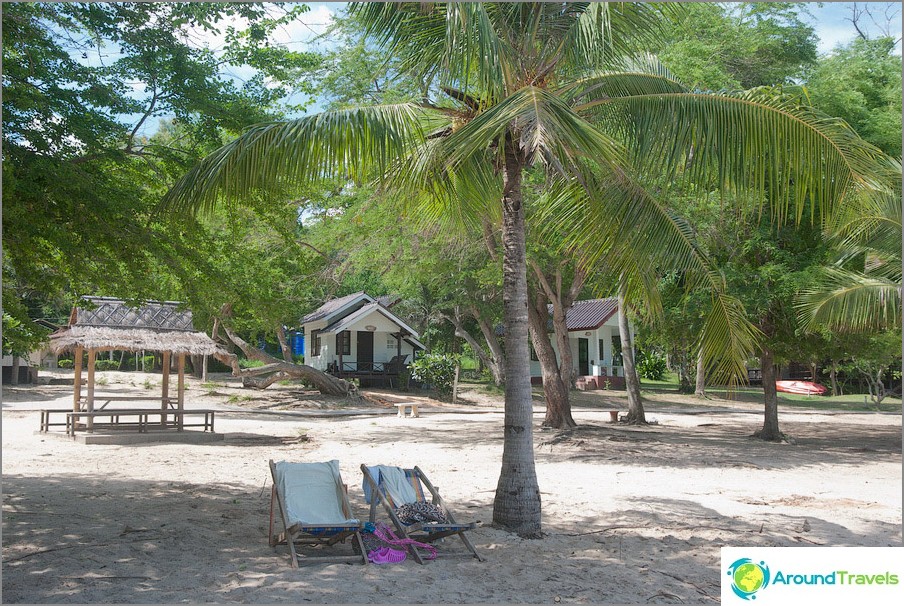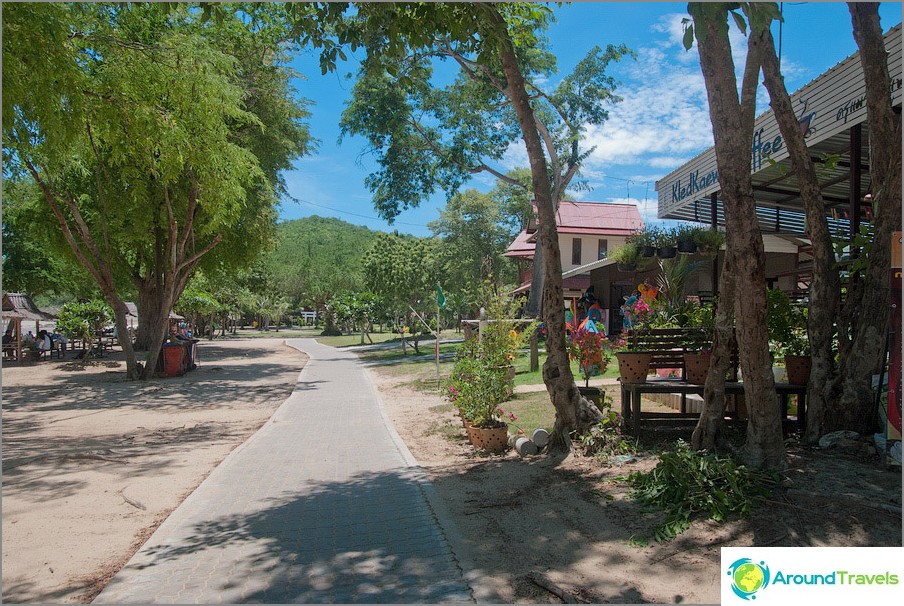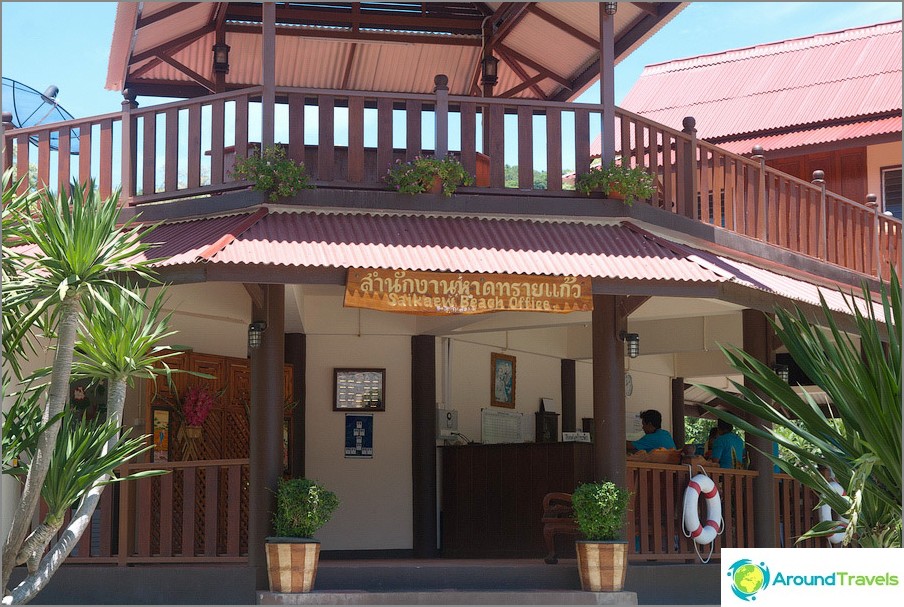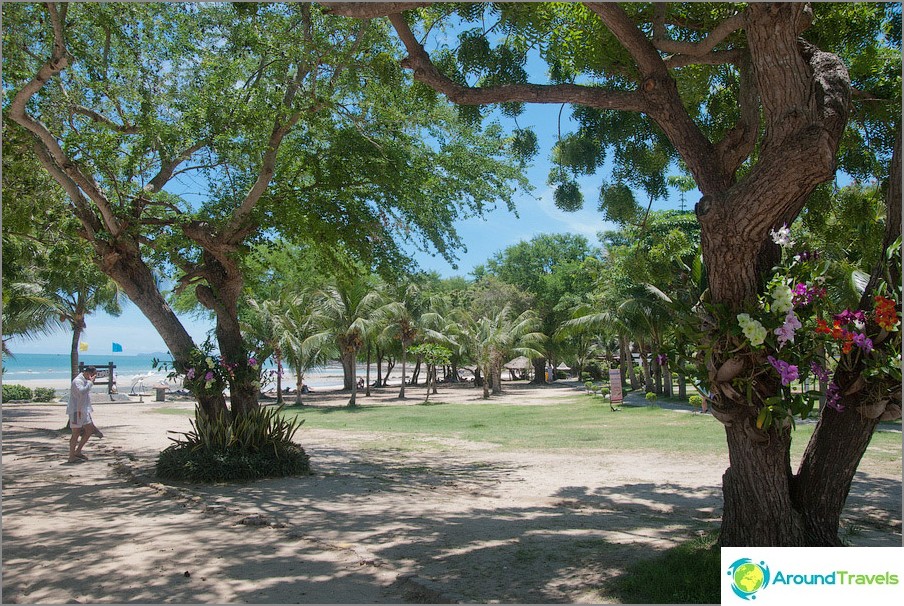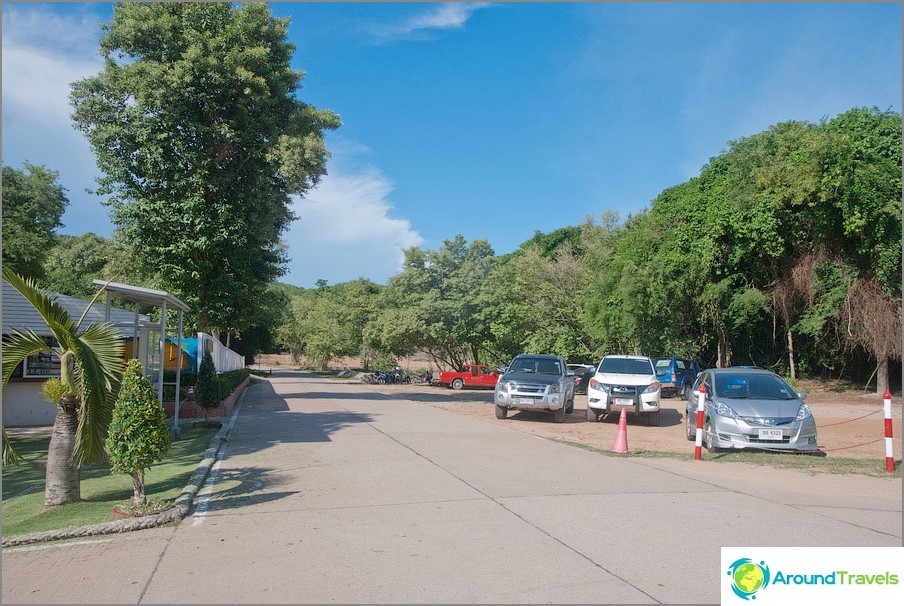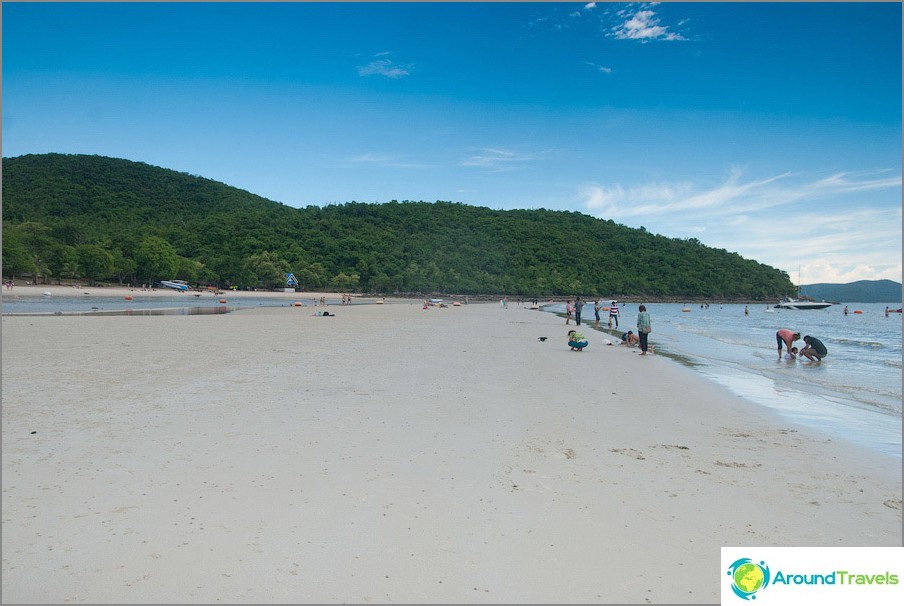 Infrastructure
There is a not very wide paved path along the military beach, next to it, interspersed with flower beds, there are several cafes scattered about, rental of sun loungers, beddings and other tourist equipment. A little further back, behind the plank bungalows for rent, there is a free toilet and shower.
The location on the territory of a military base has its pros and cons. It is quiet and clean, few people, but there is no infrastructure and nightlife as such. To go to the nearest checkpoint almost 3 km, and then only in order to get at least the same amount to the entrance to the closed territory.
There is still some kind of store on the territory, but this, of course, is far from Big C.
Houses and hotels on the beach
There are not many rental properties here, which is not surprising. A military base, not a city center. There are bungalow houses for rent, apparently without any special amenities, but right on the beach. In general, only lovers of solitude will be able to live here for some time. Although during the day it will be disturbed by tourists brought from Pattaya.
How to find the beach
You can get from Pattaya to Saikaew Beach by your own transport, or buy a transfer at a travel agency. Drive from the center of Pattaya for about 20-40 minutes, depending on the type of transport and traffic jams. 15 minutes across Sukhumvit and the same amount on the territory of the base itself.
Military beach on the map
Saikeo Beach Map
Saikeo Beach Map: