As you know, Hong Kong is an expensive city for travelers. It is quite difficult to find a budget and at the same time comfortable hotel here. The most affordable options for staying in Hong Kong are a bed in a common room in a hostel or a completely ascetic and cramped hotel room, but this is mainly suitable for backpackers, young and carefree. If you are traveling with a family or a group of several people, it is more profitable to view good accommodations with amenities on Airbnb..
The content of the article
Where to live in Hong Kong
Airbnb is a good service through which you can rent private accommodation without intermediaries, both daily and for a longer period..
Sign up here and get $ 32 off Airbnb on apartments worldwide. Valid for the first booking, the booking must be from $ 70. The bonus can be used within a year after registration. And be sure to check out my post. about Airbnb, in which I told what it is, how to register and confirm an account.
Get $ 32 Discount>
Airbnb offers a wide variety of accommodations in Hong Kong, so you can always find something suitable for yourself in any area. However, it makes sense for tourists to settle in the very center of the city, on the island of Hong Kong, in its northern part (metro Sheung Wan, Central, Admiralty and Wan Chai), from where it is close to the main attractions. Another option is to settle on the Kowloon Peninsula, near the Tsim Tsa Shui metro station and neighboring ones. In Kowloon, you can find the quieter and older parts of Hong Kong and immerse yourself in the daily life of its people. Although the area around Tsim Tsa Shui (Nathan Road) is a very busy place. In terms of cost, it makes sense to tune in to prices on average from $ 50 per day, but if you are ready to live on the outskirts, you can find it for $ 20-30 (I have such options in the selection here).
About our apartment in Hong Kong near Wan Chai, which we rented through Airbnb, I already wrote. In addition to this apartment, we considered other options that we also liked. They became the basis for this article. And if you prefer hotels, so as not to get involved in private accommodation, then you can always use RoomGuru, which shows discounts in all booking systems.
Kowloon Peninsula apartments
The Kowloon Peninsula is the tourist center of Hong Kong. Life is in full swing here around the clock. Shopping aficionados should especially love the endless shopping malls, hotels, restaurants and nightclubs. The most affordable apartments are offered mainly in Kowloon, quite far from the center (Mongkok or Prince Edward metro stations), in the old districts of Hong Kong, in apartments with a very small area. But at the same time, even a super-budget apartment can be clean, cozy, homely comfortable and with a nice atmosphere, where there is everything you need for life. Including kitchen and washing machine.
The Jordan area in Kowloon is a densely built and busy area known for street markets and eateries, many small shops, inexpensive hotels, clubs, karaoke and massage parlors. The famous night markets are located here. There are also many modern supermarkets, hotels and shopping centers, high-rise offices, residential buildings.
Tsim Sha Tsui is a huge market, with a sea of ​​stalls, shops, boutiques and malls - iSQUARE, The One, K11, Harbor City and 1881 Heritage. There are also Tsim Sha Tsui Center and Empire Center with cafes and bars on the waterfront in the open air..
Room for 3 guests, Mongkok subway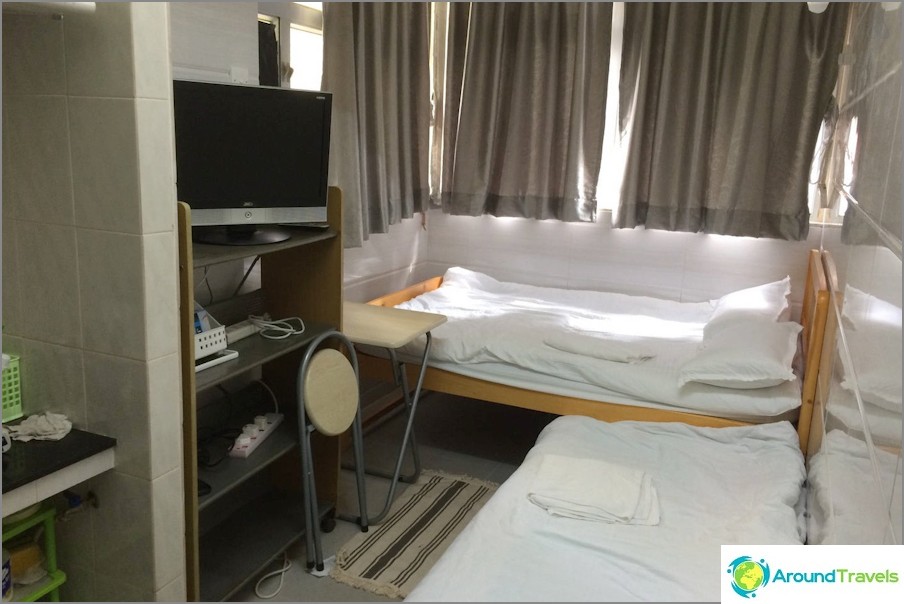 Price per day: 36 $
Budget apartment-room in Kowloon, next to the Women's Market, five minutes from the Mong Kok subway. The area of ​​the apartment is very small. It looks like a small hotel room. In fact, the apartment only accommodates 2 beds, a bookcase and a bathroom. There is wi-fi and TV. There is no kitchen or washing machine. The main double bed + an additional single bed that can be pulled out from under the main bed. The area where the apartment is located - with a large number of shopping centers, cafes and restaurants. Nearby there are laundries, public transport. Learn more about the apartment on Airbnb.
Freshly finished studio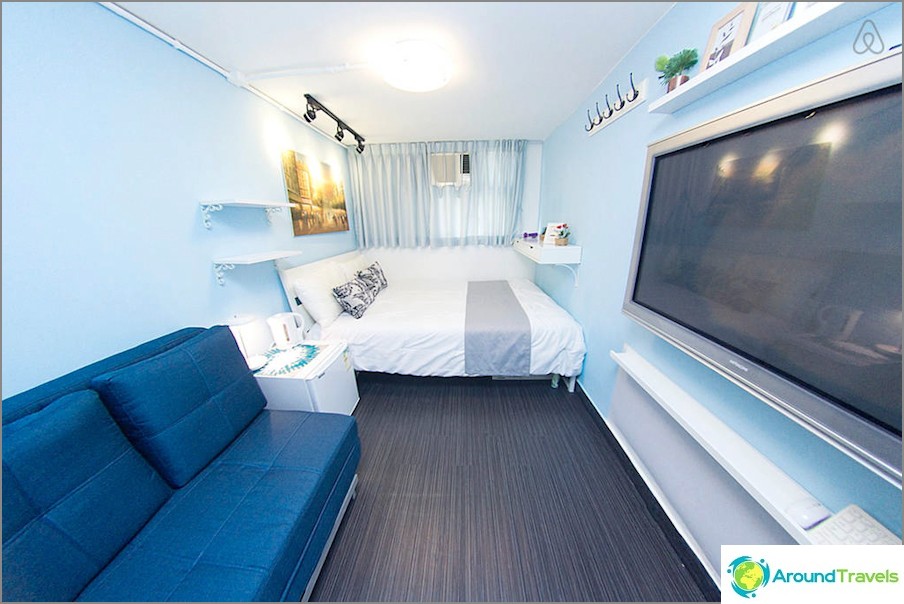 Price per day: 69 $
Recently refurbished room, close to Kowloon Park and Tsim Sha Tsui Subway, in the city center. In addition to the double bed, there is a large fold-out sofa (the maximum capacity of the apartment is 4 guests), wi-fi, TV, bathroom, refrigerator, air conditioning. Learn more about the apartment on Airbnb.
New light studio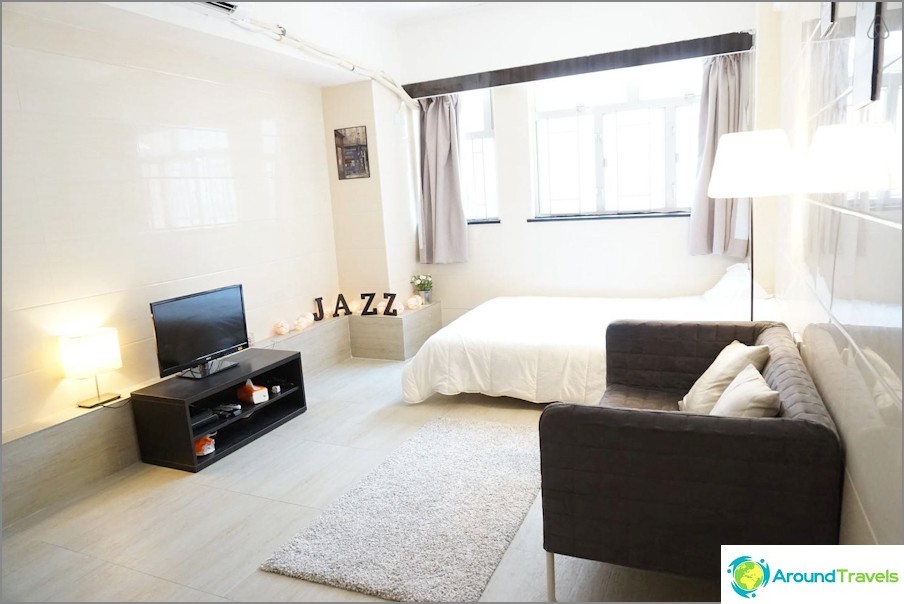 Price per day: 80 $
The studio is located in the Tsim Sha Tsui area. The place is calm, the building has an elevator (not everywhere in Hong Kong, even in high-rise buildings). There are many restaurants, cafes and shops around. The apartment has recently been redecorated, everything is fresh and clean. There is a bathroom, a kitchenette with a sink and a microwave (no stove), a double bed and the ability to accommodate two more guests. That is, the maximum occupancy of the apartment is 4 people. Suitable, for example, for a family with two relatively adult children. Learn more about the apartment on Airbnb.
Two bedroom apartment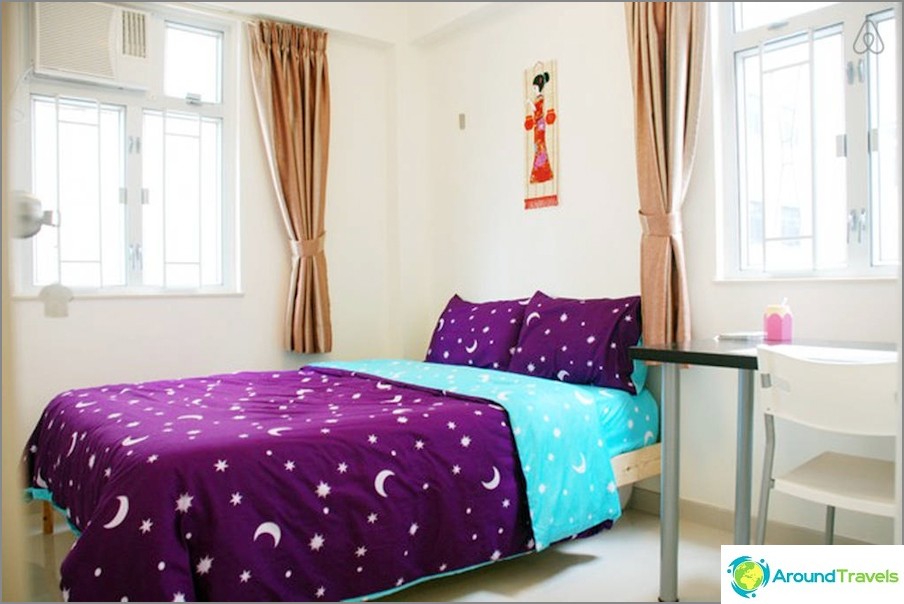 Price per day: 117 $
Simple and unassuming, but clean and bright apartment of about 50 square meters (large by Hong Kong standards) with two bedrooms. The maximum number of guests is 4 people. There is a fully equipped kitchen and living room with sofa and TV. The apartment is on a high floor, with lots of windows and full of sunlight. Victoria Harbor can be seen from the side window. There are lifts and security guards with video surveillance. Next to Tsim Sha Tsui subway. Learn more about the apartment on Airbnb.
Hong Kong Island apartments
All apartments located on the island of Hong Kong in this selection are mainly located near the Wan Chai metro, as well as Sheung Wan, Central, Admiralty. This is the very center of the city. Ferry nearby Star ferry, who walks to the Kowloon Peninsula before Avenue of Stars. It is also quite easy to get to HongKong Park and to the Peak Tram, which goes to Victoria Peak.
Cozy one bedroom apartment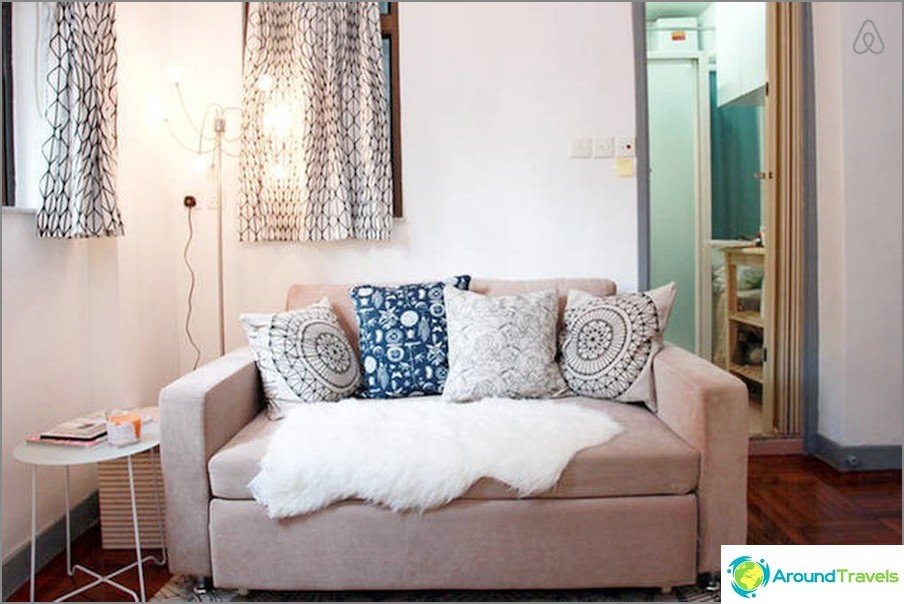 Price per day: 106 $
Small in size, as is usually the case in Hong Kong, but bright, clean and comfortable one-bedroom apartment with a small kitchenette, a table and a sofa bed in the living room. Near the Central metro station, practically in the very center of the city, it is conveniently located. All the delights of the metropolis, nightlife, restaurants and attractions are nearby. At the same time, the street where the house is located is quiet and calm. Learn more about the apartment on Airbnb.
Small apartment with two bedrooms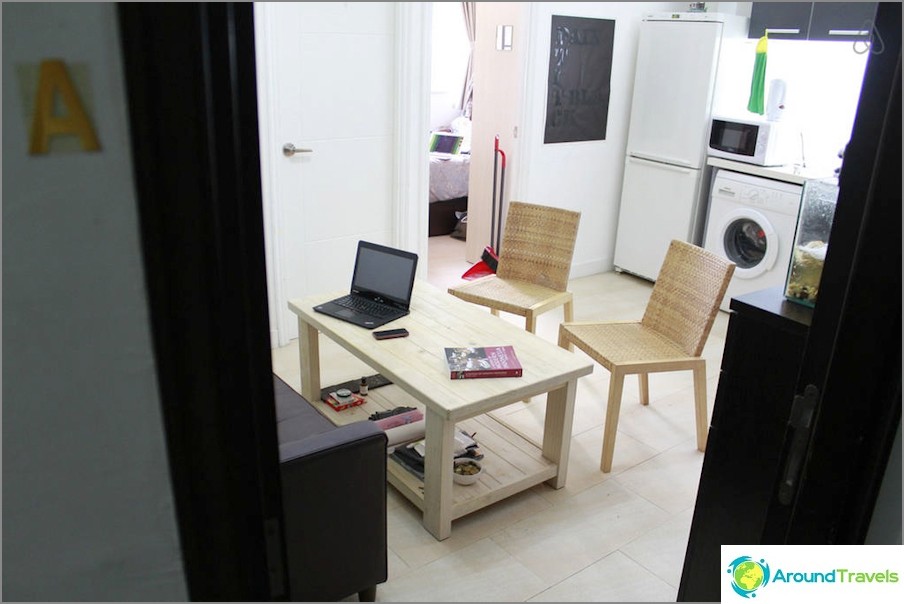 Price per day: 106 $
Cozy and nice apartment in the heart of the city, Wan Chai metro. A good option for those who travel with a group and walk a lot during the day. The housing is rather small in size. Especially the living room combined with the kitchen. But there are two bedrooms with large beds and everything you need for life. A washing machine, a fully equipped kitchen, cupboards and even a small turtle aquarium. Access to the roof is available - suitable for smokers or those who like to watch the life of big cities. The view from the window, however, is not impressive. There is no balcony or other services in the building. Learn more about the apartment on Airbnb.
Nice two bedroom apartment with a view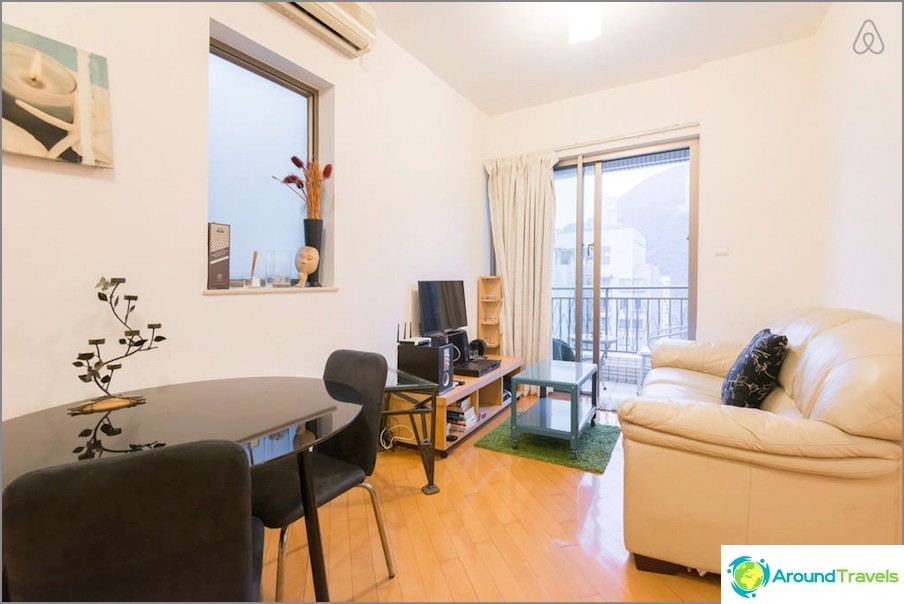 Price per day: 143 $
Apartment in the city center, just a few steps from the metro. Well furnished with large beds in the bedrooms. There is a washing machine and other necessary things. Nice view from the balcony. Also, a good view opens from the private rooftop area, you can do a barbecue. The building has a gym and a swimming pool (for a small additional fee). Next to Wan Chai subway. Learn more about the apartment on Airbnb.
Apartment on the 29th floor with a view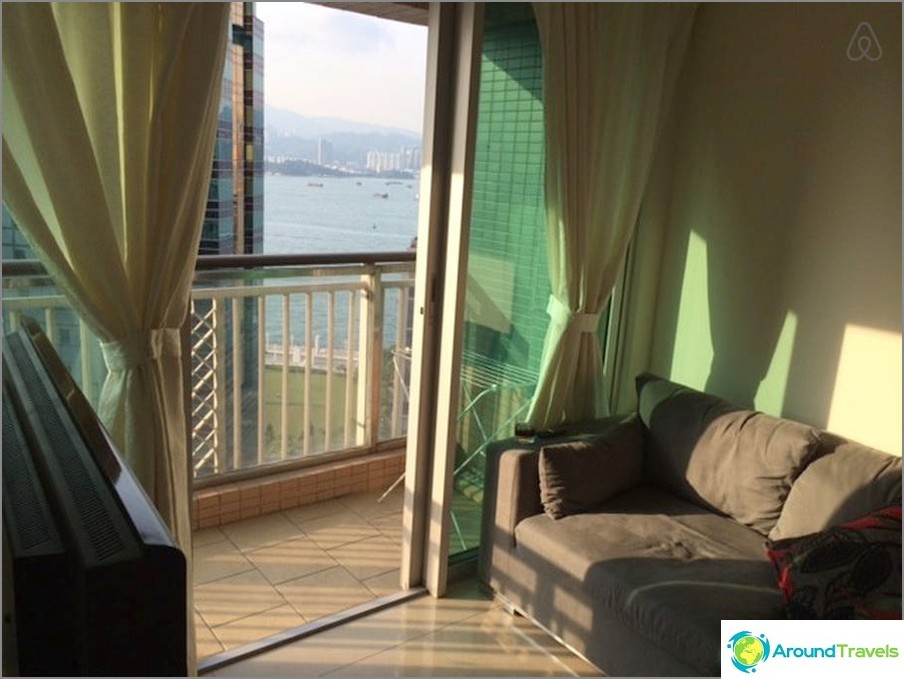 Price per day: 166 $
Bright apartment on Hong Kong Island, in the city center, close to Sheung Wan metro station. It is located on the 29th floor, so the view from the small balcony is quite good. The apartment has 2 bedrooms, pretty nice furnishings. There is a washing machine, clothes dryer on the balcony, a kitchen with everything you need, and even a bathtub in the bathroom (usually showers are made to save space). I liked, first of all, the view of the strait from the balcony, romantic. There is a gym in the building. Learn more about the apartment on Airbnb.