Remember how we all climbed trees as a child? I remember very well that we climbed the thick oak trees and sat there on the branches, talked and ate cookies. There was even a moment when several like-minded people got together and muddied a hut in the forest, we built it right on the trees, it turned out as many as 3 floors ... Apparently, since then I love the forest, height, and gravitate towards wooden houses.
I have long wanted to climb the rope park, but somehow it was not destiny. At first, there was nothing like this nearby, I kept looking closely at the Lipetsk region (there is a rope park), then not so long ago in Sokolniki such a thing appeared, but in the city it is somehow not natural to climb. Therefore, when I found myself on Koh Chang, I could not pass by this adventure park, this is a real jungle with monkeys, besides, there are also several zip-lines there..
The content of the article
Rope Adventure Park - Tree Top Adventure Park
At the very beginning, you will be instructed in English. Even if you do not know him well, it will not be difficult to understand the meaning. Plus, you will be given the opportunity to practice at a height of 50 cm and will be corrected if something goes wrong. But just in case, I'll tell you, it will be easier to understand later. You will have three pieces of rope dangling on the harness (on your belt), at the end of two there will be identical carabiners, on the third - a pulley. So, carbines are insurance, at least one must be attached to a safety cable all the time, which is stretched along the entire route. Since you need to go around trees, you need to throw the carabiners one by one, in turn. The safety cable is marked with red tape (there are other cables holding the track), so you will always know where to hook your carabiners. The video is only needed for zip-lines. You come up, cling to with two safety carabiners, and then hook the roller, put your hands on top of it (there is a platform there) and fly over the jungle.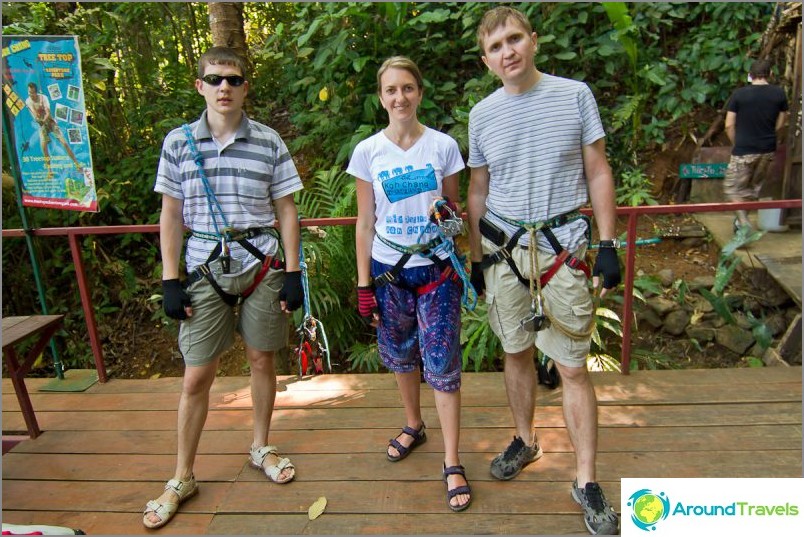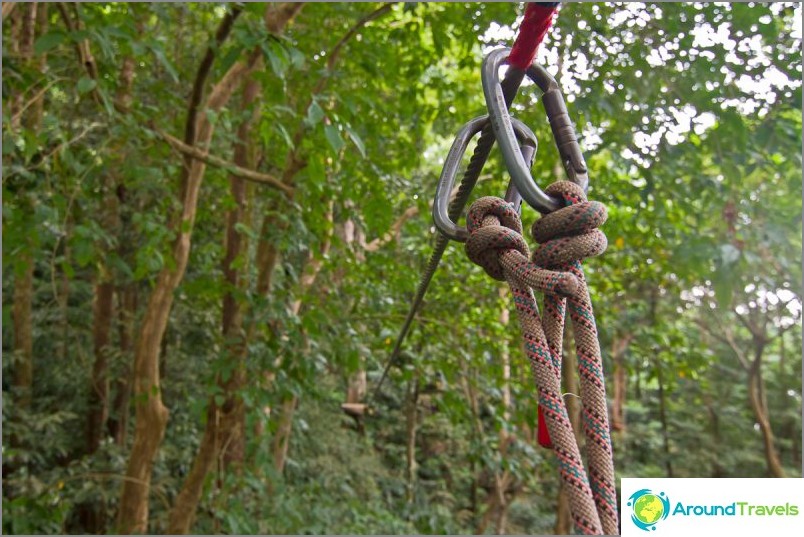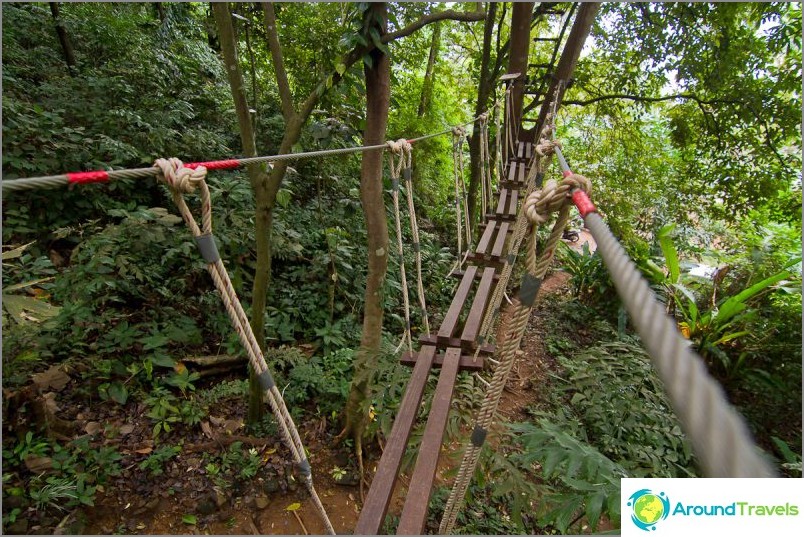 The park is divided into two parts. The first is walking along rope paths (with boards) and another kind of movement between neighboring trees. The second is a few zip lines and a bungee. To go unhurriedly the entire route, you need about an hour and a half. These parts are not connected to each other, therefore, after passing the first one, a break is taken, and then you need to walk 200 meters to the beginning of the second route. Honestly, seasoned fans of extreme sports have nothing special to do there, you will get a little adrenaline. However, if this kind of entertainment is new to you, then I recommend it. Well, with children, I think it will be fun too. Since I consider myself to be in the category that is somewhere in the middle, I liked everything, although, of course, I wanted both harder rope trails and more authentic zip-lines..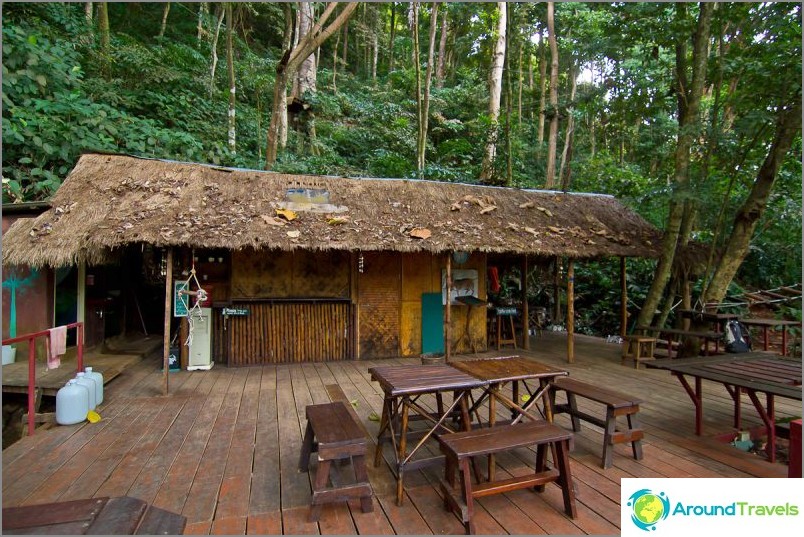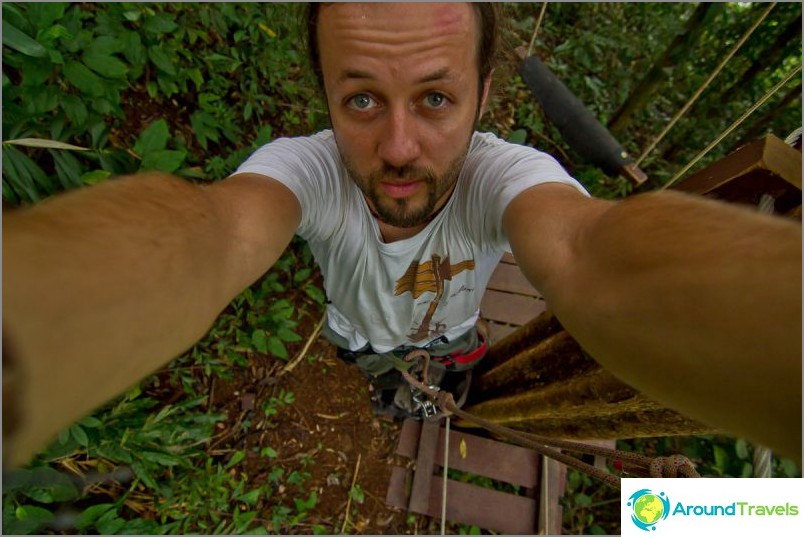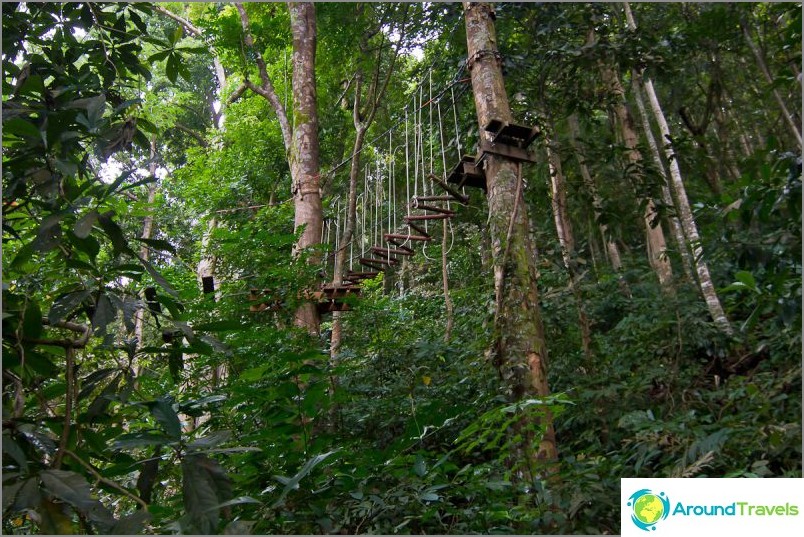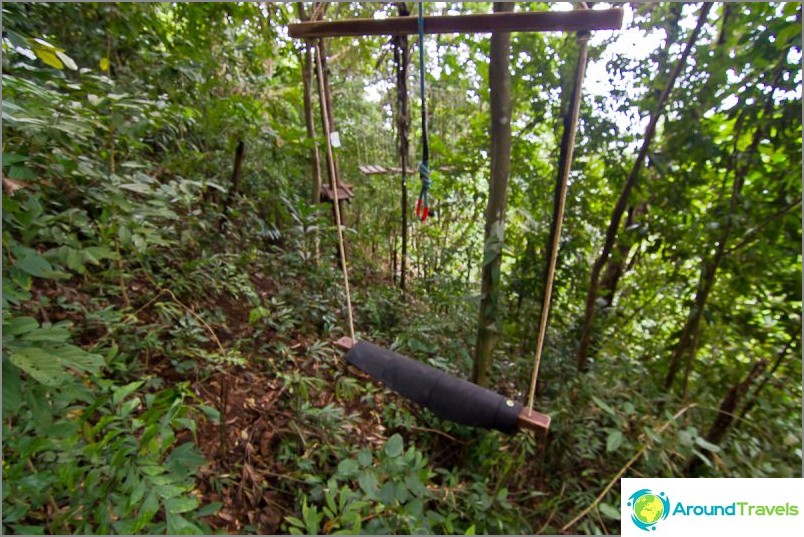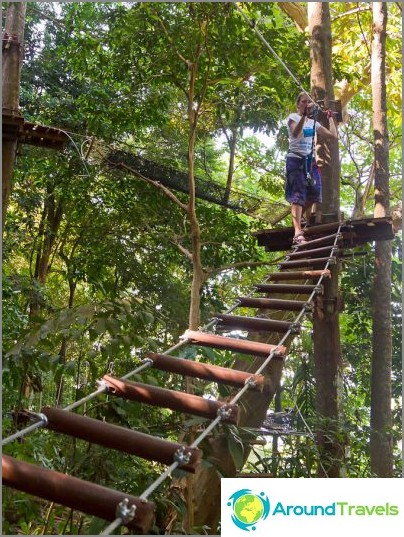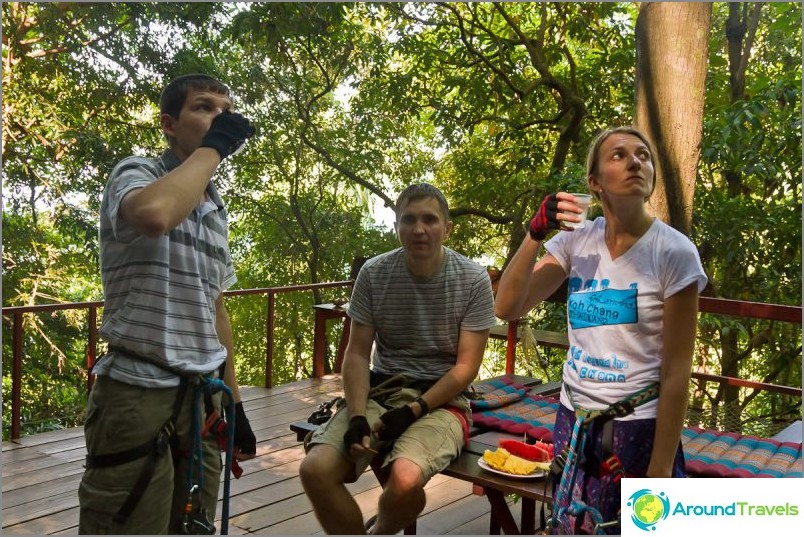 The second part of the park - zip-line
For those who do not know what a zip-line is. This is a cable stretched between trees at an angle, so that you can cling to it at one tree and slide to another. The longer the cable and the greater its inclination, the more sensation. Really, the most interesting thing in the park. True, in Tree Top Adventure the zip-lines are relatively short, although it is still breathtaking, I was even a little scared the first time..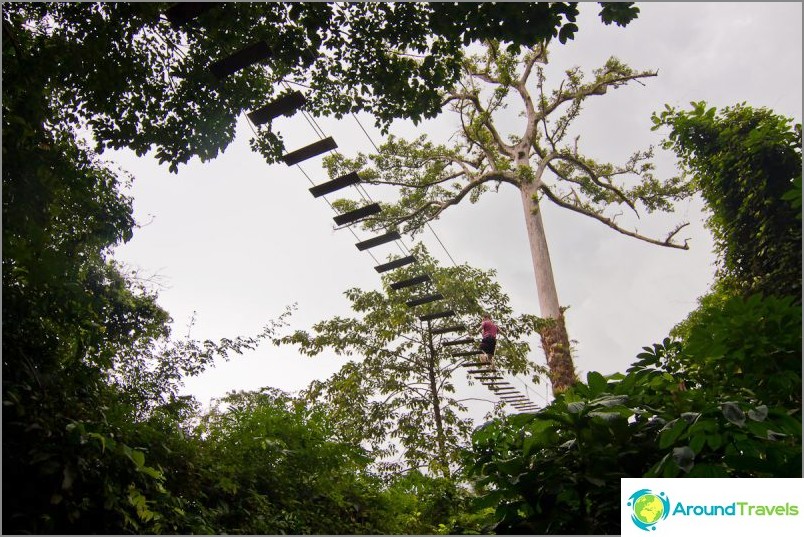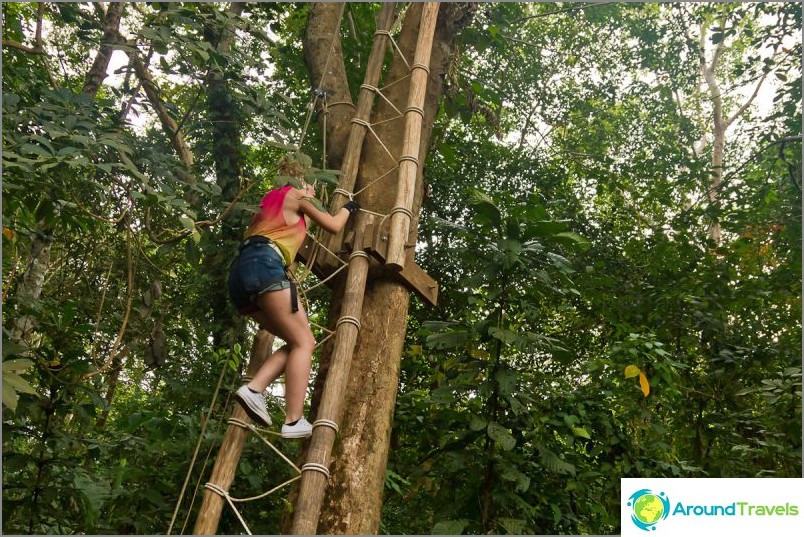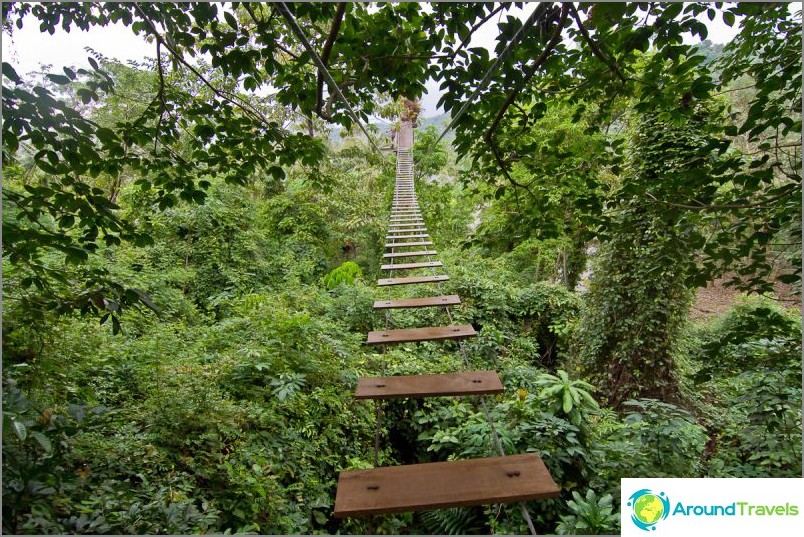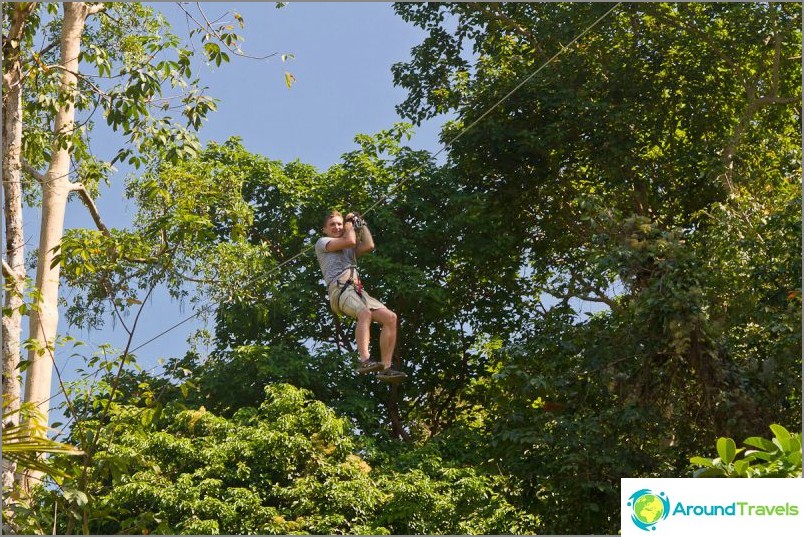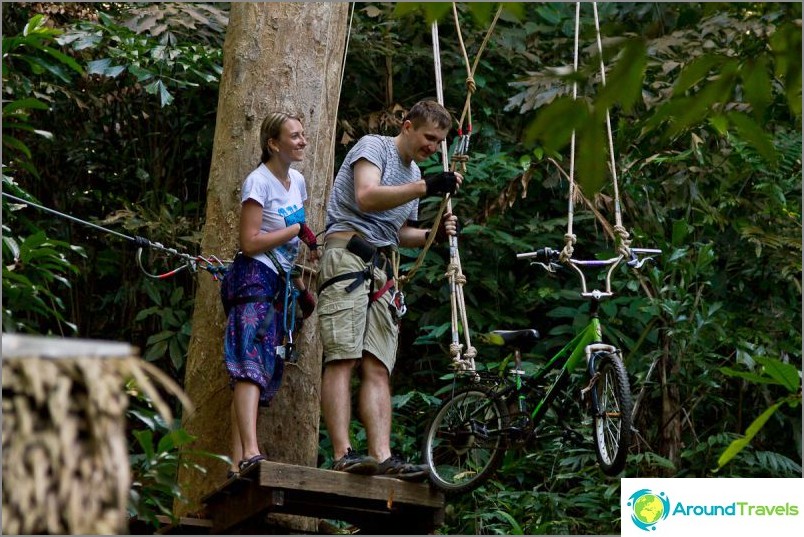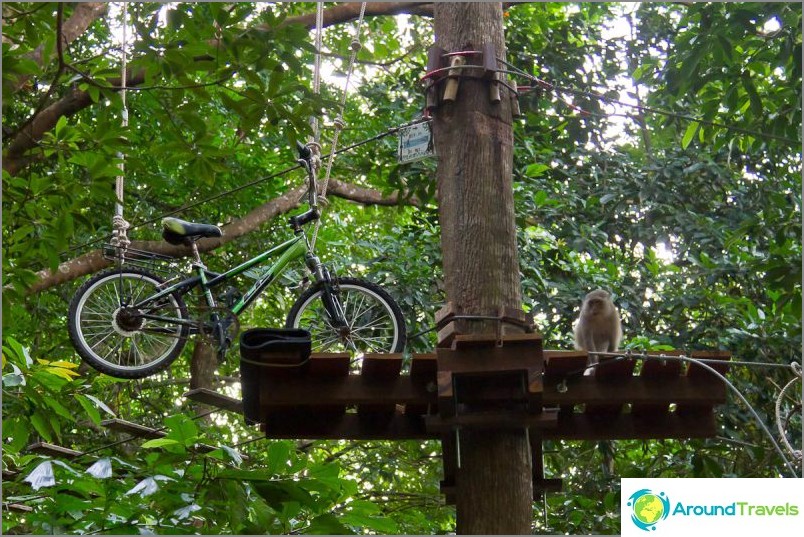 Information to visit
The cost of visiting the park is 950 baht (950 rubles), no matter an adult or a child. They also have a round-trip transfer for 150 baht per person, they carry from all over the west coast from White Sand Beach to Bang Bao. I can't say that the price for this entertainment is budgetary, but if you compare it with other such parks in Thailand, then the price is normal. In Chiang Mai won, a Gibbon flight costs 2500 baht, if I'm not mistaken. I'll have to try it somehow for comparison, maybe it's something completely different. By the way, the price includes water and a plate of fruit, which you will share with a few more people during the break, but that's it, little things.
Adventure Park official website - http://www.treetopadventurepark.com/
(!!!) If you are not resistant to mosquito bites, then stock up on repellents, there they can be very useful to you. They eat well.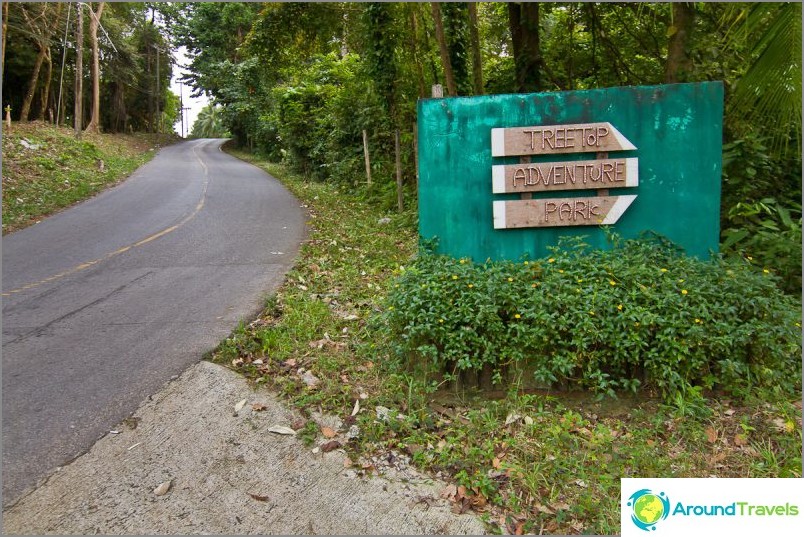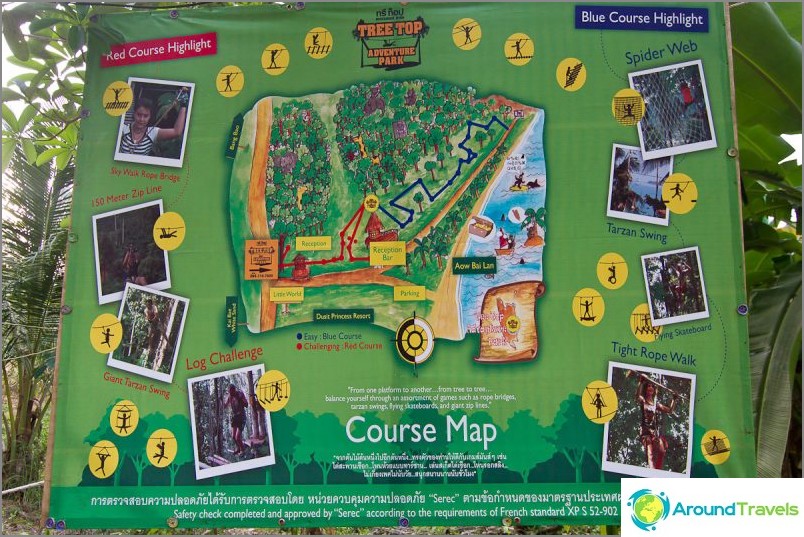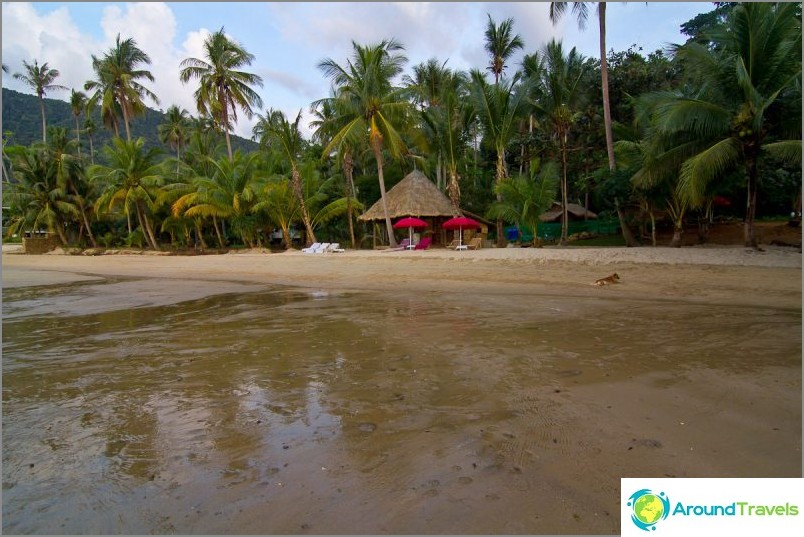 On the map
Rope Park (Tree Top Adventure Park)
Rope Park (Tree Top Adventure Park)
Moving through the jungle on rope tracks with belay. Price 950 THB.
There is a mini beach near the entrance to the park.
Read about the rope park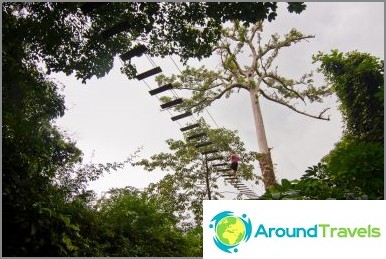 Moving through the jungle on rope tracks with belay. The cost is 950 baht. Near the entrance to the park there is a mini beach. Read about the rope park
P.S. If you are interested in how to live on Koh Chang, we have a description nice and budget bungalow, and you can look for other bungalows and guesthouses at RoomGuru.