Everyone knows the phrase «Thai cuisine», but only those who have visited this country at least once have had a chance to taste and find out what they eat in Thailand. And those who live there or spend the winter are even more lucky - for them this exotic food is becoming commonplace. I know that some of the Thai cuisine has time to get bored during the winter, but I haven't gotten tired of it for all these years, so I can only give a positive review. Now in Moscow I sometimes try to cook something Thai or just go to a Thai cafe.
Only I have never eaten, in fact, normal Thai food in Russia, that Tom Yam and Pad Thai are very different from what I am used to in Thailand. But it may well be that you will like Russian Thai food more, as it is more adapted, after all, any Azite food is specific.
The content of the article
About Thai food
Food cult
We can safely say that Thailand has a cult of food. Not only are the Thais themselves not at all embarrassed to eat absolutely everywhere (soup or roast is often eaten directly from a plastic bag, sitting at a bus stop or just on the sidewalk), it is also impossible to take a step so as not to bump into the food for sale - it is everywhere. You can thank for this, first of all, the so-called makashnits (this is any kind of seller who carries his «kitchen» with you on wheels, whether it's a bike or just a bicycle). I will talk about them separately below..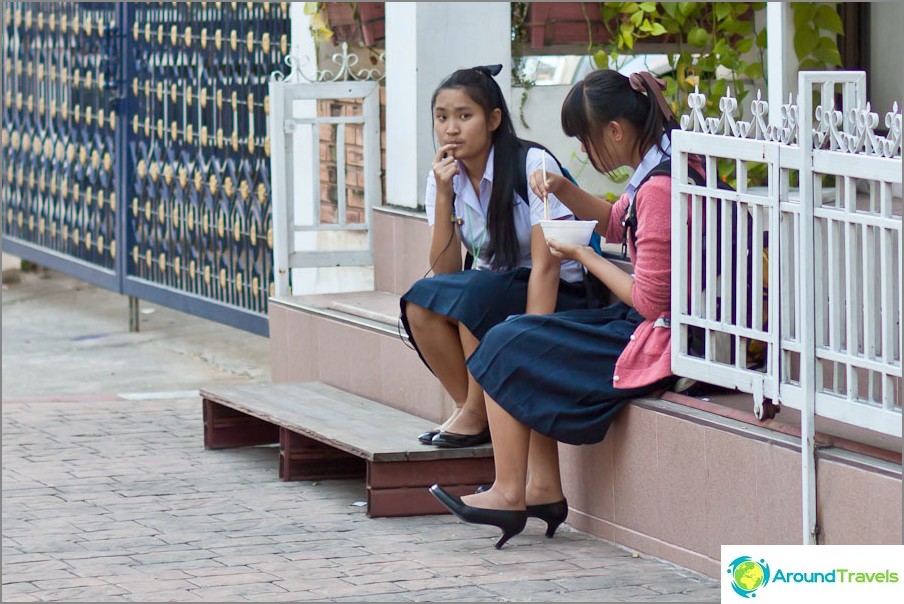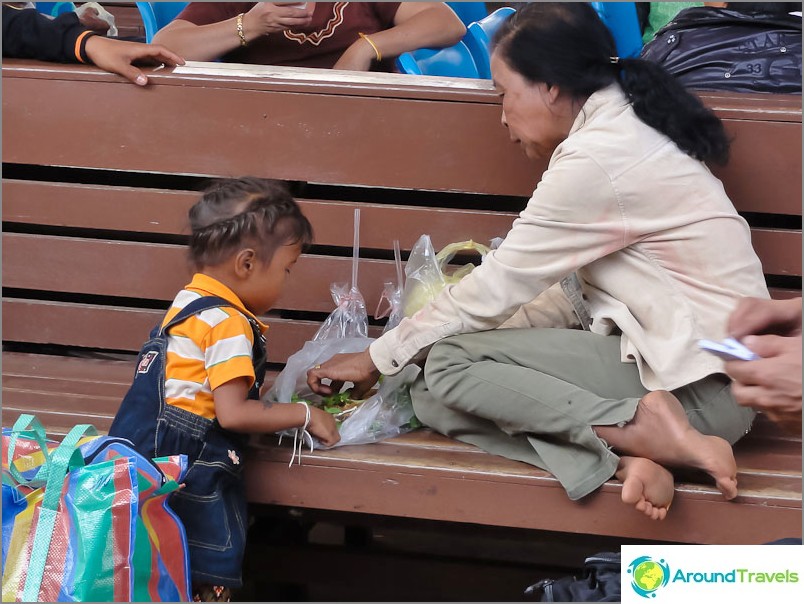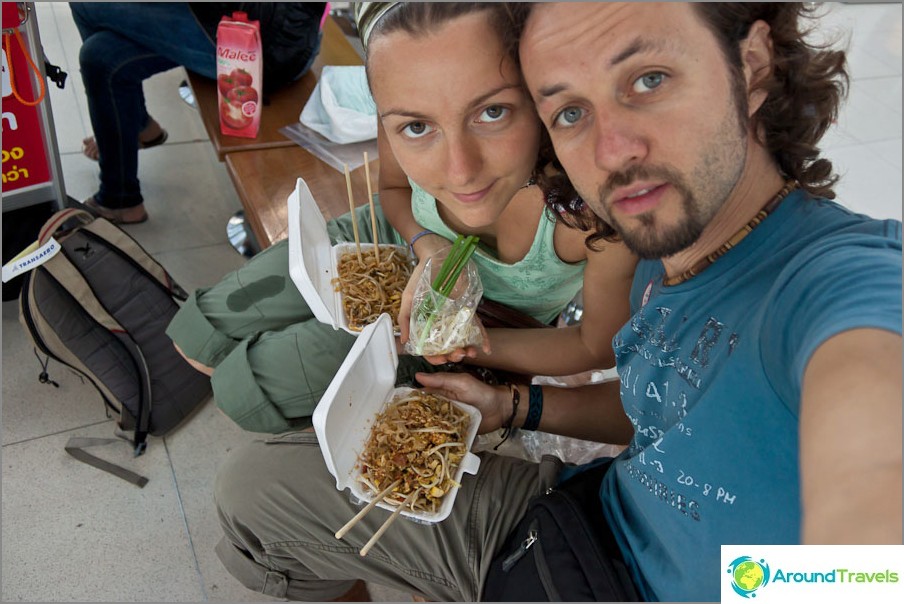 Is it dangerous to eat in Thai cafes?
It is customary for Thais to consume only freshly prepared meals and not leave cooked food the next day. So even in a scary at first glance look of street cafes, food will be fresh and tasty. In general, food is often prepared right in front of you - be it fried pancakes, pad thai, or even soups. This can be seen especially clearly in the food courts of hypermarkets, where right in front of you they fry noodles in sauce, throw tom yam ingredients into the broth, and pound som-tam salad dressing in a mortar. In addition, Thais put a lot of hot peppers, curries and other spices in their food that kill excess germs..
At first, it was scary to buy food from these dubious cooks, but after trying it once, we realized that often food in makashnitsa or simple cafes (including food courts) is even tastier than in a licked European cafe. And never once in all the time spent in Tai we personally did not get caught up in anything and did not experience problems with digestion, although we boldly tried to eat in different seemingly not presentable places.
So you shouldn't worry about food safety in Thailand. Do not rush to try everything right away, but you do not need to be afraid of Thai food, bypassing it. You just need to score on unsanitary conditions.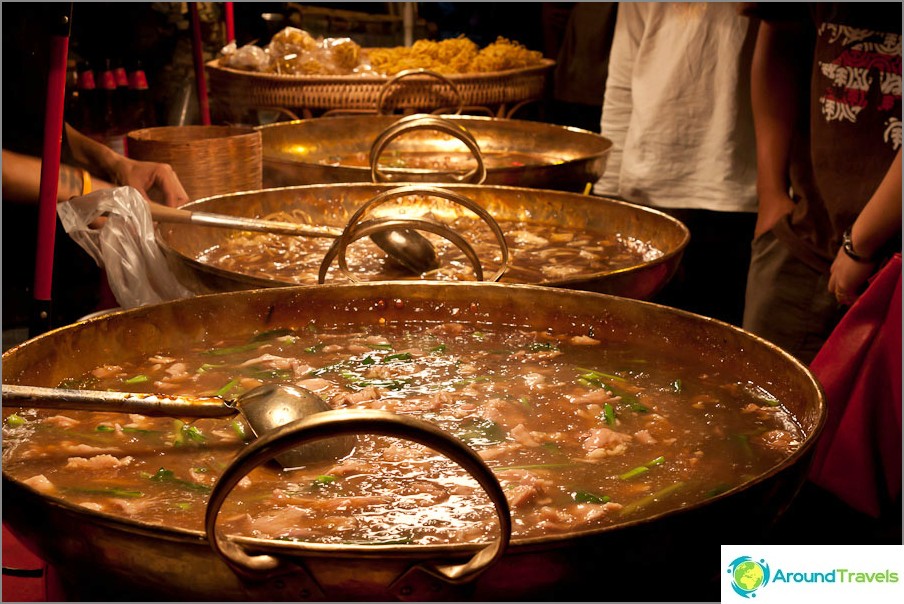 What to try from food, main dishes
It may seem that Thai food is of little variety, but this is far from the case. Sometimes you are even surprised at the boldness of their culinary art in mixing seemingly incompatible products and tastes. All dishes are based on rice and its derivatives. Moreover, the rice itself is of several types (brown, crumbly white and sticky), and rice pasta amazes with the variety of its forms. For Thais, rice is like bread for us, it can be served with anything. And there is a great multitude of this anything! I will not say that I tried all Thai cuisine, but a couple of dozen dishes for sure. The most beloved are still Pad Tai and Khao Pad..
Pad Thai Kung - rice pasta with vegetables, sprouts, shrimps and sauce. Occasionally they may write Fried noodle on the menu, but most likely it will not be Pad Thai.
Kao Phad (fried rice) - fried rice with vegetables, chicken or shrimps.
Tom Yam - a sour and spicy soup, usually with shrimp and mushrooms (Tom Yam Kung), but maybe with chicken (Tom Yam Gai).
Tom Kha is also a soup, but less sour and less spicy compared to Tom Yam, with a large addition of coconut milk. Also served, either with shrimp or chicken.
Som Tam (Papaya salad) - a spicy salad of green (unripe) papaya interspersed with small shrimps. If not warned, it will be very spicy. In its various varieties, there is also the addition of an egg, rotten crab, etc..
Please note, if when ordering a dish, you do not warn that you need not spicy (no spicy - «know spicy»), then get ready to be a fire-breathing dragon. But do not worry, if you live in Thailand long enough, then you gradually begin to get used to the spiciness of the dishes, and then this is not even enough. By the way, sometimes when passing by the cooking food, the eyes start to watery from the pepper, and you just wonder how they stand calmly over the stove there..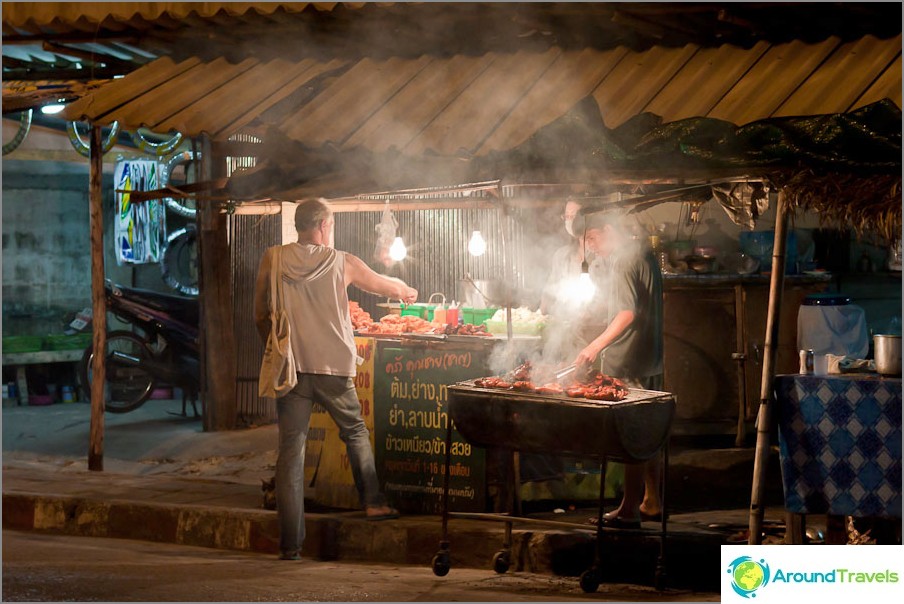 The price of food in Thailand in a cafe
Let's talk about how much food costs in Thailand. The prices for food in cafes are generally low. Even in the capital, you can eat inexpensively almost everywhere, you can choose from numerous food courts in shopping centers, and even inexpensive restaurants at hotels in Bangkok..
Prices for food in Thailand in cheap cafes start from 30-60 baht for a simple dish such as fried rice with shrimps, and increase depending on the civility of the cafe and its proximity to the sea. Exactly the same rice with shrimps in a cafe on the beach or in a cafe with an interior will cost about 120-200 baht. You can eat civilly and inexpensively in food courts in supermarkets, prices are 50-100 baht per dish. As you can see, the prices are small, and everyone can choose how much to fit. That is why the Thais themselves and foreigners living in Tai do not cook at home so often, there is simply no sense in this..
Here are some more examples of food prices in food courts: som-tam - from 35 baht, pad thai and fried rice - from 40 baht, a large plate of noodles with various fillings - from 60 baht, tom yam - from 60 baht.
Roughly the same prices in ordinary Thai cafes not on the seashore. European dishes will, by definition, be more expensive, from 150-200 baht. For example, spaghetti bolognese or cream soup, depending on the location, will cost 200-250 baht and more. Cocktails - from 40 baht and above, up to 180 in bars for tourists by the sea. The same tom-yam in a tourist place will cost 80 and 120 and 200 baht in a cafe for tourists, depending on the interiors and the popularity of the place. Russian cuisine in cafes in resorts usually costs between 100 and 200 baht. Coffee costs between 40 and 120 baht per cup (if natural), cocktails - 20 baht and more.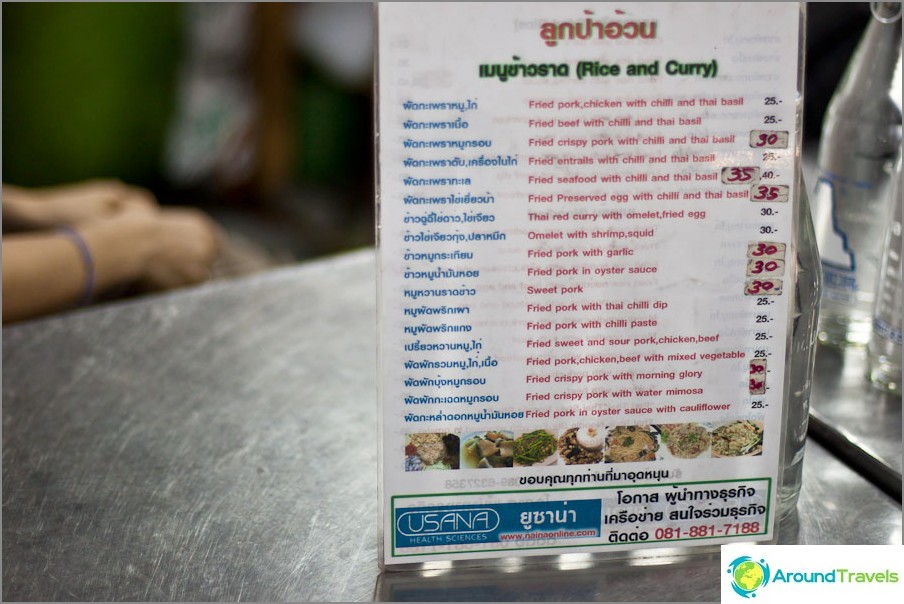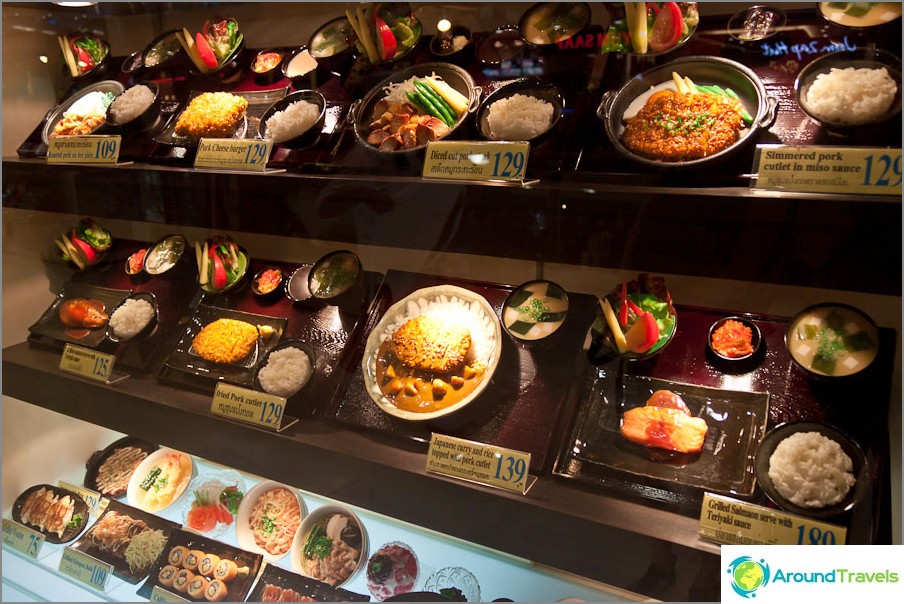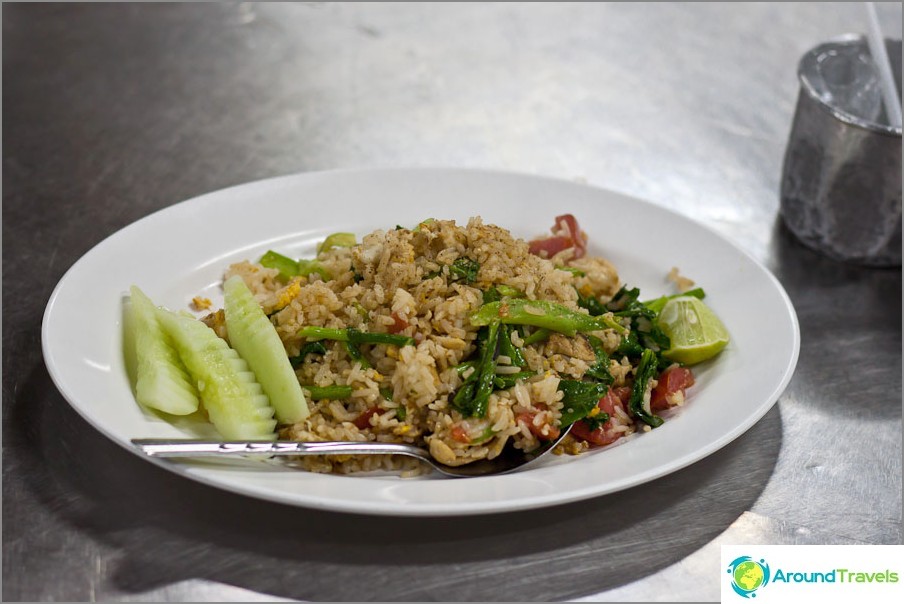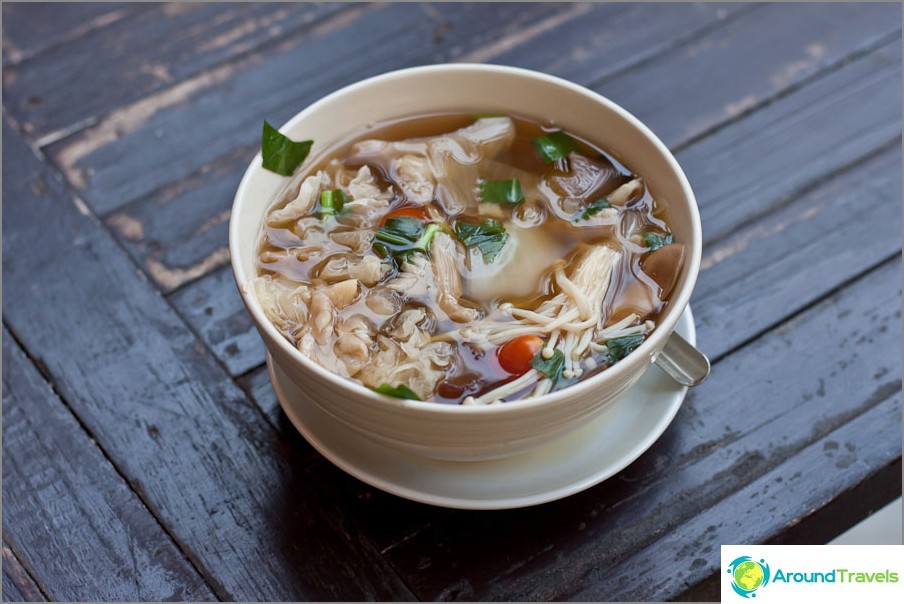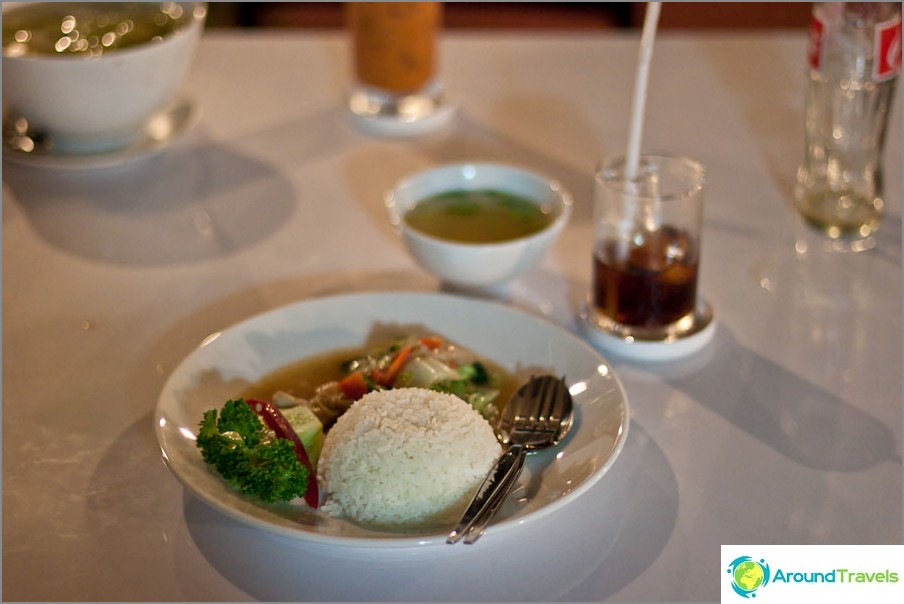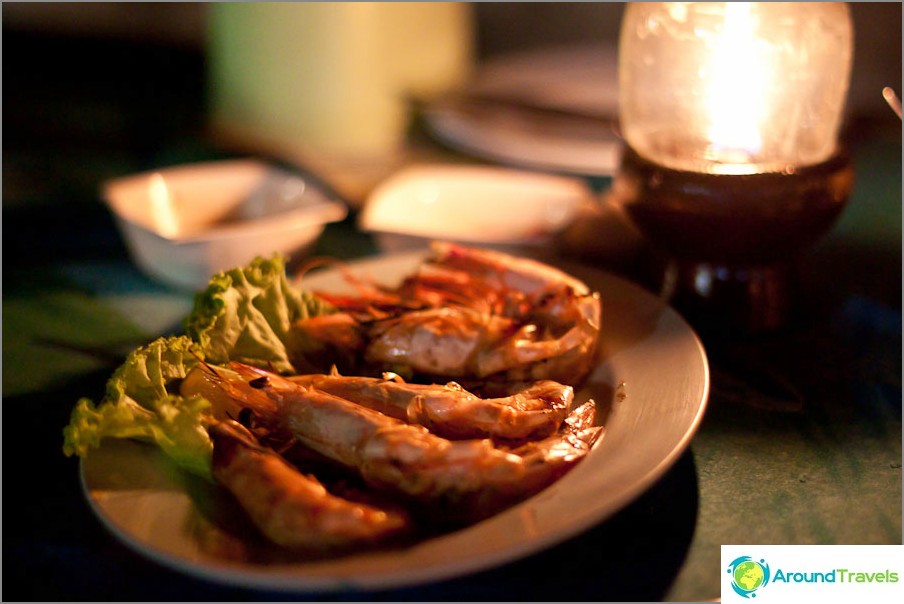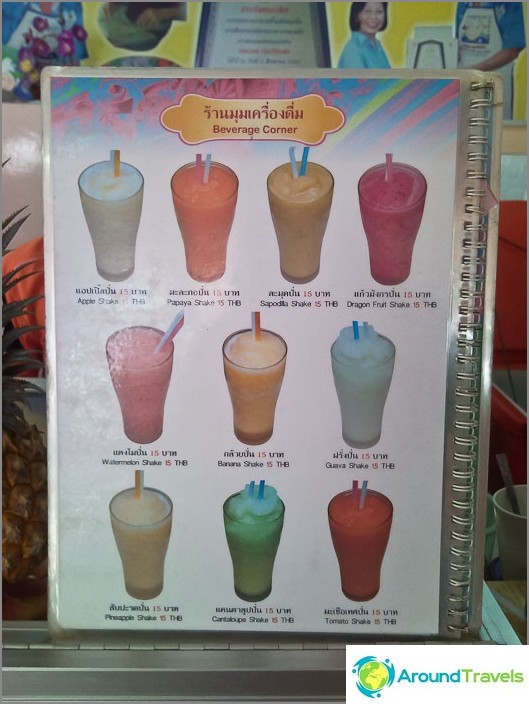 Types of Thai cafes
Makashnitsa
As already mentioned, in Thailand, you can find macaques on almost every corner. This is a kitchen cart on wheels where you can buy soups, som-tam salad (made from green papaya), rice, noodles, pancakes, peeled vegetables or drinks.
In addition, all kinds of kebabs and barbecues are very popular among Thais. Everything that can be strung on a stick is smoked in the form of kebabs, the rest is simply on the wire rack. Often barbecues stand right along the street, filling everything with very pleasant barbecue smells.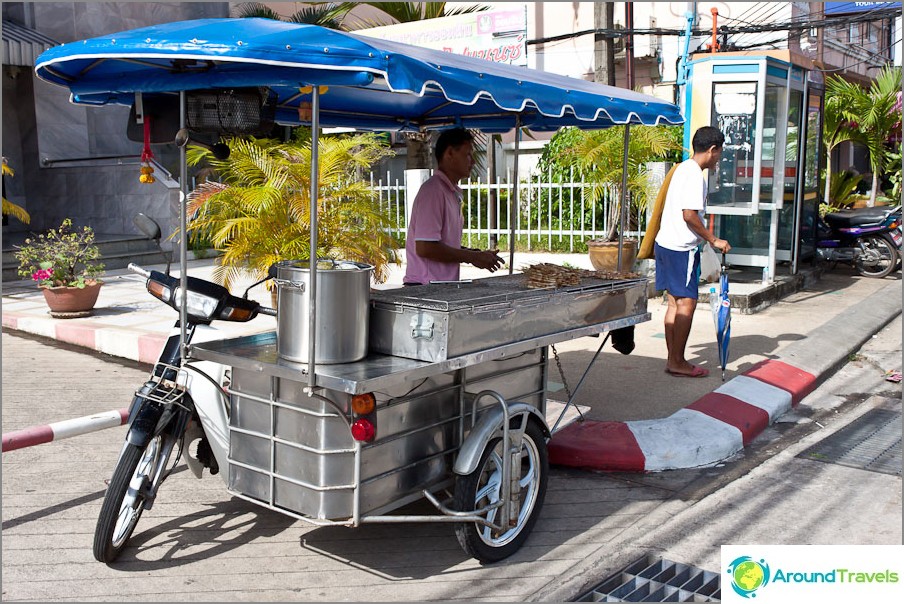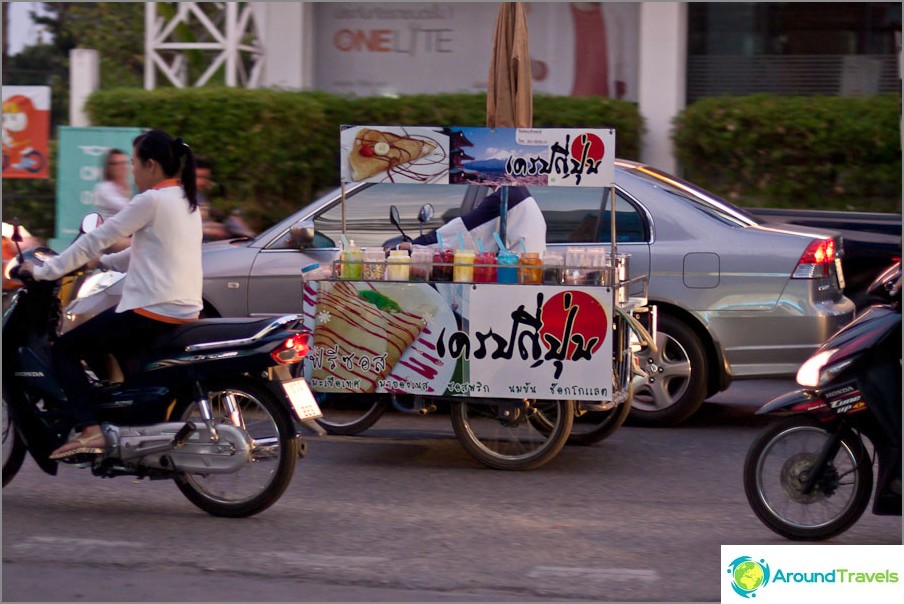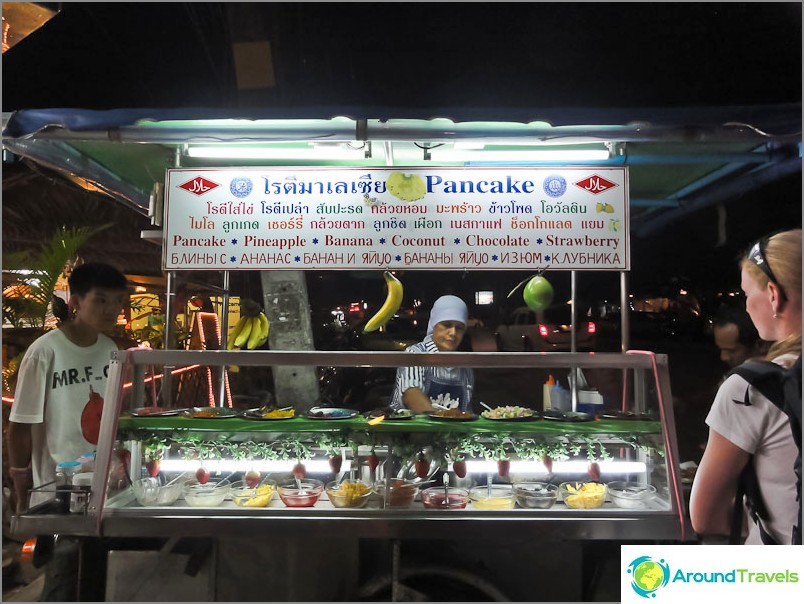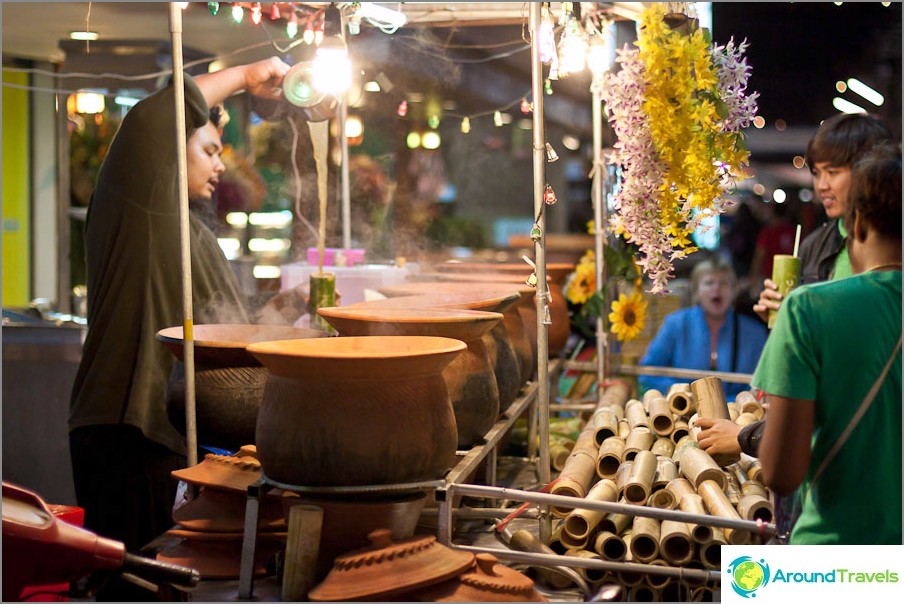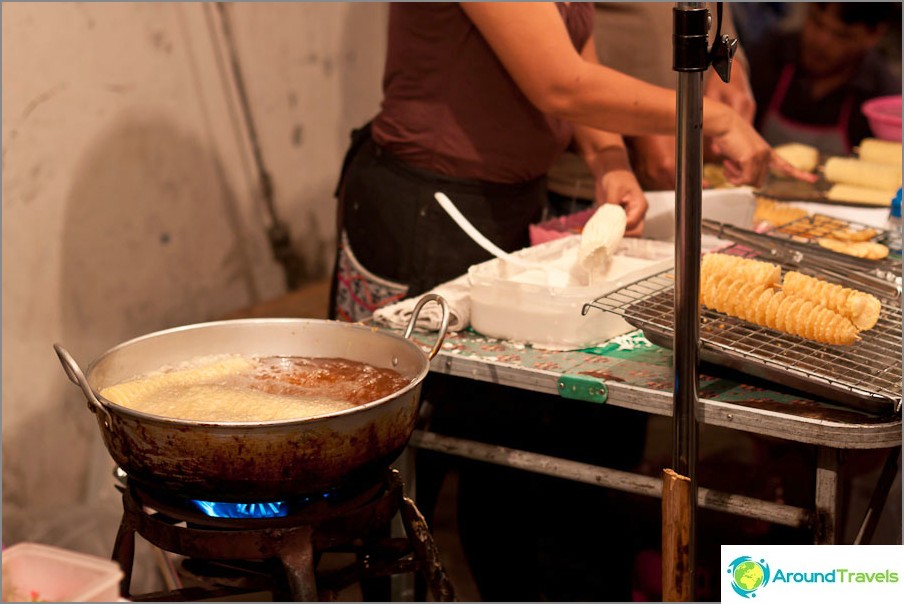 Street cafes for Thais
I noticed an interesting feature: the Thais themselves do not attach much importance to the place where they eat. Well, there are ordinary plastic chairs, well, there is a half-torn oilcloth on the table, well, shabby walls, just think! Farangs (that is, you and I) prefer to go to more well-groomed establishments, where it is somehow more pleasant to sit.
At first, ordering dishes caused difficulties for me, since there is a lot with meat, and I am partly a vegetarian. And if there was no menu in English, then in general it's a pipe. A little later, I got out of the situation by ordering something with seafood. Usually they have either meat or sea. And after that, I adapted to explain in English or on my fingers that I generally just had rice with vegetables. And God forbid you, speak «without meat» (no meat), only «no meat» (no meat). Otherwise, for the first week, we just blew the brains of local residents with our without and other words. Likewise worth talking about «no spicy» (not hot).
Although, if you go to a popular resort, such as Phuket, Pattaya and Koh Samui, then there will be no problems at all, the menu will contain not only English, but sometimes Russian as well. Especially when it comes to more civilized cafes, but about them below.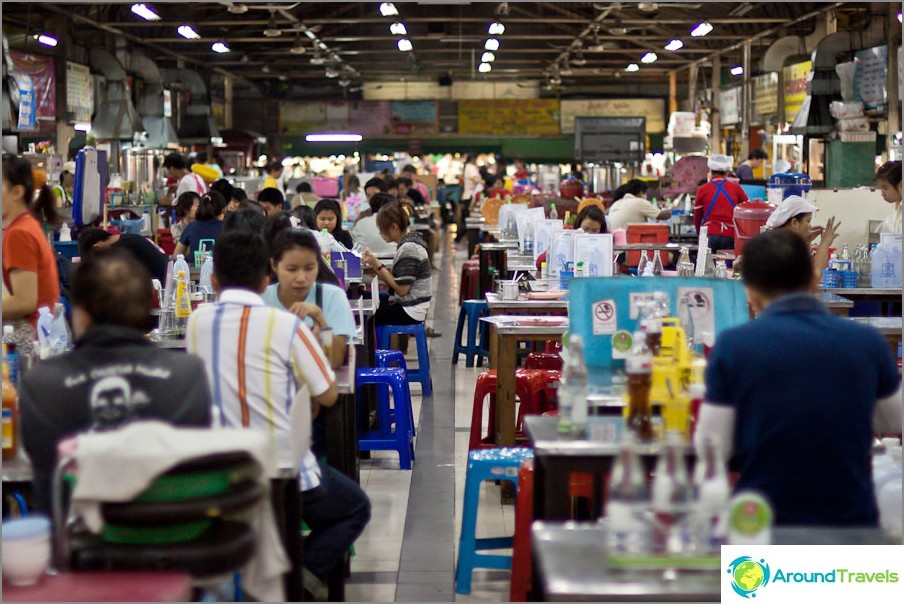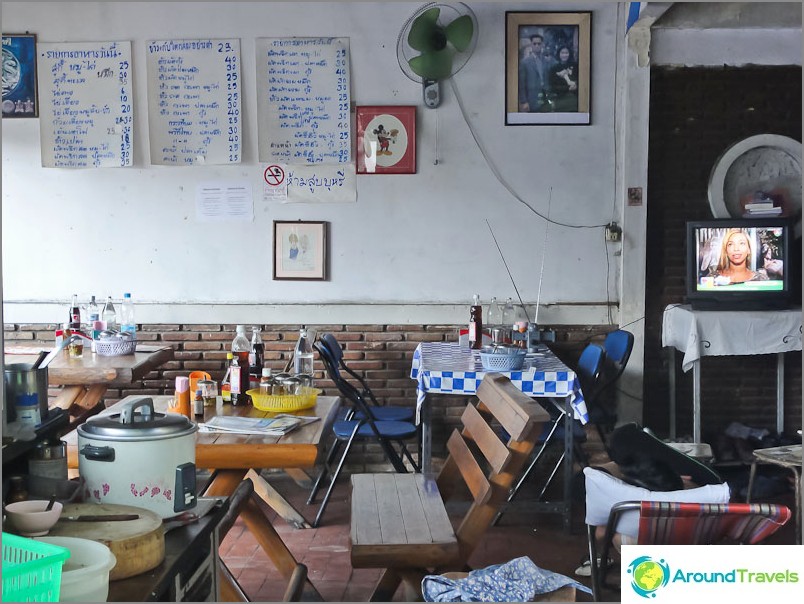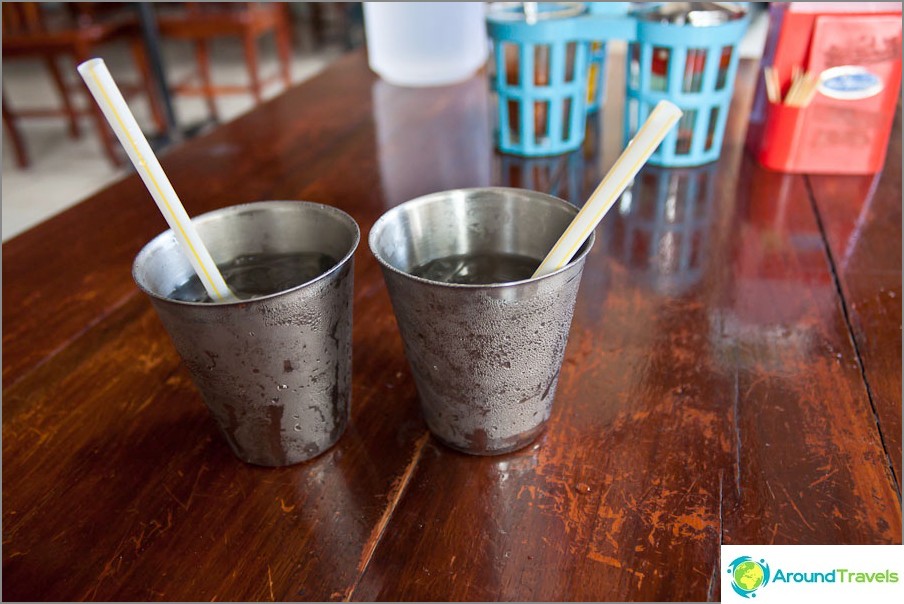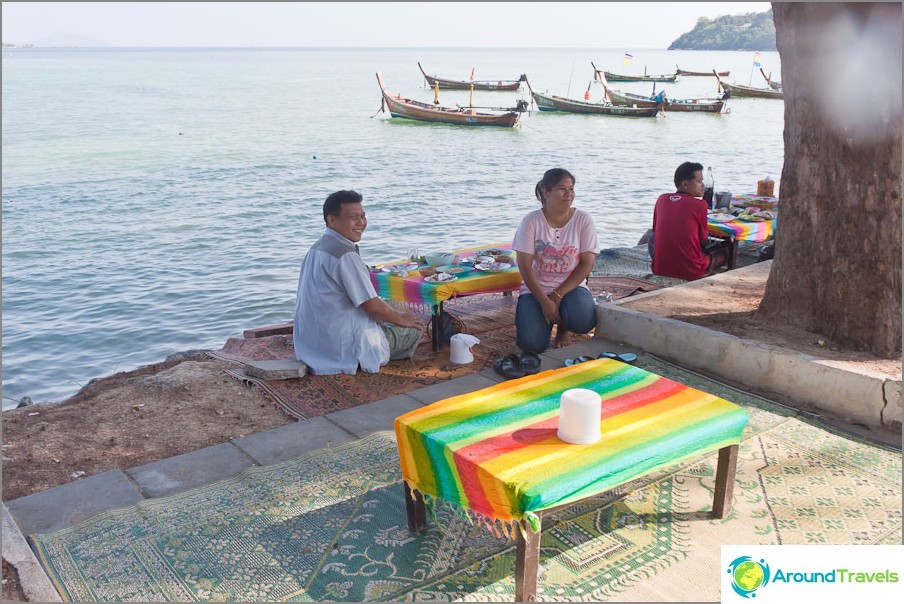 Cafe for tourists and foreigners
In popular tourist destinations, there is no problem to find cafes of almost any cuisine. First of all, this is European cuisine, all kinds of pizzerias, kebabs, hamburgers, sushi. Of course, there are also Russian cafes, as without them. Often in cafes for Europeans, local cuisine is also offered, but it is more adapted for foreigners, almost not spicy.
Of course, the interiors in such cafes are much more interesting, everything is clean and beautiful. These are often air-conditioned enclosed spaces. But prices are also higher than in simple street Thai cafes. For example, we often ate on Koh Samui in Mickey-mickey, good civilian cafe, where prices were 2 times higher than ugly Thai cafes.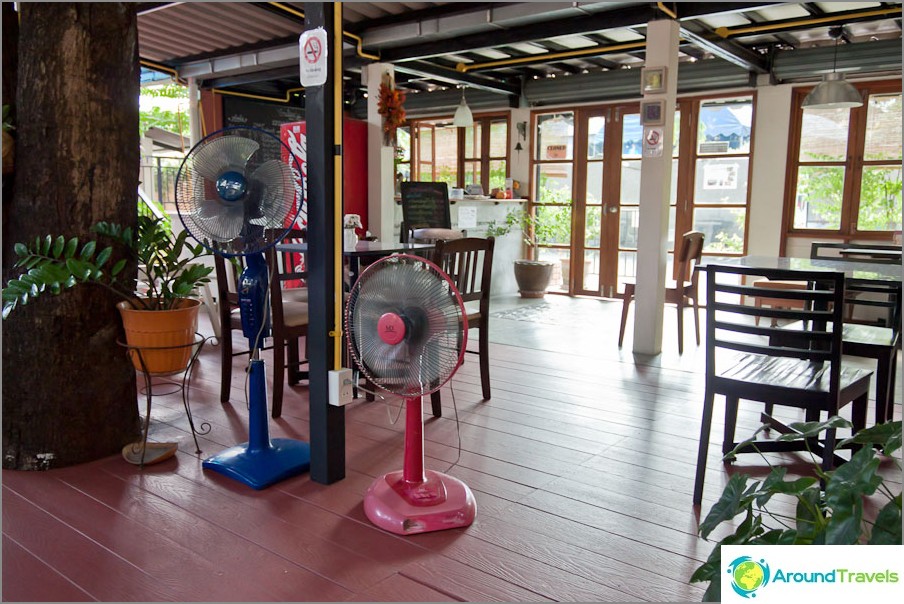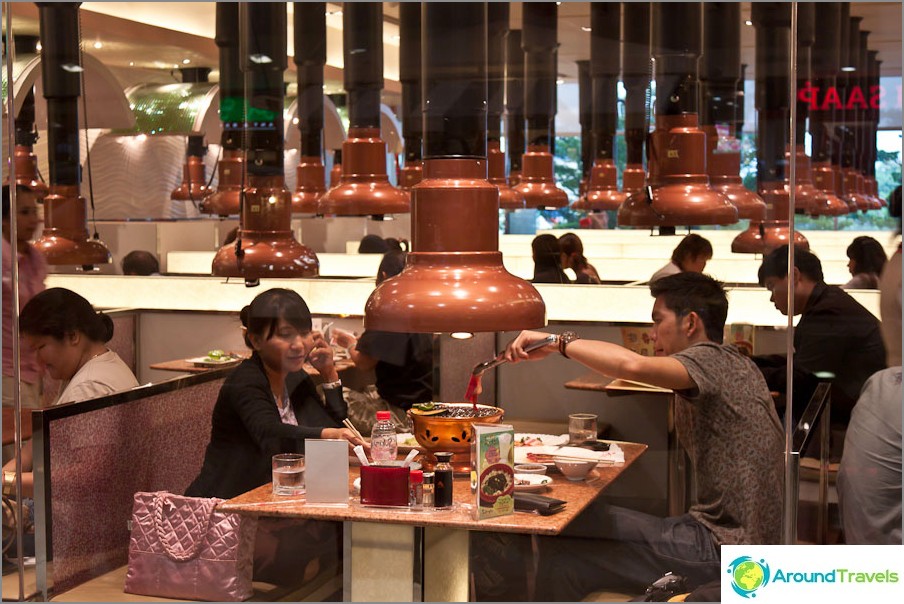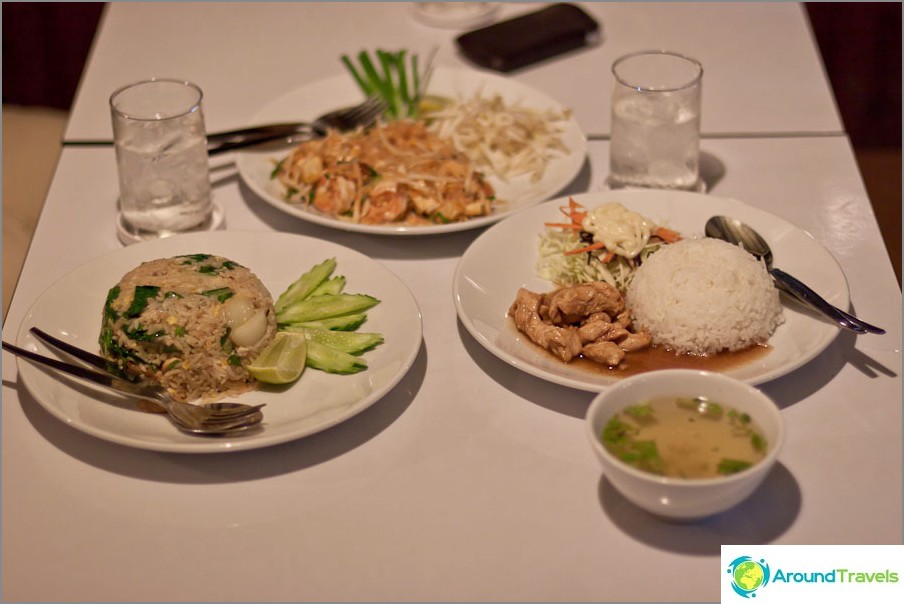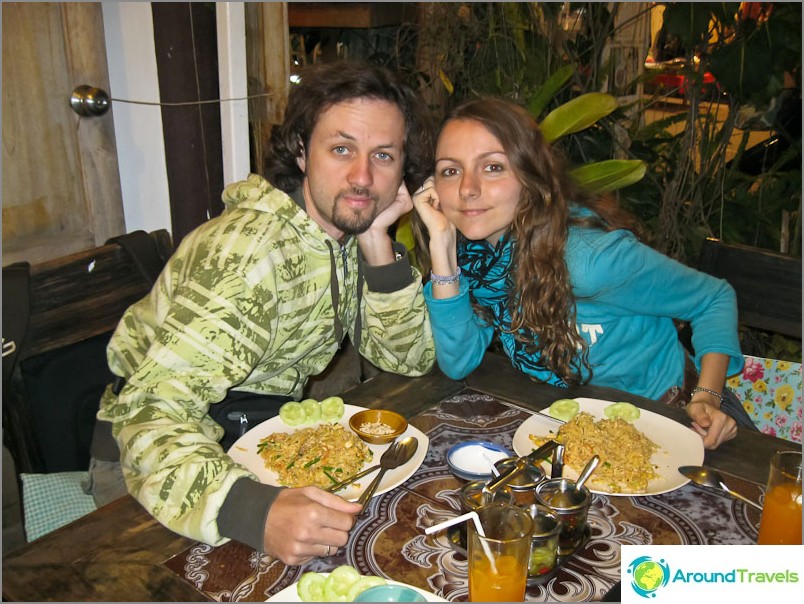 Street Food Videos
And for a snack, a video about how Rotti is cooked, and how I tried grasshoppers with larvae 🙂
P.S. In the following articles I will talk about thai supermarkets and thai markets.