Tours in Gagra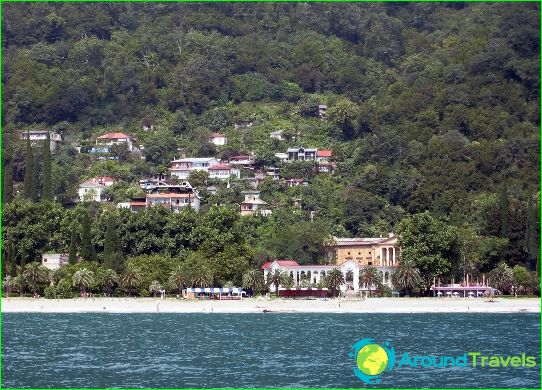 Abkhaz resort town of Gagra was founded inI century BC Greek merchants. Then it was called triglyphs, and owned these lands alternately Romans, Genoese and even Turks. Resorts became the city in the early twentieth century, when here conducted electricity, water park and laid on the orders of the Prince of Oldenburg. After just a couple of years things to do in Gagra became a fashionable way to spend a holiday not only for Russian tourists but also residents of other European countries.
Nearby attractions
During the tour in Gagra travelers manage to visit the many natural attractions, which is famous for Abkhazia. The most interesting nearby:
Lake Ritsa is almost kilometer heightabove sea level, and its shores are the territory of the Ritsa Nature Reserve. The color of water in the lake changes depending on the season. This is due to the unequal transparency rivers flowing into it and algal development.
Mountain river Reprua claims to be the mostshort river in the world. It follows from the underground karst cave and after 18 meters flows into the Black Sea. The second record Reprua - water temperature in it, which is the lowest among all the rivers on the territory of the Black Sea coast.
Viewpoints on the mountain Mamdzyshha sixkilometers from the city - a great opportunity for the participants of the tour in Gagra to see the surrounding countryside and the resort aerial view. Order a tour to the top can be from local residents, who take tourists to the top jeep or horseback.
Blue Lake on the way to Riza recallsgem frozen in stone rocky rim. Surprisingly bright color of the lake has created many legends about its origin. It does not get dark in cloudy weather, it does not live fish and even algae grow. According to legends, after washing with water of the Blue Lake, a person can significantly rejuvenate.
Briefly about the importance
The climate in the resort area of ​​subtropical,providing participants travel to Gagra warm comfortable weather. In summer the thermometer shows a steady 30 and above, and in winter it is never colder than 12. The water warms up in July and August to 27, and the swimming season lasts from May to November.
Getting to the resort is easiest through the airportSochi, which is only 36 kilometers from Gagra. Then have seats in the minibus and pass the Psou border post, then take a taxi or again use minibuses services.
Pebble beach and city infrastructure allow us to recommend it as a comfortable and convenient vacation spot for families with children and active tourists young and middle age.
Photo