Traditions Austria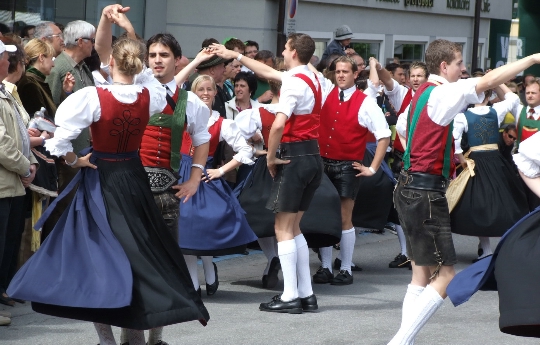 In the culture and traditions of Austria actively influencedcustoms and features of neighboring nations. Germans and Hungarians, the people of the Roman Empire - who not only marked the territory of the mountainous country, and therefore the local ceremonies, festivals, music and cuisine are of great interest to any traveler.
Music Box
It was a souvenir that comes to mind to anyone whoIt was the first time in Austria. Music can be heard everywhere here, the Vienna Opera - the most famous theater in the world, and Tyrolean tunes accompany guests numerous restaurants and ski resorts in the morning until the evening. And in Austria, birthplace of Mozart, but because its people rightly consider themselves as a musical nation, which have something to be proud of.
Huge popular Viennese balls,taking place annually before the start of the Catholic Lent. This old Austrian tradition has taken a worthy place in the list of Intangible Cultural Heritage. Today, the Vienna Opera Ball equated in status to the public reception and always attends the country's president.
By the way an important musical events include the December festival dedicated to Mozart, jazz festival in June and the days of Haydn in the early spring.
What are they, the Austrians?
Residents of mountainous countries are especiallynational character, that allow them to stand out favorably among the many peoples of Europe. Austrians traditionally very loyal to their home and care for him as a living being. Their dwellings are designed and equipped with the most modern devices. In the houses clean and guests will offer slippers at the entrance. Many things in the house, according to Austrian tradition, done by the owners themselves, because they are taught from childhood to various crafts.
The Cult of coffee
The Austrians are very fond of coffee, and a lot ofcozy coffee shops across the country - proof. Paying only for a cup of flavored drink, you can sit indefinitely, enjoying idleness, reading the morning newspaper or corresponding with friends on social networks. According to the traditions of Austria, the local coffee shops open early in the morning and are waiting for their fans until late at night, and therefore the ability to enjoy your favorite drink and enjoy the popular desserts are not limited to visitors.
Photo