The population of Azerbaijan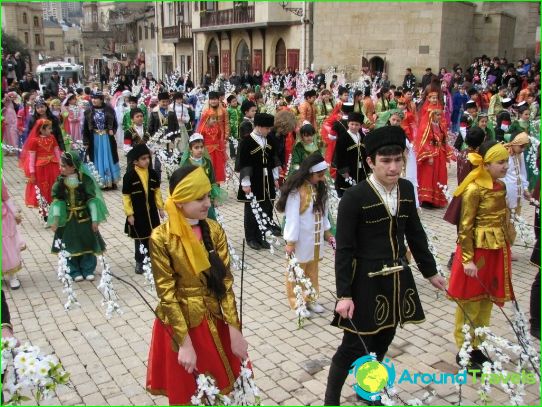 The population of Azerbaijan is more than 9 million people.
Previously, Azerbaijan was inhabited by Iranian-speaking Tats, Kurds, Talysh, Georgians Ingiloys. Today Tats live in the northeast, and the Talysh - south-eastern regions of Azerbaijan
Ethnic composition of Azerbaijan is represented by:
- Azerbaijanis (90%);
- Other nations (Armenians, Dagestani, Russian).
On average 1 km2 is home to 109 people, but the least populated Kura plain (its highlands and arid areas).
Official language - Azerbaijani. In addition, widespread are Russian and Turkish.
Big cities: Baku, Ganja, Sumgait.
Most people in Azerbaijan are Muslims (Shiites, Sunnis).
life expectancy
Male population on average live to 71 years, and women - 76 years.
This is a pretty good record mediumlife expectancy compared to 10 years ago, and all thanks to the fact that the state was to deduct from the budget is 10 times more funds for the development and support of health.
The main reasons for the residents of Azerbaijan mortality - cardiovascular, neurological and oncological diseases.
Women tend to live longer than men. This is largely due to the fact that women are more emotional and they do not have to anneal negative emotions, while men's life companions are nervous stress, psycho-emotional overload, stress (this is explained by the fact that men occupy a certain social and professional status). In addition, men smoke and abuse alcohol, because of what they develop coronary heart disease, cancer, respiratory diseases, chronic lung diseases.
Traditions and customs of the inhabitants of Azerbaijan
Azerbaijanis are proud of their national traditions that accompany them from birth to end of life.
Interesting traditions relating with matchmaking. First, a close relative of the groom has to go to the bride's house to zasvatat it. In case of refusal, the groom has to send to the parents of the bride the most respected man of his kind, whose mission - to obtain consent to the wedding.
During courtship and conversation accompanied by hintshints, even given an ambiguous answer, in the form of tea, if matchmakers will be served tea with sugar, then you can proceed to the preparation of the wedding, and if sugar served separately from the tea, then, the bride's parents are opposed to this wedding.
Before the wedding have to passreligious legitimization of marriage - it is held in the form of the rite, which is present Molla and closest relatives. And the wedding itself lasts 2-3 days with dancing and singing.
If, during the visit to Azerbaijan, youinvited to visit, rest assured that you will have a warm welcome to this scale. But we should not give up the invitation - it can be perceived as an insult, but at the same time imposed to you, too, no one will, because the guest's wish - the law.
Photo