Coat of arms of Baku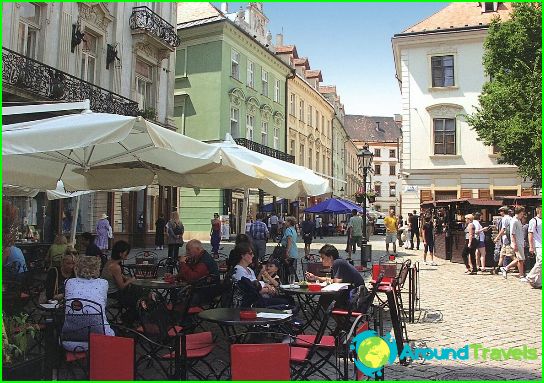 The authorities of the capital of Azerbaijan at all times were very responsible for the main official symbols of the city. Since its first appearance in 1840, the coat of arms of Baku has changed its outline several times. Its modern image was approved in 2001, that is, when the country entered a free and independent path of development..
The main symbol of the Azerbaijani capital reflects natural attractions, geographical location, history of the country and the realities of today's life..
Sea, sky, sun ...
These are the associations that the heraldic symbol of Baku evokes, since the main colors used by the authors to create the sketch are blue and gold..
The color blue is associated, first of all, with the Caspian Sea, on the shores of which beautiful Baku is located. This allowed it to become not only the main city of Azerbaijan, but also the largest port in the country. Also, the main color of the coat of arms can be correlated with a cloudless sky, in this context it has the meaning of peace, kindness, respect.
In addition to blue, there is also aqua color, which also correlates with seascapes. It is used in drawing waves, however, there is an alternation of this color and gold. The color of the precious metal is also used to outline and depict golden torches or lights..
Natural resources of the country and the capital
The coat of arms of the Azerbaijani capital looks laconic, it is not overloaded with details, therefore each of its elements is clearly read by scientists in the field of heraldry. And it will be easy for those who are not privy to the secrets of this science to answer the question of what the residents of the capital are proud of. Two main elements attract attention: the outlines of the waves symbolizing the waters of the Caspian; three symbolic images of lights or torches.
Interestingly, among the waves, painted in gold tones and aqua, there is a black wave at the very bottom. This is a symbol of the main wealth of Azerbaijan - oil. In 1879, the famous Nobel and his brothers founded an oil company in Baku. Its name was very simple and unoriginal - «Nobel Brothers Fellowship», but the development and production of black gold was actively carried out, and profits grew at a rapid pace.
The second element of interest is lights, and there are several symbolic meanings for these elements. Some experts claim that these are torches symbolizing oil production. Other scientists talk about the natural origin of the coat of arms, but also associated with black gold..
Photos