Taxis in Cairo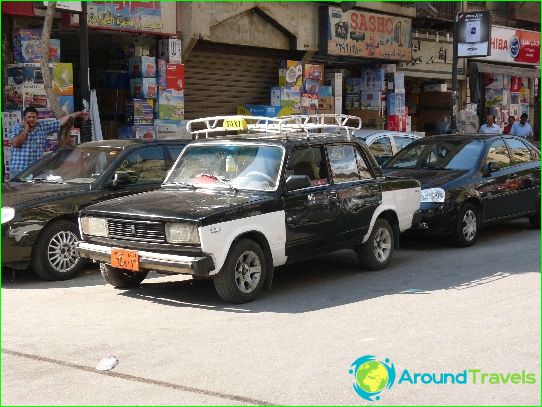 Taxis in Cairo represented by white, black and white andyellow car. White and yellow car - it's more modern cars equipped with counters. A machine in black and white coloring - it's mostly old cars that ply the city in considerable quantity (they are more popular with the passengers of the possibility of bargaining).
Taxi services in Cairo
Free car can be caught on the street. So, it is necessary to leave the busy highway with traffic flow in the direction you want, to stand on the sidelines and gesture (wave of the hand) show the drivers that you need their services.
Contacting the following taxi companies will help you to carry out an order for the supply of car: CairoCab: + 20 2 191 55; CityCab: + 20 2 165 16.
Explain to the taxi driver in Cairo rathernot easy - not all of whom are English-speaking and well knowing the city. This means that trying to explain to the driver your desired destination, it must specify a well-known landmark in the desired area (pre-prepare piece of information written on it in Arabic - to the aid can come locals or hotel staff). Tip: if you do not want to overpay, do not sit in a car, lying in wait for potential customers at restaurants and hotels.
Water taxi in Cairo
Visitors can ride on a water taxiNile: to distinguish it from the tourist tram is simple - a taxi equipped with a checkered. It is worth mentioning that a trip on the river taxi takes 45 minutes - it sails away from the port in Kanater al-Khair and approaches in the Helwan district (made 15 stops), and the cost of travel on it is the same as on a normal taxi.
The cost of a taxi in Cairo
How much is a taxi in Cairo interests of all who rest in the Egyptian capital. Finding your way in the prices, you can use the following information:
passengers boarding costs 3 pounds;
1 kilometers is charged at the price of 1 pound;
Night fare is more expensive day by 40-50%.
On average, a short ride within oneDistrict is 6 pounds, from the center to the pyramids - 15-20 pounds, and from the airport to the center of Cairo - 70 pounds. If during the trip the driver for you to plant more passengers, the price of travel in this case must be divided by all passengers. Tip: before the trip must be reserved in small denominations to pay for travel in a taxi under the settlement (as a rule, is not the drivers of delivery).
If you plan to go by taxi tolong trips, it is advisable to ask the driver, so he waited for you, because the taxi stop, ready to take you back, it will be extremely difficult (waiting for the driver can encourage small monetary reward).
If you are interested in such services as rental car with a driver, then you should know that it will cost you 160-180 pounds / 6 hours.
In your plans include introduction to Cairo and its suburbs? To carry out his plan will help you to local taxi drivers who will take you comfortably to any destination.
Photos taxis in Cairo