Beaches in Rethymnon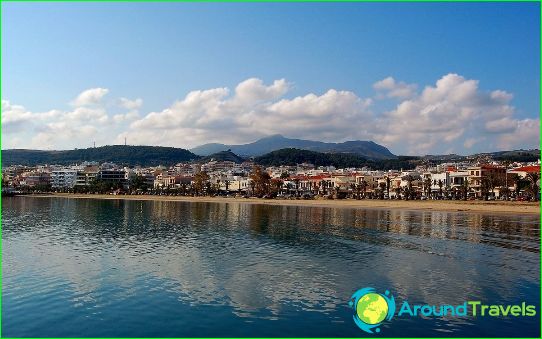 Rethymno - Crete is a beautiful city, always attracted lovers stormy tusovka life. But in addition to a variety of entertainment places, Rethymno is famous for its beaches. Beaches in Rethymno - it is almost an infinite strip of clean sand, stretching for 15 kilometers along the coast. Many of them have a reward that increases the prestige of the beach - "Blue flag".
Beach Ligres
Great sandy beach, located 48 kilometers from the city. It is not too crowded and especially appeal to those who prefer peace and quiet.
Beach Rethymnon
This beach is located directly on thethe territory of the city and is always, however, like any city beach area, full of people. The beach has excellent infrastructure: the booth, where visitors can dress up, showers, toilets, a comfortable lounge chairs under large umbrellas. On its territory you will find plenty of cozy cafés.
Beach Piyanos Kambos
This beach area is located 9 kilometers from thethe city and has a sand and shingle surface. It offers guests sun loungers and umbrellas under which you can hide from the scorching heat of the Cretan sun. Not far from the beach, there are numerous hotels where you can stay if you wish.
Beach Adelianos Kambos
Located in this beach area 7.5 kmfrom the city. The beach is well equipped. There are umbrellas, under them with arranged comfortable lounge chairs, lockers, where anyone can change into a bathing suit and, of course, the many beach bars. This is what makes Kambos Adeltanos very attractive for young people.
Beach Plakias
Another place where you can plunge into the waterthe warm Mediterranean Sea. It is located 34.5 kilometers from Rethymno in the village of the same name. beach infrastructure is well developed and it is becoming for many tourists one of the most important reasons is to visit this place.
There is a variety of hotels, where you canbook a comfortable room, and can be rented and private apartments. On the beach there are numerous taverns, where guests can enjoy fresh fish or enjoy traditional Cretan dishes. On the beach, the water industry is well developed entertainment.
Beach Coombes
This place is located near the town, about 3 km away and here you can get a conventional bus. Coombes completely sandy, with excellent entrance into the sea.
On the beach there is a minimum standard equipment: umbrellas, deck chairs, a place to change clothes on the beach everyday costume, and showers to wash off the salt with the hair. here the individual apartments can be rented if desired. If you are not a fan of the classic beach holiday, you can enjoy your favorite kind of water sports. Beach has a wide shoreline, so space enough for everyone here.
Photos beaches of Rethymnon