Rest in Gudauta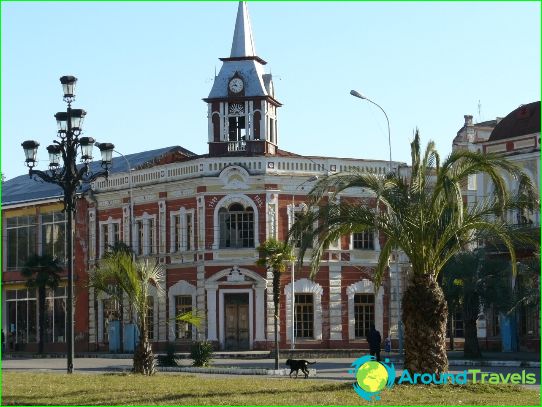 Holidays in Gudauta are attractive prices, wide pebbly beaches, a moderate influx of tourists during the holiday season.
The main types of recreation in Gudauta

Beachfront: tourists should take a closer look at the Central City Beach - on its territory there is a point where you can rent umbrellas, sun loungers and other equipment necessary for a comfortable stay.
Active: vacationers can play volleyball, go fishing or take a short sea trip on a boat, go diving, ride a horse or the Ferris Wheel and other attractions in the city park, explore karst caves by the Chernaya River.
Sightseeing: going on an excursion tour, you will visit the village of Lykhny (having arrived here in October, you can visit the Harvest Festival, accompanied by contests, tasting of national dishes, dancing, horse riding competitions), where the princely palace and the temple of the Assumption of the Virgin with the prince's tomb are located Chachba-Shervashidze; in the Mussera temple; Hasan Abaa fortress; museum-reserve "Abazgia"; at the winery (you will be invited to visit the tasting room). Those who wish can go on an off-road excursion to visit the Gegsky waterfall, Goluboe and Lake Ritsa, as well as travel along the tourist routes laid in the Gudauta region. And lovers of walks and those who want to get acquainted with the local vegetation can head to the Central City Park.
Wellness: you can get medical treatment in local sanatoriums (for the treatment of cardiovascular, diseases of the nervous system and respiratory organs, iodine-bromide, hydrogen sulfide and sodium chloride mineral waters are actively used). Patients are healed not only with the help of mineral springs, but also with the help of thalassotherapy, climatotherapy, aerofitotherapy and heliotherapy..
Prices for tours to Gudauta
The ideal time to relax in this Abkhazian resort is May-September. Prices in Gudauta are not high, but their slight increase (15-25%) is typical for the summer months. To relax even more on a budget and at the same time capture the wonderful weather, you can come to Gudauta during the velvet season - in September - mid-October.
On a note!
When going on vacation to Gudauta, you should definitely put medicines for food poisoning in your travel first-aid kit (exacerbation of food infections is observed in the summer months).
It is better to take cash on vacation than bank cards, since finding ATMs here is not so easy.
Despite the fact that almost all sights are located outside of Gudauta, it is easy to get to them by buses or taxis.
As a souvenir of your vacation in Gudauta, you can bring Abkhaz wines, souvenirs from bamboo, wood, shells and vines, honey, tea, spices, adjika, daggers, dishes, medicinal herbs (dried mixtures, tinctures, pillows stuffed with herbs).
Photos of rest in Gudauta