Beaches in Baku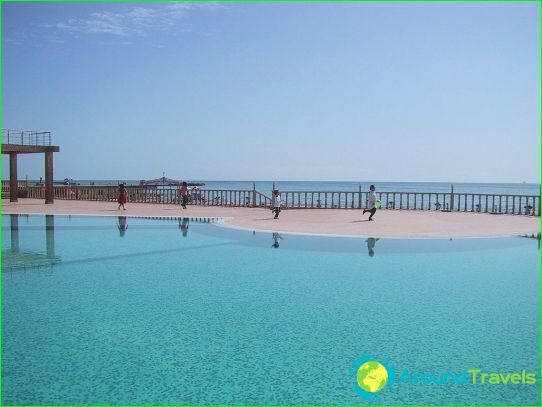 Resting on the Caspian Sea in Baku is sometimes even better than going on vacation to Turkey. And although it can be very hot in Azerbaijan, nevertheless, these places seem dearer to our people, because recently we all lived as one big family, which was called the Soviet Union. As a result, there is no language barrier as such, many people in the country speak Russian. The Caspian, from the point of view of physical geography, is a lake, not a sea, but its water is still moderately saline, since the area of ​​evaporation of water is large. But here you will not find typical sea pebble beaches. The beaches of Baku are sandy and very clean when it comes to private areas. Is there and «wild» beaches where you can go for free. However, their beaches are not carefully looked after; this is done by the efforts of utilities, and not by special beach workers. There are no sun loungers, changing rooms or showers. But even on spontaneous beaches, lifeguards are always on duty..
To organize yourself a really good beach holiday, visit the best sandy beaches of Baku, in most cases you will have to stay in one of the hotel complexes. On the beaches attached to them, the sand is regularly cleaned, there are sun loungers for vacationers. Also, hotel guests can use the services of a water sports instructor. And, of course, one cannot do without rescuers here. It is always safe on such beaches, it is good to relax here with children. Here is a list of hotels located on the coast.
Riviera Hotel
Hotel Giz Galasy
Ramada Baku Hotel
The Crown Hotel
AF Hotel
The paid beaches of Baku have everything a vacationer needs. However, it is forbidden to enter their territory by car. But each visitor will be provided with a sunbed, an umbrella and even a table with chairs. There are restaurants on the beaches, swimming pools, changing rooms and showers. Also on paid beaches there are playgrounds where parents, when leaving for a swim, can leave under supervision for their child.
On some of the paid beaches, only the entrance is included in the cost of visiting, and for everything else, even for a shower, you will have to pay. Another part of the beaches works according to a different scheme: the price includes everything, including tennis or billiards.
The city also has several water parks, for example, «AF Hotel-Aqua Park». It is located on the shores of the Caspian Sea, in the Novkhani resort. From entertainment on the territory of this water park there are 3 slides, restaurants, bars, a kids club and even an animation program.
Photos of Baku beaches