Baku metro: map, description, photo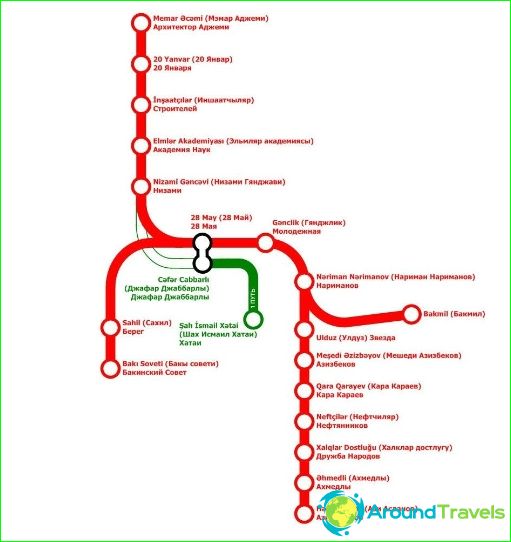 The metro of the capital of Azerbaijan was inaugurated on November 6, 1967. The State Commission was in a hurry to adopt the project on the eve of the celebration of the round anniversary of the October Revolution, but passenger traffic began on November 25. Today the total length of its lines is 34.5 km. The Baku metro scheme has two lines: red and green and 23 stations. Of all the stations, only «Bakmil» is terrestrial, the rest are located underground. Seven stations are deep-seated structures. Passenger traffic is at least 560 thousand people per day.
The history of the construction of the Baku Metro goes back to the 30s of the last century. Even then, the master plan for the development of the capital of Azerbaijan provided for the construction of a subway, but the official start to work on the project was given only in 1949 in the decree of the Council of Ministers of the USSR.
The technical project of the first stage was approved in 1951, but changes in the political arena led to the conservation of the construction site. The metro project was reanimated only in 1960, and the first subway cars began arriving in Baku in the summer of 1967..
All announcements and information signs in the Baku metro are made in the Azerbaijani language. The train route is indicated on the light boards at the head and tail of the train. Taking pictures in the Baku Metro is officially prohibited after the terrorist act of 1995, when 289 people died as a result of a fire. Today, the metro in the capital of Azerbaijan has perhaps the largest number of police officers in comparison with the subways of other cities in the world..
Baku metro opening hours
The metro of the capital of Azerbaijan opens for passengers to enter at 6.00 every day. The closure of stations takes place exactly at midnight. During peak hours, the interval of movement of metro trains is about two minutes, the rest of the time it can be up to 10 minutes. Trains from the branch to the station «Nariman Narimanov» to the station «Bakmil» follow about every half hour.
Baku metro tickets
The cost of a train station on the Baku metro has always been one of the lowest in the world. Compared to the Moscow metro, the ticket price was seven times different. From March 1, 2011, the cost of one trip is 0.20 manat. The exchange rate is about 1.27 US dollars per 1 manat. Payment for travel is carried out using plastic cards, which must be loaded in cash in the station lobbies. Coins and banknotes with denominations of 10 kopecks to 20 manats are accepted for loading. The collateral value of the card itself is 2 manats, which can be returned when the card is returned to the cashier of any metro station.
Photos of Baku metro