Prices in Baku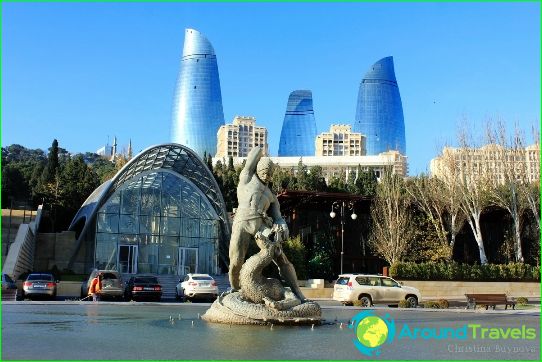 Baku is an attractive city for tourists. This is the capital of Azerbaijan, where you can see many sights. The country's monetary unit is the manat. We will tell you what are the prices in Baku for food, excursions and housing.
Financial subtleties
After arriving in Baku, try to immediately exchange money for manats. Some large shops and upmarket restaurants accept euros and dollars. But you should pay in shops, taxis and cafes with local money. Small coins come in handy for visiting the markets. You can exchange rubles, dollars and euros in Baku. You do not need to contact individuals for this. Currency exchange is best done at a bank or exchange office. Many supermarkets and banks have ATM machines where you can withdraw money. Don't withdraw too much at once. It is recommended to have with you only those funds that will be needed for current expenses. When shopping, you need to bargain in order to reduce the price several times. This can be done at souvenir shops and at the grocery market. It is better to pay in restaurants and shopping centers with manats.
Prices in Baku for food
Prices for many food items are very low. But dairy products have the same price as in Russia. Bread in Baku costs about 50 cents. Cheese - about $ 7, apples - $ 1.5 per kg, and potatoes - $ 1.3 per kg.
What tourists buy in Baku
Vacationers bring various souvenirs from Azerbaijan. To purchase magnets with the image of Baku, you will need 3-4 manats. Postcards with beautiful views of the city cost 2 manats. Hand-embroidered paintings cost 25 manats, and silk scarves - 10 manats.
Cost of services on Baku beaches:
boat trip, about 1.5 hours - 2 manats;
entrance fee at Shikhovo beach - 1 manat;
sunbed rent - 4 manats per person.
In Shikhovo, you can also find inexpensive beaches, where they ask for 3 manats for an entrance, a sunbed and an umbrella..
Tours
The guided tour can be booked online. Various and inexpensive programs are offered in Baku. Tours are also offered by all tour operators of the city and guides in hotels. Excursion programs are of different duration. They can be for a day, a couple of days, or for several hours. A weekend tour to Baku costs about 30 thousand rubles. This price includes accommodation, meals and a sightseeing tour.
Sightseeing usually takes place by bus, although walking tours can also be found. The best excursion is considered to be a sightseeing one, within which tourists can explore the most famous places of Baku. A tour of the Old Town and a program of visiting medieval fortresses are considered interesting. Travelers can get acquainted with mosques, temples, monasteries, reserves and ancient castles.
Photos