Airport in Brussels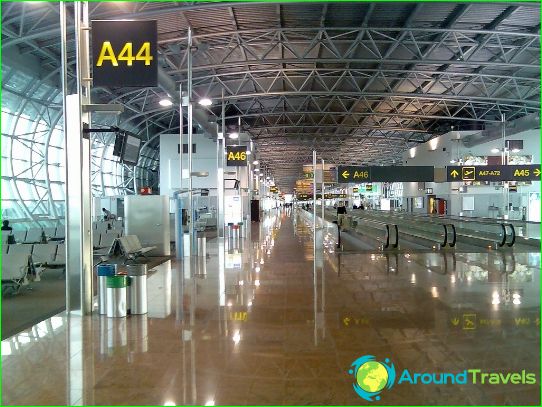 The first airport in Brussels was built in the 14th year of the last century. During the First World War, the Germans who occupied the territory of Belgium, erected a hangar 11 kilometers from the capital for the maintenance and parking of airships.
And in 1940, the same Germans, during the Great Patriotic War, built three runways forming a kind of "triangle" between themselves and the first technical structures. Today this modern, comfortable and equipped with the latest technology airport is able to serve about twenty million passengers a year..
The airport works closely with such world airlines as Lufthansa, Aeroflot, European Air Transport, Jet Airways, and others. There are more than fifty of them.
Service and services
The airport layout is quite simple. Here is the only terminal, three floors and a basement.
The upper floor, from where a magnificent view of the runway opens, is occupied by most of the boutiques, shops and cafes, as well as a comfortable waiting room with free internet. It is worth noting that all of them, except for the waiting room, are open only until 9 pm, as well as the post office, information desk and ticket offices. The waiting room is open around the clock.
On the floor below, there is a check-in hall, here at the information desk, it is recommended to take an airport map, which will help you navigate further movement. Near the check-in counters there is a passage to the departure terminals.
Transport interchange
There are several ways. Which one to choose depends on the passenger's taste and financial capabilities:
rent a car or hire a car with a personal driver. Offices of transport companies are located on the second floor of the terminal building..
hire a taxi. Their parking can be seen immediately after leaving the arrivals hall. A taxi ride will cost an average of 40-45 USD.
take the bus. Platforms A and B are on the ground level (or on the 1st floor). Buses No. 272 ​​and 471, 620 run along the route «Airport - Train Station (Brussels North) - Roodebeek Metro Station». A bus ticket costs 4 euros if you buy it at a kiosk in the parking lot, and 6 euros if you buy it from the driver. Some hotels like Etap Hotel Brussels Airport, Holiday Inn Brussels Airport, Courtyard by Marriott Brussels Hotel and many others provide free pick-up service. It should be borne in mind that any type of vehicle in Belgium is associated with traffic jams, so you need to calculate your time so as not to be late.
The easiest transport is the electric train, you can find it right after leaving the control zone by going down the elevator or escalator down to the underground room. Before the descent, on the electronic board - the train schedule. Tickets are purchased from vending machines, railway station ticket offices, from the conductor on the train, or in advance via the Internet.
Photos Brussels airport