Brussels in 2 days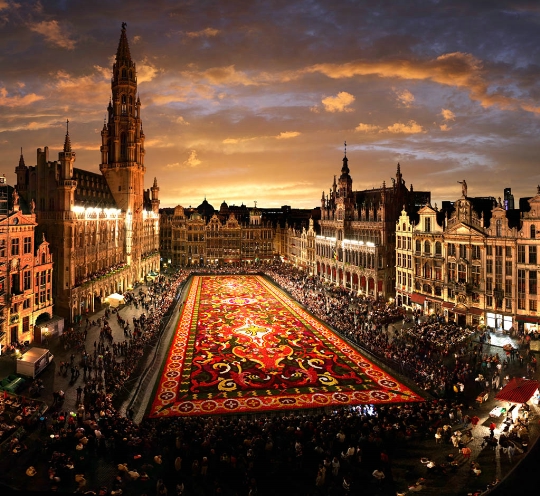 The capital of Belgium has a reputation as the political center of Europe and one of the most beautiful tourist cities in the Old World. The city grew and developed around the King's House, and today the Grand Place is rightfully considered its heart. The main sights are concentrated in and around the main square, which every tourist certainly includes in the route "Brussels in 2 days".
Baroque and Gothic
The main Brussels square is famous for its houses, once built for different guilds. They have unique individual architecture and names that seem fabulous and have nothing to do with the purpose of the buildings. The most famous houses are the Fox and the Wolf.
Another decoration of the square is the Town Hall, which began to be erected in the XIV century. The architectural dominant of the Grand Place is the watchtower of the town hall, from whose 90-meter height the Archangel Michael calmly gazes at Brussels. From above, the patron saint of the city can clearly see the King's House, whose name absolutely does not correspond to the purpose of this ancient building. Since the 13th century, the King's House has managed to be both a prison and a warehouse, and today the Brussels residents have organized an interesting exposition of the Communal Museum in it..
Boy, girl and even a dog
It was in this order that the writing sculptures appeared in the capital of Belgium, which became the symbols of the city and the most visited sights of Brussels in 2 days. Manneken Peace has a huge wardrobe, and on the occasion of various holidays, the sculpture is dressed up in luxurious costumes. A twin statue in the form of a girl appeared in the late 80s of the last century, and a dog - a year before the Millennium. By the way, more than eight hundred costumes of the fountain sculpture are kept and displayed to visitors in the museum at the King's House..
All Europe in miniature
The Atomium sculpture, which is a model of a part of the crystal lattice of iron, is also considered the symbol of Brussels today. The structure was opened for the 1958 World's Fair and became a symbol of the peaceful use of the atom. The Atomium ascended 102 meters into the Brussels sky, its spheres are accessible to visitors and serve as observation platforms.
Within the framework of the program "Brussels in 2 days", you can have time to visit the Mini-Europe park, where copies of the most famous architectural sights of the Old World are collected. On a scale of 1: 25, the Leaning and Eiffel Towers, the Berlin Wall and the Acropolis of Athens, the Sacre Coeur Basilica and London's Big Ben are made.
Photos