Where to eat in Brussels?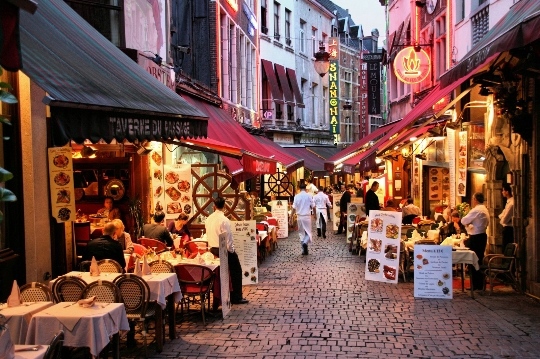 Not sure where to eat in Brussels? Enjoy 2,500 dining options for a hearty meal, a romantic dinner or a light snack.
Where to eat in Brussels cheap?
Noordzee is the place to go for those looking for a moderately priced dining facility - they serve seafood prepared in a variety of ways (grilled, oven). Another budget place is Chaochow City: this Chinese restaurant has a wide variety of dishes. In addition, visitors are pampered every day with special offers such as lunch for 3.5 euros and dinner for 5.5 euros..
If you want to try Belgian dishes, then you should take a closer look at the inexpensive fast food restaurant Hector Chicken. Here you can taste various chicken dishes at reasonable prices (you can have a hearty lunch for 7.5-8 euros).
If you are a vegetarian, you should visit Slurps, which focuses on Indian cuisine. It should be noted that at this restaurant there is a shop with organic products..
Where to eat in Brussels delicious?

In t' Spinnekopte: This place invites its visitors to taste Belgian beer with Belgian snacks. You can also enjoy a rabbit stew in beer or a stew with vegetables..
Comme Chez Soi: This Michelin-starred restaurant offers culinary delights of Belgian and French cuisine (gourmet crab, snail and lobster dishes).
Chez Lion: This restaurant (the walls of this establishment are decorated with portraits of VIPs and celebrities who often visit here) will delight lovers of Belgian cuisine. Here it is advisable to try the signature dish represented by French fries with mussels..
Amadeus: if you can't decide where to organize a romantic dinner, you can go to this restaurant (the interior is decorated with statues from ancient churches and candles). Here you should try pork ribs, beef carpaccio, tortellini with spinach and ricotta.
L'huitriere: This restaurant specializes in serving seafood. Here you can enjoy smoked eel with foie gras and black radish, fried halibut with rosemary, excellent wines.

Gastronomic tours of Brussels
As part of a gastronomic excursion, you can get acquainted with Belgian beer (abbey, white unfiltered, Trappist, beer from the lambic family). A trip to the Brussels Brewery of the Van Roy-Cantillon family will be arranged. You can get acquainted with the Nyhaus company, visit the Chocolate Museum, taste it, as well as sweets with various fillings, by going on an excursion "Brussels chocolate".
In addition to authentic establishments in Brussels, you will find many Indian, Vietnamese, Chinese restaurants and Irish pubs..
Photos