Airport in Phnom Penh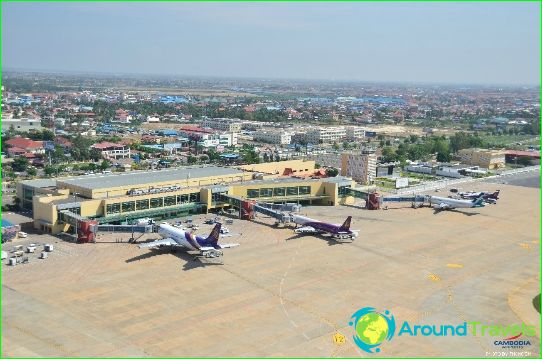 Cambodia's capital airport is the largest of the country's four airports. It is located about 8 kilometers west of Phnom Penh. Phnom Penh Airport has two passenger terminals, one for domestic flights and the other for international flights. More than 2.4 million passengers pass through the airport every year.
All aircraft are hosted by a single runway, which is 3 kilometers long. 25 companies cooperate with the airport, serving flights to more than 20 destinations.
History
Previously, the airport was named Pochentong Airport. In 1995, the airport signed a concession agreement with SCA. Later, about $ 100 million was invested to develop the infrastructure of the airline. The construction of a new runway, passenger and cargo terminal, hangars, etc. is planned..
By 2015, it is planned to complete the construction of a new passenger terminal, which will increase the airport's capacity. With the new terminal, it will make more than 3 million passengers a year.
Services
The airport in Phnom Penh is ready to offer its guests all the services they need on the road. Hungry passengers can visit cafes and restaurants where you can find local and foreign cuisine.
Also on the territory of the terminals there is a spacious shopping area where you can buy the necessary goods - souvenirs, groceries, newspapers, magazines, etc..
It should be noted that the airport has a separate VIP lounge that serves business class tourists..
In addition, the airport is ready to offer standard services - ATMs, currency exchange, luggage storage, parking for 1000 cars, information desks, etc..
If necessary, passengers can always ask for help at the first-aid post..
How to get there
There are several ways to get from the airport to Phnom Penh:
Taxi. Taxis can be ordered at the terminal. The cost of the trip will be about $ 10.
Knock-knock - the cost of movement on this transport will be around $ 5.
Moto-taxi is the cheapest form of transport, the fare will be $ 2.
Photos Phnom Penh airport