Vacation in Cambodia in August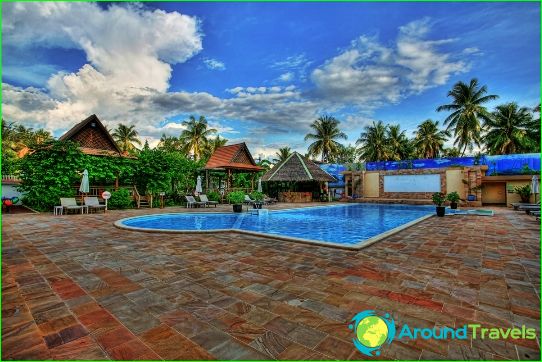 This amazing country is still in the shadow of its developed neighbors, Thailand and Vietnam, in which the tourism business has been raised to unprecedented heights. Cambodia is taking its first steps in this direction and already has some achievements. The Angkor temple complex will allow you to complement your vacation in Cambodia in August with an amazing journey to ancient civilizations. This trip will be the perfect complement to a luxury seaside getaway.
Weather in August
The rainy season, which began in May, is at its peak, so you should be prepared for any weather, including heavy torrential rains, fortunately short-term.
The air temperature is at least +32 ° C, is in record limits, as well as the humidity, which reaches 85-90%, that is, it is no longer necessary to swim.
Don't forget about the rules of etiquette
Since the last month of summer can upset a tourist with torrential rains on some days, you should be prepared for a change of pleasures. Replace the planned trip to the beach with a sightseeing trip to iconic places and temple buildings.
It is necessary to remember the rules of conduct in places that are sacred to the Khmers, and to respect their faith. Even before the trip, choose more modest long outfits, leave hats and shoes near the entrance. Before taking a photo, ask permission to shoot, and in gratitude leave a certain amount.
Shopping in Cambodia
Going to the shops, malls and markets of Phnom Penh can be a great alternative to sitting in a hotel in the rain. It is not necessary to buy, you can just enjoy the process.
It is better to bypass electronic equipment available in a rich assortment, the quality leaves much to be desired. Women will be delighted with silk, shoes, handicrafts, as these things are of good enough quality..
Phnom Penh landmarks
The largest number of tourists coming to the capital is concentrated in the vicinity of the Royal Palace. Here you can also visit the Silver Pagoda, which is the official temple of the King of Cambodia..
In the monastery at this unique temple, you can see the national treasures of the Khmers, including the famous statues of Buddha. Each of them is distinguished by its craftsmanship, precious materials that went into its manufacture. The walls of the pagoda itself are richly decorated with ancient frescoes describing the exploits of the heroes of the Ramayana.
Vacation photos in Cambodia