Prices in Cambodia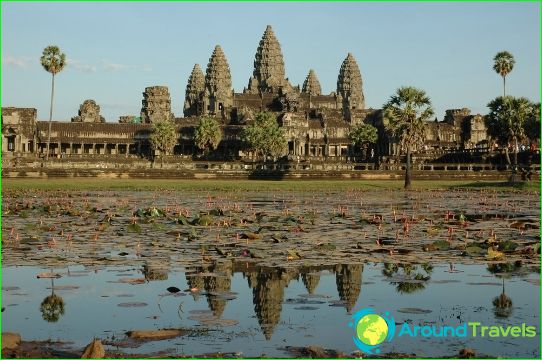 Prices in Cambodia are the lowest in the region (they are comparable to prices in the Philippines). American dollars are the most popular currency in Cambodia, but to go to the market it is advisable to have local currency (riels) with you, since the prices here are so low that sellers often cannot change from $ 5-10.
Shopping and souvenirs
Shopping in Cambodia is a great opportunity to acquire traditional local goods and souvenirs. Most of the shops are in the form of small shops, and shopping centers can be found in Phnom Penh, where you can buy Asian, European and American brands. Local markets offer exotic products, various souvenirs, clothing, handicrafts.
Stores operating according to European standards, twice a year (January - mid-February, June - early September) arrange sales - during such periods you will have the opportunity to purchase the items you want with a 30-50% discount.
What to bring to memory from Cambodia
silk products, decorated with gold patterns, woven by hand, original souvenirs made of silver, mahogany, iron, sea shells, basalt, green marble, ceramics (pots, cups, vessels), jewelry with sapphires, rubies, emeralds, original masks from papier-mache;
rice vodka, Cambodian coffee, pepper, dried ginger, palm juice sugar, wild honey.
In Cambodia, you can buy products from Cambodian silk from $ 20, jewelry - from $ 50, pottery - $ 1-3, stone Buddha figurines - about $ 1, paintings (painting) - from $ 5, cotton scarf "Krama" - from $ 5, Cambodian coffee - $ 6-10 / 1 kg.
Excursions and entertainment
If you go on a boat trip on Tonle Sap Lake, you will be able to see a large freshwater lake, many birds and other wildlife. This excursion costs $ 30.
Visit the temple complex "Angkor" you can for $ 20 / whole day, and fly over Angkor by helicopter - for $ 100 per person.
Transport
Trams, metro and electric trains, familiar to Europeans, are absent in the country: here, tuk-tuk (motor rickshaws), taxis, and small mini-buses are used to move around the cities. City buses can only be found in Phnom Penh, and the fare is approximately $ 0.37. Travel by mini-bus costs about $ 2, and by tuk-tuk - about $ 1. A taxi ride around the city will cost you about $ 5. If you wish, you can rent a taxi with a driver. For this service you will pay $ 20-40 / 1 day.
In the case of an economical vacation, in Cambodia, $ 10 per day for 1 person may be enough for you, but if you want to feel very comfortable, then your daily expenses will be $ 30-35 per person.
Photos