Where to relax in Cambodia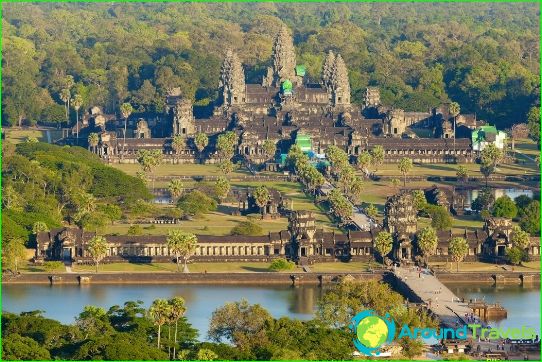 Cambodia (formerly Kampuchea) is a Khmer country with an incredibly ancient destiny, located in Southeast Asia, in the south of the Indochina Peninsula. The country, one of whose main sources of income is tourism, is still little known to tourists. The paradoxes and oddities of this small state-kingdom do not end there..
From the point of view of tourism, this country is absolutely exotic: it literally gets lost in the impenetrable jungle, has a completely untouched nature, and at the same time, a network of comfortable hotels is already quite developed, and, importantly, Cambodia has stunning historical places, the likes of which cannot be found in any other country. one other place on the planet.
Beach holidays in Cambodia: a fairy tale for lovers
The best places to relax in Cambodia will be best told by couples in love who have been here. If there is a paradise in a hut, then it is on the beaches of this country. It is here on the white sands that small bungalow hotels are located, where you can spend several unforgettable romantic days and nights. All the achievements of civilization have not yet penetrated here, from which one so wants to take a break on vacation..
The deserted and pristine beaches of Sihanoukville (by the way, part of this beach belongs to Alain Delon!), Sokha, Ko Rong, Long Set Beach, Ko Thmei Beach, Ream National Park guarantee a paradise vacation for honeymooners and couples, and youth companies. Any tourist who dreams of forgetting for a while about the hustle and bustle of the big city can be sure: the best vacation is in Cambodia.
Cambodia landmarks
The world's largest temple complex, Angkor Wat, which has existed since the 12th century, was accidentally discovered by a lost traveler only in the 19th century. The temple is considered one of the most mysterious buildings on Earth. The complexity of the buildings, their intricacy, and, at the same time, the genius of this building structure are of great interest to tourists. It is especially beautiful when the sun is rising: the spectacle of bas-reliefs gradually illuminated by the sun makes an indescribable impression.
The Inland Sea of ​​Cambodia, as Lake Toplesap is also called, is another attraction of the ancient country of Khmers. In the rainy season, this lake spreads over a huge area in breadth, and in depth it reaches 9 meters! A boat trip on the lake provides an opportunity to get acquainted with the peculiarities of life and customs of the local population.
Prasat Kravan Temple, Silver Pagoda, Bayon Temple, the Royal Palace in Phnom Penh, and other historical and cultural places in the kingdom will introduce tourists to the traditions, national traits, and cuisine of the Cambodian population..
Vacation photos in Cambodia