Airport in Toronto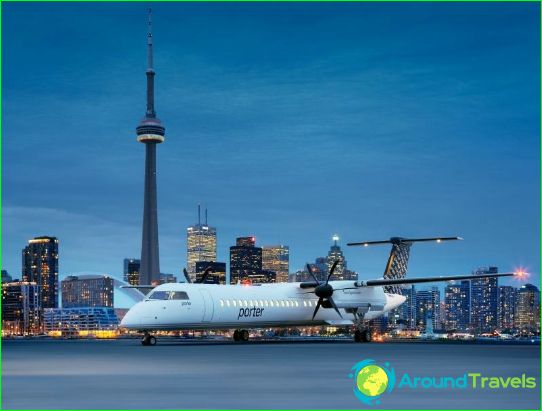 The main airport serving Canada's largest city, Toronto, is called Toronto Pearson Airport. So it is named in honor of Canadian Prime Minister Lester Bowles Pearson. The airport is located about 27 km from the city center, in the small town of Mississauga.
The airport in Toronto is considered to be the largest and busiest airport in all of Canada. It ranks 22nd in terms of take-offs and landings per year among all airports in the world. In recent years, about 33 million passengers have been served here per year, almost 430,000 takeoffs and landings have been made per year..
Among the airport awards, the most notable is the award of the title of the best airport in the world..
Cooperation with airlines
The airport in Toronto is the main hub for Canadian airline Air Canada, which is part of the Star Alliance. In addition, the airport is a hub for such well-known airlines as Air Canada Jazz, Air Transat, WestJet, etc..
The airport serves international flights of more than 70 airlines.
Services
The airport in Toronto has 3 terminals, you can travel between them by free LINK buses.
On the territory of the terminals, the passenger will find all the necessary services that may be needed on the road. Various cafes and restaurants will not leave anyone hungry. Large shopping area, including duty-free shops. Bank branches, ATM, currency exchange, post office, etc..
For business class passengers there is a separate waiting room, enhanced comfort.
How to get there
There are several options for getting from the airport to the city. The simplest and most common are buses. From the airport there are various routes # 192, 58A, 300A, 307. The ticket price will be approximately 3 Canadian dollars, and the travel time will be approximately 1.5 hours..
In addition, express buses from the GO Transit company leave from the airport, the trip on which will be slightly more expensive - about 4 Canadian dollars. There are also special shuttle buses from the Airport Shuttle Service. The cost of a trip on such a bus will be approximately CAD 20.
Another way to get to the city is by taxi. The cost of taxi services will be from 30 CAD, depending on the destination.
Photos Toronto airport