Observation decks of Krasnaya Polyana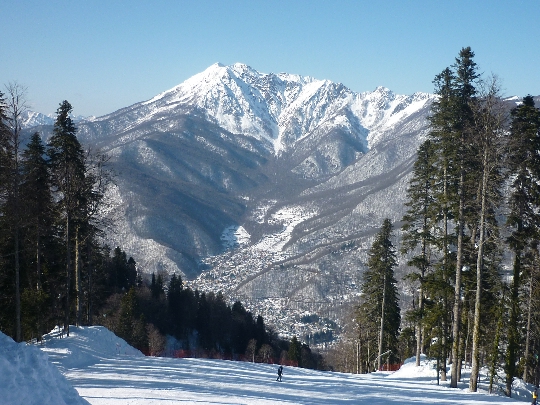 Krasnaya Polyana offers not only skiing for beginners and professional skiers, but also climb to the observation decks of Krasnaya Polyana in order to explore the resort and its environs.
"Rosa Khutor"
You can get to one of the observation platforms with a circular panorama by buying a ticket for 600 rubles ("Rose Plateau"); you should visit the restaurant immediately "Winter" (located on the second stage of Rosa Khutor at an altitude of more than 1100 m; guests will enjoy the views of the surrounding mountains).
And having paid 950 rubles, you will be able to climb Rosa Peak - one of the highest observation platforms in Krasnaya Polyana (2320 m above sea level). This amount also includes the ascent to 2460-meter height (Crocus chairlift).
If you wish, you can get an unlimited ticket (1150 rubles) to get the opportunity to ride the cable cars Rosa Khutor throughout the day.
How to get there? The high-speed train Swallow will take you to the terminal station, from where you can walk to the ski lifts (the journey will take about 20 minutes) or take the resort's free bus.
"Mountain Carousel"
It has at least five observation decks at different heights. So, by purchasing a ticket for 300 rubles, you will rise to a 960-meter height. By purchasing a ticket worth 700 rubles, you will climb to a height of 1500 m (a viewing platform with sun loungers and a mini-cafe awaits you; from here you will be able to admire the view of the mountains), and for 900 rubles - to a 2200-meter height (from the top in good weather you can see the surrounding mountains and even the sea).
How to get there? By car or bus you need to get to Gorki Gorod (parking is free).
A restaurant "Vertex"
Having actively rested on the mountain slopes, those who wish can visit this restaurant (its highlight is 2 halls with panoramic windows), located at 2200 meters above sea level (the menu contains dishes of European, Italian, Russian cuisines; there is a children's and banquet menu, and you also have the opportunity to enjoy signature masterpieces from the chef) to enjoy the best views of the ski resort. The address: "Mountain Carousel", 3 line of the cable car; official website: www.vershina2200.ru
Excursion tours
"Psekhako": observation platforms of the station are located on the Psekhako ridge "Mountain shelter-1" - from here they will offer to admire the panorama of Gornaya Polyana and the landscapes of the Aibginsky ridge (there will be an ascent to a height of 1400 meters by means of gondola A or A1). Excursion cost - 650 rubles.
"Panorama of Krasnaya Polyana": Excursion along the Gazprom cable cars will allow you to admire the Aibga ridge (climbers are interested in its peaks) and the top of the Chugush mountain. The cost of a guided tour is 1100 rubles / adults, 550 rubles / children 7-12 years old.
Photos