Chile Dishes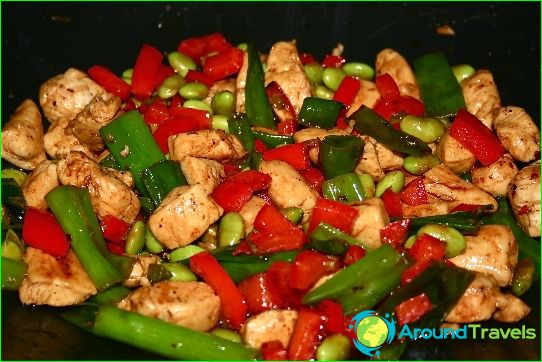 Chilean cuisine is a combination of indigenous recipes with Spanish traditions. It was formed under the influence of the cuisine of Italy, France, Germany, Croatia. She was influenced by the cuisine of a number of countries in the Middle East. Chile's dishes abound in seafood. After all, the coast of the country is rich in fish, shellfish and other inhabitants of the sea..
Brief description of Chilean dishes
The most popular seafood among the local population: eel, salmon, European salt, sea bass, tuna, crabs, oysters, mussels, sea urchins. Chileans also eat meat, lamb is especially common. Beef is usually added to asado, which is a traditional dish in the country. Chicken is found in many recipes. Although Chileans consider chicken meat to be second-class food.
Many foods are consumed with wine. Chile is rightfully the largest wine producer on the planet. The national cuisine of the country is not spicy, despite the fact that many people associate the name of the state with hot pepper. At the same time, Chilean dishes are nutritious and satisfying. This state is considered the most Europeanized among the South American countries. This fact is reflected in cooking, because many recipes are similar to European ones..
The best Chilean food  
These include local masterpieces that have no analogues in other countries. These include the curanto soup, which is made from crustaceans, fish, lamb, beef, poultry, potatoes and pork. Curanto is preferred by the inhabitants of the northern part of the country, as well as the population of Easter Island. A distinctive dish is sea urchin soup. In addition to the soup for lunch, there is a variant of the local bread - cornmeal cakes, designated humitas. An appetizer can be empanadas - delicious pies stuffed with tuna, olives or meat.
The list of classic Chilean dishes includes humita or umita. From time immemorial, it was prepared by the Indians who inhabited the territory of Latin America before the arrival of the Europeans. Each region has its own nuances of cooking umita. Typically for this dish they take corn dough, basil, onions, butter and green chili. The filling is wrapped in corncob leaves. Next, each sheet is tied with a thread or string so that the filling is kept inside. Then the leaves are boiled or baked. The taste of umit can be sweet, sweet and sour, or spicy. Housewives, at their discretion, add chili peppers, sugar, tomatoes, salt or olives there. But the traditional recipe assumes that the dish should have a simple and not spicy taste..
Chilean umita is served in the form in which it is cooked - in the form of a cob tied with threads. Before starting a meal, the threads must be untied and the leaves unrolled. Corn leaves are not consumed. The most popular fish meal is the caldio de congrio. Chilean meat dishes are casuela, pariyada, lomo a la pobre, etc..
Photos