Airport in Larnaca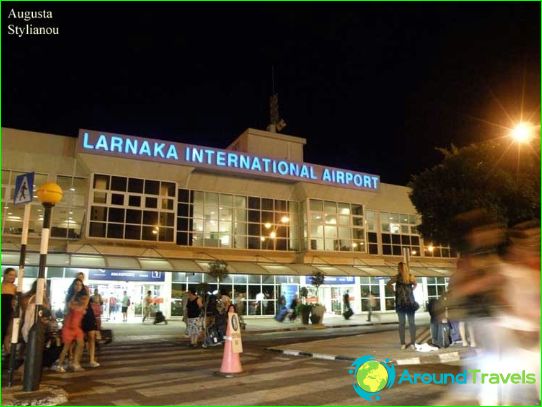 The largest airport in Cyprus is Larnaca Airport. It was built at an accelerated pace, due to the division of the island into two parts: the Republic of Cyprus and Northern Cyprus. The airline is currently operated by two Cypriot airlines, Eurocypria Airlines and Cyprus Airways. Its runway with a length of about 3 kilometers has an asphalt surface and is capable of receiving aircraft of all types, with a takeoff weight of up to 70 tons..
The main air hub of the island is the hallmark of Cyprus. Every year tourists from all over the world come here to admire the beauty of these places and bask on the Mediterranean coast..
Service and services
The international airport in Larnaca has all the means to create a comfortable stay for passengers on its territory. A convenient navigation system allows you to move around the airport on a mobile basis. Provided voice and visual notification of aircraft movement in 2 languages. Information service, ticket offices, lost and found offices work.
Conditions of increased comfort have been created for VIP-class passengers. There are meeting rooms, with the provision of office equipment, free Internet, as well as a check-in service for a flight without observing unnecessary formalities.
For people with disabilities, a meeting is organized, an escort to the destination and a special car is provided. There are about 1000 parking spaces for personal transport of disabled people at the station square. Free first 120 minutes.
Also, on the territory of the airport, there are food points, Internet cafes, car rental, scooters, wheelchairs and other equipment. There is a cozy hotel for relaxation in case of flight delays.
Transport
From the airport in Larnaca there is a regular movement of regular buses, the parking of which is located not far from the station square.
In addition, almost all hotels in Cyprus organize a meeting for their tourists and provide free comfortable buses equipped with air conditioning and luggage space, as well as special transfers on request.. 
Taxis are still a popular form of transport. You can order it by phone while still on board the aircraft or upon arrival at the counter of the transport company located on the territory of the passenger terminal..
Photos of Larnaca airport