Prices in Paphos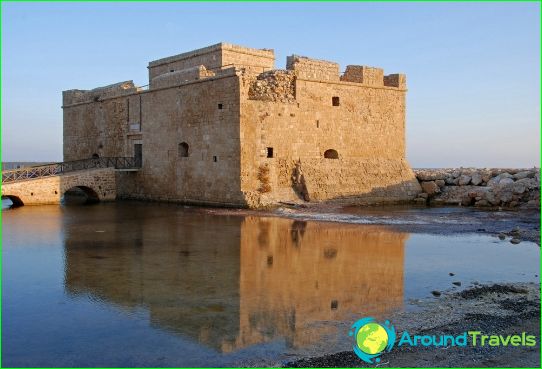 Paphos is considered an elite resort in Cyprus. It is designed for wealthy tourists. Prices in Paphos are very high. If you live in a good hotel, use a taxi and dine in a restaurant, you will have to spend an impressive amount. When traveling to this resort, take with you a minimum of 350 euros per person per week for pocket expenses. If you want to go to restaurants and excursions, you will need a lot more money. You have to take the euro with you. It is almost impossible to exchange rubles on the territory of Paphos.
Residence
Apartments and villas are a popular type of housing. You can rent an apartment for two for a week for 500 euros. Large families and groups of friends mainly rent villas. There are many villages in the Paphos area where you can rent a house. Apartments near the sea are rented at 350 - 400 euros per week. You can rent a house or cottage in Paphos. To save money, book your seat in advance. A three-room villa can be rented for 250 euros per day.
There are few good beaches in the resort. Almost all of them are rocky, with an awkward approach to the water. There are well-equipped beaches at the hotels. If you are interested in a beach holiday in Paphos, then it is better to rent a room in one of these hotels. The list of the best includes the beach of the Cyprotel Cypria Maris 4 * hotel. This hotel operates according to the concept «for adults only», accepting guests from 16 years old. A tour for a week with accommodation in this hotel costs about 1300 euros per person.
Where to dine for a tourist
If you buy a tour, then the price of the tour usually includes food. When on their own, tourists eat at local restaurants and cafes. The resort has both upmarket and cheap restaurants. In the latter, the quality of food is low. In a middle class restaurant you can dine for 18-25 euros per person. In a cheap tavern, lunch for two costs 40 euros. A cocktail in a Paphos bar will cost 6-8 euros, a bottle of wine in a supermarket can be purchased for 5 euros.
Excursions in Paphos
The abundance of attractions is a feature of Paphos. There are many ancient monuments here: tombs, catacombs, mosaics, museums, etc. Almost all of them belong to the world values ​​of UNESCO. Tourists are offered exciting excursion programs. You can go from Paphos to Limassol accompanied by a guide for 100 euros. For a more varied holiday, visit the water park in Ayia Napa. The entrance ticket costs 35 euros.
Paphos (Cyprus)

Photos