Where to go with children in Ayia Napa?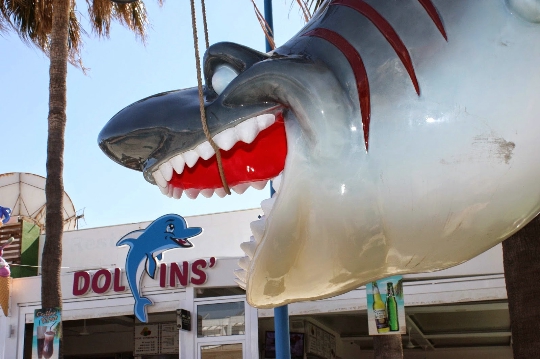 Ayia Napa, which is located on the southeastern coast of the island, is considered a popular resort in Cyprus. This place has won fame as an ideal destination for youth recreation. In the evening, the calm city turns into a vibrant venue dotted with discos and clubs. Despite the liveliness, the resort is a great place to relax with the whole family..
Best places to entertain children
Ayia Napa offers an excellent beach holiday and a rich excursion program. There are many interesting places around the resort that are recommended to be explored. By renting bicycles, a car or hiring a taxi, you can see the most beautiful sights.
For children's active recreation, you should visit the Luna Park, where there are many attractions for people of different ages. There is a Ferris Wheel, which allows you to view the surroundings of the resort from a bird's eye view. Take your kids to the water park, which is the largest on the island, and the Museum of the Sea. Aquapark «Water land» offers an exciting holiday for the whole family. It houses more than 18 rides, slides, walkways, eateries, etc..
Natural and cultural attractions
Where to go with children in Ayia Napa to see the beautiful nature? The resort is surrounded by picturesque places. Very beautiful landscapes can be seen in the Blue Lagoon, surrounded by rocks. The water there is so clear that schools of fish are visible at depth. You can visit this place as part of an excursion or on your own.
Another Cypriot attraction is Cape Greco, which can be reached by leaving Ayia Napa or Protaras. Cape Greco is a unique natural formation, untouched by civilization. It is a spacious area where the Kavo Gkreko National Park and limestone caves are located.
There are pirate caves near the central part of the resort. They were formed as a result of natural forces - water and wind. In the past, pirates kept their treasures in them. You can find yourself inside the caves during one of the excursions.
The main historical object of architecture in Ayia Napa is a monastery carved into the rock. Every tourist can see this object, as it is located in the city center..
Cognitive leisure can be organized if you plan a visit to the maritime museum «Thalassa». Its expositions allow you to get acquainted with the underwater world of the Mediterranean Sea. The exhibitions include a variety of marine plants, animals and fish. The most interesting exhibit of the museum is considered to be a sunken ship, which was recreated by skilled craftsmen..
Photos