Water parks in Limassol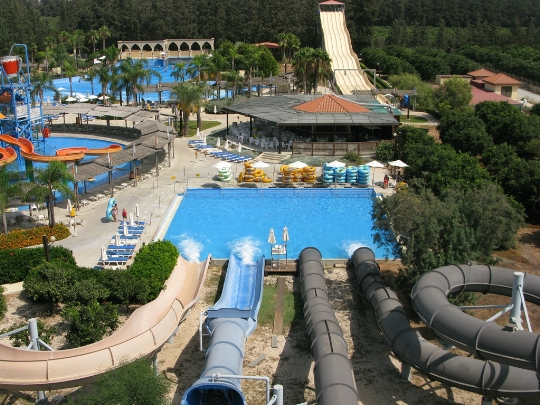 The Cyprus resort of Limassol offers its guests not only to soak up the beaches, but also to have fun and active time in local water parks.
Water parks "Fasouri Watermania"
Its infrastructure includes:
various slides ("Triple tube slide", "Body slides", "Black hole");
pool "Cross over pool" (it is proposed to cross it on inflatable orange slices);
an interactive center for little guests (at their service there are slides, slopes, fountains, a ladle, the streams of water of which fall like a waterfall every couple of minutes);
food establishments (in a bistro "Pirate'sCove" both a set lunch and a snack in the form of hamburgers, sandwiches and salad are available; in the restaurant "Grill and pasta house" you can taste grilled dishes and various types of Italian pasta, and in "Ice Cream and Cocktail Bar" - enjoy ice cream and exotic cocktails);
Nail Express Bar (here women can put their hands in order thanks to the efforts of the manicurists);
Garra Fish Spa (here, in a small pool with garrarufa fish, those who wish are offered a pedicure).
Important: the provision of life jackets, mats, inflatable rings for descending from the slides is free of charge. Parents can be calm about their children in this water park - here, if necessary, rescue instructors can provide them with first aid.
Entrance fee: adult ticket - 29 euros, and children (up to 12 years old) - 16 euros.
Aquapark "Wet'n'Wild"
Water park guests "Wet'n'Wild" can go downhill swiftly "Bullet" or "Daredevil", slide slowly on "lazy" river, rafting on "The grand canyon". Cost of admission: adults - 28 euros, children - 16 euros.
Water activities in Limassol
Are you interested in beach activities? Take a closer look at Ladies Mile Beach (kids' recreation, windsurfing, gull feeding) and Curium Beach (paragliding, kitesurfing).
Are you partial to diving? You will be offered to dive into Akrotiri Fish Reserve (diving depth - 9 m) - while exploring the underwater world, you will meet moray eels, octopuses, perches, inspect the wreckage of an old helicopter and a truck, and possibly feed the fish. Another interesting place for diving is the Big Country caves (9 meters deep) - in addition to large schools of fish, octopuses and moray eels, you will find caves, large boulders and ledges.
If you are interested in exploring sunken ships, then you will be offered to dive under the water to inspect the sunken ships Three Stars Ship (4-7 meters deep) and Pharses II (diving depth - 21 m), M.V. Habe (9m depth), M / Y Diana yachts (you will dive to 21m depth and you can take beautiful pictures of fish and squid).
Photos