Water parks in Paphos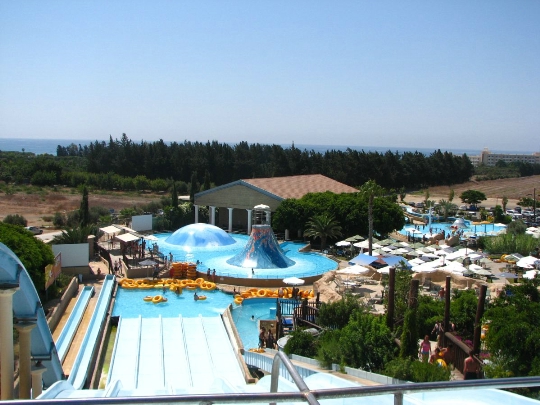 Rest in Paphos involves active pastime, including in the local water park, intended for adults and young visitors (its noisy and cheerful atmosphere can be enjoyed all day long).
Water parks in Paphos
Aquapark "Paphos Aphrodite Waterpark" has:
23 slides (8 for children, 15 for adults, among them there are "Free fall" and "Kamikaze", moreover, it is in this water park that there are slides with "gravity zero", suggesting "hang" for a few seconds, followed by a descent at a speed of 40 km / h);
children's town with a swimming pool, a pirate ship, "Mini Volcano", geyser, fountain, water barrel;
a river that imitates river rapids, a jacuzzi, a wave and a pool, which can be crossed on inflatable rings;
cafes and restaurants.
In addition to the above, on the territory of the water park, you can find parking, rooms for disabled people, showers, toilets and changing rooms, a first aid point, and if necessary, photographers will help you capture the bright moments of your stay in the water park. Important: you cannot bring food and drinks here, with the exception of cakes for festive events, but this must be agreed with the administration in advance..
The cost of an adult ticket is 30 euros (47 euros / 2 days), a child ticket (3-12 years old) - 17 euros (a ticket valid for 2 days - 28 euros, 0-3 years - free); locker rental - 5 euros.
Water activities in Paphos
If you wish, you can stay in hotels with swimming pools and water activities, for example, in "Akteon Holiday Village", "Riu Cypria Resort", "Natura Beach Hotel & Villas", "Elysium".
Don't miss the beaches "Coral bay" (scuba diving, water skiing and banana diving), "Lara bay" (secluded rest + the opportunity to see turtles; here hawk and green turtles lay their eggs) and "Faros Beach" (relaxing on the Blue Flag beach, spending time on volleyball and beach soccer courts).
For those wishing to organize a boat trip on a pleasure boat in the direction of Paphos - Akamas (Coral Bay and Lara Bay, Sea Caves, the island of St. George), and during the stops they will be offered to swim, sunbathe, enjoy soft drinks, play sea games and snorkel.
An alternative to this pastime can be a 1.5-hour boat trip (has a glass bottom) - it will allow you to see sea sponges and various fish without diving under the water.
Diving enthusiasts are advised to go to see the underwater "sights" in the waters of Paphos - octopuses, scorpions, moray eels, fish flutes and other marine life, a Lebanese cargo ship "Vera K" (depth - 11 meters), Greek ship "Achilles" (11 meter depth), fishing boat "White Star" (18 meters deep).
Photos