Beaches in Protaras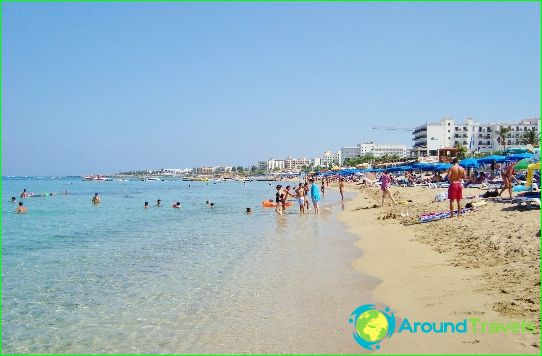 Protaras resort can be called «golden mean», as it is located between the bustling Ayia Napa and the calm Pernera, where families rest. After all, Protaras is not so noisy, but at the same time there are enough restaurants and bars here and there are opportunities for active recreation. Most importantly, the best sandy beaches in Cyprus are located here. The entire coast in the area of ​​the city is cut by numerous bays, where clear water of an amazing turquoise shade splashes.
Many are trying to come to this grace with children. At the same time, few people now know that initially there was a modest resort village on this place. Vacationers from abroad rarely dropped in here. But when, by the will of fate, the tourist center of Famagusta was given to Turkey, enterprising Cypriots had no choice but to start everything from a white sheet in a place suitable for a beach holiday. Because of the clear water and sandy shores, the choice fell on the beaches of Protaras. A massive construction of hotels and villas was launched here, new restaurants and bars were opened one after another. And another reason for choosing such a place is the proximity to the famous Cape Greco. It is only 7 kilometers south of Protaras. But about this wonderful place - a little later, now our topic is the best sandy beaches of Protaras.
Fig Tree Coast
In the old days, a fig grove rustled here with its large silvery leaves. These powerful trees gave the name to the current beach. True, not a single tree can be found here to the very shore, but in everything one can guess almost the best sandy beach on the whole island. Objectively, the very fact that the beach has been awarded the Blue Flag for many years speaks for itself: it is just a great place to relax..
Flamingo beach
The sandy beach with the beautiful name Flamingo is no less remarkable. Here you can rent sun loungers and parasols. But the shower, designed to wash off sea salt and adhering sand, is free here. Pleasure steamers cruise in this water area - a pirate schooner and an excursion boat with a transparent bottom and an aquarium on board. Developed on the beach and water sports, and with them - various water attractions. And it's not just water skis, jet skis or «banana», but also more exotic options, for example, paragliding behind a boat. There is also a massage parlor with a sea view.
Cape Greco
In the usual sense of the word, Cape Greco, of course, cannot be called a full-fledged beach, since it is a rock that extreme divers have chosen. But if people swim near some shore, it can rightfully be called a wild beach. Here you can jump into the water from a height or go down a little stone almost like a labyrinth right to the water's edge.
Photos of Protaras beaches