Holidays in Cyprus in September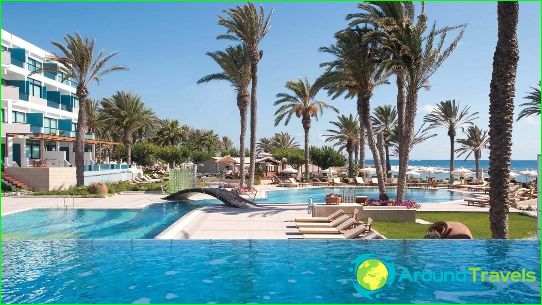 The weather conditions in September are similar to those in August. It rarely rains, and the air still warms up to +30 degrees, and on some days - more. Despite pleasant weather in all regions, slight differences can be noted.
The hottest place is in Nicosia, where the temperature is + 35C. In the southeastern regions it can be cooler by three to five degrees, and in the western regions by five to seven degrees. In the Troodos mountains, the weather is calm, because the temperature is + 20 ... 25 degrees. The sea continues to be warm and continues to delight + 30C. The water will cool until November.
In the second half of September, the velvet season begins, which will end only at the end of October.
Holidays and festivals in Cyprus in September
Cultural leisure can please tourists with its richness. The abundance of holidays and festivals will help make your vacation special.
In early September, a wine festival is held in Limassol. At this event you can taste Cypriot wines and national sweets. If you wish, you can take part in Cypriot dances and song performances.
Near Limassol, Afamiya, the grape harvest festival, is held. At this event you can taste wines and different dishes made from grapes. The palouze dessert deserves special attention.
A culinary festival is held in Ayia Napa for three days, where it is customary to present various Cypriot treats, as well as souvenirs of local artists, artisans.
A festival is held in Nicosia, in which sculptors, painters, graphic designers participate. The venue of the event is Tripoli Park.
In Nicosia in September you can visit the Ice Cream Festival, which attracts both adults and children..
In Nicosia, Paphos, Larnaca, Limassol, the Cypria Festival is held, dedicated to different types of arts. The event is organized by the Ministry of Education and Culture of Cyprus.
Prices for travel to Cyprus in September
Tour prices remain high, so you won't be able to save on your vacation. Despite this, in September you can go to Cyprus - the perfect vacation is guaranteed.
How to relax in Cyprus (part 1)

Photos of holidays in Cyprus