South of Cyprus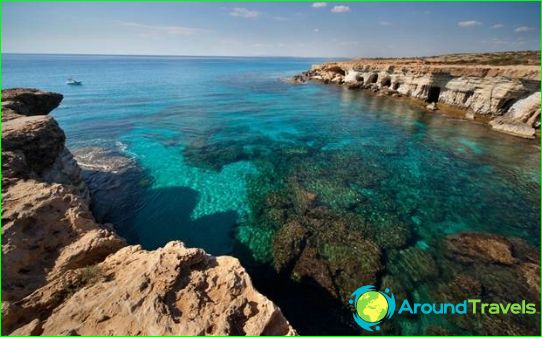 By choosing the south of Cyprus as your holiday destination, you will be able to:
- relax on long sandy beaches (many of them have received Blue Flags);
- engage in vigorous activities (diving, surfing, sailing);
- see Kourion and its Amphitheater, baths, the Byzantine stadium and the temple of Apollo of Hilates.
Resorts of South Cyprus
Limassol
The beaches of Limassol are mostly sandy (volcanic sand with silicon, which has a beneficial effect on metabolic processes in the epidermis), but there are also sandy and pebble beaches. They will delight both active tourists (here you can do aqua aerobics or motorized water sports) and vacationers with children (the beaches have gentle slopes into the water).
Those who go on vacation to Limassol with children should definitely visit the water parks (Fasouri Watermania, Wet'n Wild), zoo and amusement park.
If you like event tourism, you can come to Limassol in September for the Wine Festival, and in the summer for the Theater Festival (a festival of dramatic arts).
Informative tourists should be advised to explore the architectural sights of the outskirts of Limassol - the ruins of Amathus, where the remains of the Acropolis and ancient Christian basilicas have been preserved..
Larnaca
For fans of excursions, Larnaca has prepared the opportunity to see the churches of Agios Antonios and Panaya Angeloktisti (it is worth going inside to admire the fresco with the Mother of God depicted on it, created in the 4th century), the Stavrovouni monastery (located a few kilometers from Larnaca), the Church of Saint Lazarus, the Al Kebir, as well as visit the ancient settlement of Khirokitia.
Lovers of leisurely walks should stroll along the Finikoudes embankment, admiring the seascape, and those wishing to look at pink flamingos should visit the salt lake of Larnaca in November-March.
In addition, Larnaca has ideal conditions for families with children. This is facilitated by the shallow sea and sandy bottom..
Pathos
Paphos is not a very suitable resort for vacationers with children, since there are no animation programs for them and no playgrounds are installed. But Paphos has first-class hotels and restaurants, secluded beaches and cozy bays.
Local beaches are sandy and rocky, so if your goal is to relax on the best sandy beach, look for it in Coral Bay. And one of the beautiful beaches, where the reserve of sea green turtles is located, can be found in Laura Bay.
For those who come to Paphos, an excursion program is provided, involving an examination of the ancient Odeon theater (concerts and performances are still held here), the catacombs of Saint Solomon, royal tombs, the column of the Apostle Paul.
In the south of Cyprus, comfortable hotels, delicious local cuisine, excellent Cypriot wine, a rich excursion program, incendiary discos, affordable prices are waiting for you..
Pictures of the South of Cyprus