Cyprus population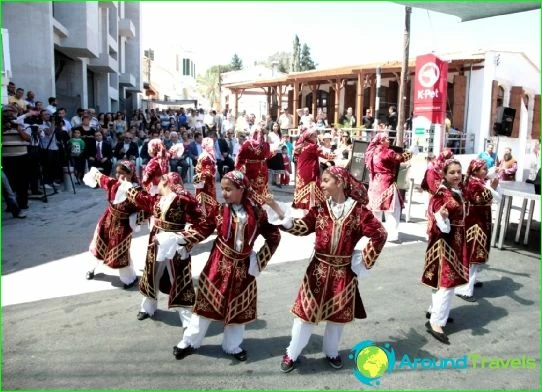 Cyprus has a population of over 1.1 million.
National composition:
Greeks;
other nationalities (Turks, Armenians, Arabs, British).
Greek Cypriots inhabit mainly the southern part of Cyprus, while Turkish Cypriots inhabit the northern part. In addition, migrants from Bulgaria, Romania, Russia, Vietnam, Sri Lanka live in Cyprus..
120 people live per 1 sq. Km, but the highest population density is observed in Leukosia, and the lowest in Paphos..
The official language is Greek, but Turkish, English and Russian are widely spoken in Cyprus..
Major cities: Nicosia, Limassol, Leukosia, Larnaca, Paphos, Famagusta, Lemesos, Amochostos.
Residents of Cyprus profess Orthodoxy, Islam (Sunnism), Protestantism, Catholicism.
Life span
The male population lives on average up to 78 years old, and the female population - up to 81 years..
The high rates are largely due to the fact that Cyprus has created ideal conditions for the health of the body (sea, mountains, a large number of sunny days, fresh and healthy products).
Cyprus has a well-developed healthcare system (many come here not only for SPA procedures, but also for cosmetic surgery, and for IVF procedures) - local clinics employ professionals who use modern equipment, advanced medical and diagnostic techniques in their work..
But in Cyprus, not everything is so cloudless - Cypriots smoke a lot (the percentage of residents who smoke is the highest in the EU): everyone here smokes - both women and men, and 12-14-year-old schoolchildren.
Traditions and customs of the inhabitants of Cyprus
Cypriots are hardworking and cheerful people who love music and dance, without which no festivities are complete..
Cypriots are very friendly and always ready to help - to answer a question or to accompany you to the desired place. Often, tastings are organized in shops for tourists, and they can also be presented with some kind of souvenir..
Cypriots like to celebrate the Kataklismos water festival (May-June) - on this day people compete in sea sports and take part in competitions that are accompanied by dousing with water.
Cypriots love to have fun, which is why festivals are held in high esteem in Cyprus, for example, in July-August, locals participate in the Festival of Ancient Greek Drama, and in September - the Limassol Wine Festival..
Wedding traditions are interesting in that the father, when giving his daughter in marriage, must provide her with a dowry - to provide the young family with a fully furnished house. For the wedding, as a rule, guests do not give gifts - only money in envelopes.
If you come to Cyprus, keep in mind that here you can be fined a tidy sum if you pollute the environment, for example, for garbage thrown out of the car window, you will have to pay 850 euros.
Photos