Prices in Cyprus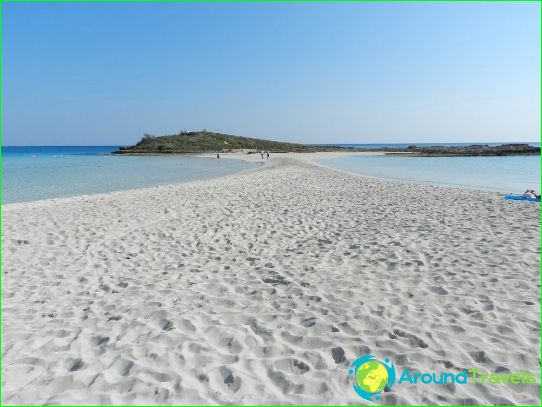 Prices in Cyprus are at the average European level (Italy, Greece), but if you compare them with Turkey or Israel, then the Cypriot prices will seem somewhat high to you..
Shopping and souvenirs
Shopping in Cyprus can very well be a profitable pastime if you come here during the sales season - in April and December. In addition, sales are held here at the end of the summer..
What to bring from Cyprus?
silver and gold jewelry;
clothes, footwear, fur products;
souvenirs (products made of vines, glass, ceramics, wood, lace embroidery);
Cypriot wines.
As a souvenir, you should buy the Cypriot wine Commandaria St. John. In Limassol, you can buy it for 15 euros, and at local village wineries for 5-7 euros..
A trip to Cyprus is a great opportunity to purchase quality fur coats at competitive prices (here you can buy a fur coat for 3000 euros, which costs 5000 euros in Moscow). In addition, many Cypriot shops give their visitors gifts in the form of a mink scarf under one of the fur coats they have purchased..
Tours
During the excursion "The real Cyprus" you will visit the monasteries of Macheras and Saint Thekla. In addition, you will visit the mountain village of Lefkara (famous for its Venetian lace "lefkaritics" and silverware). Here you can buy various souvenirs and get acquainted with the way of life of local residents. And in the village of Skarinu, a visit to which is included in the excursion tour program, you can get local olives and olive oil, as well as natural cosmetics based on it. The approximate cost of the excursion is 75 euros for an adult and 45 euros for a child (the tour is designed for the whole day: the price includes lunch + entrance tickets).
Entertainment
Typically entertainment in Cyprus "eat" a significant part of the vacation budget.
If you decide to go paragliding on vacation, you will pay about 40 euros for a 15-minute flight over the sea, and 30 euros for a 15-minute jet ski ride.
From Protaras you can go on an exciting trip along the coast of Cyprus on a schooner. The cost of a 2-3-hour trip will be 15 euros.
If you are a lover of sea or romantic walks, then you should rent a yacht, which will be managed by a professional captain. For such a yacht trip, you will pay 700 euros per day (such a trip involves staying on board 6-7 people, i.e. the cost will be divided for the whole company).
Children should be taken to the water parks of Paphos, Ayia Napa or Limassol: an adult admission ticket for the whole day costs 30, and for a child - 15 euros.
Transport
You will pay 1 euro for a bus ride around the city for short distances, and 3-6 euros for long distances..
If you have already paid the cost of staying at a hotel in Cyprus, then it is advisable to take funds on vacation with you at the rate of 50-60 euros per day for 1 person.
How to relax in Cyprus (part 1)

Photos