Cyprus sea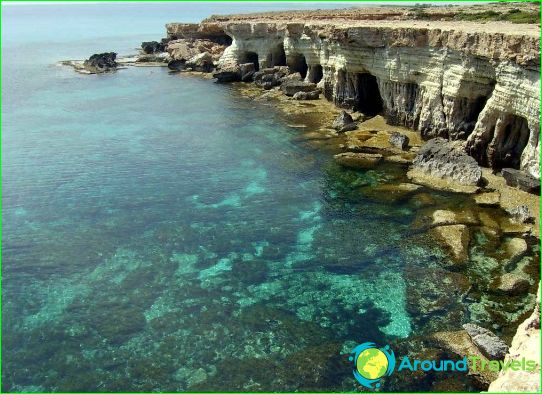 On the political and geographical maps, Cyprus occupies a place in the east of the Mediterranean Sea. It washes the coast of the island along its entire length and is called here the Cyprus Sea. Cyprus is the third largest island in the Mediterranean Sea and one of the most popular resorts among the inhabitants of Europe, and therefore the best answer to the question of which sea is Cyprus is answered by tourists who have been there during their holidays or vacations..
Blue flags of purity
For advanced travelers concept «Blue Flag Certificate» means that you can sunbathe and swim on the beach without worrying about the cleanliness of both sand and water. A special environmental commission assigns the highest scores to such places on the coast, and it is in Cyprus that most of the beaches are awarded with Blue Flags. The best of them vie for the right to be called favorite among hundreds of thousands of tourists who visit the island every year:
Nissi Beach is famous for its perfectly white and clean sand.
Petra tou Romiu is appreciated by fans of small pebbles and clear water.
Makronisos is preferred by those for whom a beach holiday is also a fashionable get-together.
Governor's Beach in Limassol - a place for parties and celebrations.
Aphrodite's beach is famous «anti-aging» the effect of sea water, from which the goddess of love herself emerged.
The beaches on the island are mostly municipal property, and therefore admission is free and free..
The temperature of the water in the Cyprus Sea pleases in the summer season with pleasant warmth. Already at the end of May the water warms up to +22 degrees, by July the thermometer rises to +26 and until the very middle of autumn the waves remain very comfortable for swimming. In the winter months, the sea water in Cyprus becomes noticeably cooler - about +15 degrees.
For gourmets and just lovers
What a sea in Cyprus without its coastal restaurants, which prepare the best seafood dishes! Here you can sample signature meze snacks and treat yourself to a glass of local wine. The Mediterranean Sea gave the name to the whole direction of culinary and the concept «Mediterranean Kitchen» has long been international. It is based on products grown on the seashore under the generous southern sun. The main ones are olive oil, fish and seafood, spicy herbs, fresh vegetables and fruits, aromatic cheeses and specially prepared meats..
It is the Mediterranean Sea that has a significant impact on the climate of Cyprus, thanks to which excellent grapes ripen on the island, from which high quality wines are produced..
How to relax in Cyprus (part 1)

Photos of the coast of Cyprus