Where to go with children in Protaras?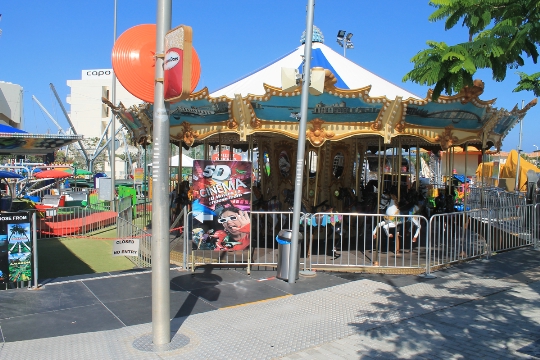 The sunny resort of Protaras invites tourists all year round. It is very popular with European travelers. This place is famous for its beautiful landscapes, affordable hotels and high level of service..
Cognitive rest
The resort in question is considered one of the best places in Cyprus for families with children. For kids, special playgrounds, water parks, play areas have been created and are working here. The most popular place for a walk is the beautiful embankment. You can go there on foot or by bike.
Visiting the beaches at the resort can be combined with rich excursion programs. Tickets for excursions are sold at hotels and tour desks. The choice of tours in Protaras is very large. With children, it is recommended to go to the Oceanic Aquarium, which contains over 1000 inhabitants of the sea. With the whole family, you can visit a fascinating show of dancing fountains. Excellent observation deck of the resort - Church of St. Ilias.
Where to go with children in Protaras to get a lot of new knowledge? To this end, it is better to go to the Historical Museum, which contains collections of rarities. A popular place among vacationers is «wish tree». The picturesque Blue Lagoon is famous for its natural attractions. Near Protaras there is the ancient village of Paralympia, which can be reached by bus. There you can taste the masterpieces of the national cuisine in one of the family restaurants. Also interesting is a trip to the Troodos mountain range and a visit to the Church of Our Lady and the Kykkos Monastery. Tourists from Protaras can travel to other Cypriot cities. In the village of Deryneia, there is a Museum of Folk Art, which has wonderful exhibits.
Interesting sights of the resort
A popular destination is Ayia Napa, where unique properties are located. For travelers, a very interesting object is the ghost town of Famagusta, located in the east of Northern Cyprus. A visit to one of the sea caves located on the coast will be no less exciting. Nature has created rock formations, bays and picturesque arches in the area..
There are many places in Protaras where you can spend time alone with nature, without the crowds and fuss. Cape Greco is a protected natural landmark. You can visit this place freely. It is ideal for water activities: diving, snorkeling, drifting. Tourists are offered bicycles and boats for rent. Here you can go on an excursion along the rocky coast or visit the Turkish part of the water area of ​​the island..
Photos