How much to fly from Paphos to Moscow?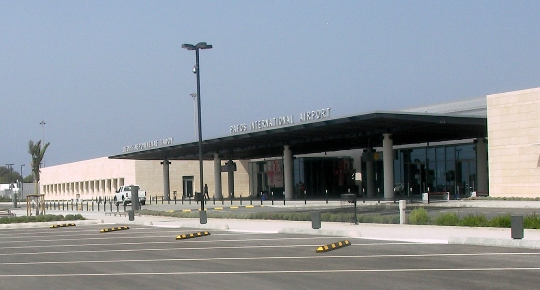 In Paphos, you managed to relax on the Paphos Municipal beach, have fun in the water park "Aphrodite" and nightclub "Paradise place", admire the mosaics in the temple of Dionysus, attend concerts and various performances held in the ancient Odeon theater, see the complex "Royal graves", play golf in the golf center "Elea golf", visit the fishing village of Latchi, the Akamas nature reserve and the catacombs of St. Solomon, as well as taste different types of wine during a guided tour of the winery "KoliosWinery"? Now is the time to return to Moscow?
How much to fly from Paphos to Moscow (direct flight)?
Paphos and Moscow are almost 2,400 km away. This means that the road to the house will take about 4 hours. For example, with "Transaero" you will reach your home in 3.5 hours (disembarkation will be carried out at "Vnukovo"), and with "S7" - 4 hours in advance (landing at "Domodedovo").
If you are interested in buying Paphos-Moscow air tickets, then you should know that in July, April and August they will cost you 15,600-17,100 rubles..
Flight Paphos-Moscow with transfers
Connecting flights involve making stops in Vienna, Berlin, London, Athens, Helsinki and other cities (such flights last at least 10 hours).
For example, a flight to the Russian capital via Vienna and Sofia ("Bulgaria Air") will take 10.5 hours (waiting - 4 hours), via Vienna ("Niki") - 25 hours (while waiting for the docking you will spend 18.5 hours), via Athens ("Aegean Airlines") - 22 hours (waiting for docking - 17 hours), via Helsinki ("Finnair") –29 hours (you will wait 22.5 hours to wait for a transfer to 2 planes).
Choosing an airline
You can fly from Paphos to Moscow by Boeing 767-300, Sukhoi Super Jet SU 100-95, Airbus A 330, Boeing 747-700 Mixed Configuration, Embraer 190 and other airliners owned by the following air carriers: "Transaero"; "Easy jet"; "KLM"; "Wizz air"; "Smart wings".
The Paphos-Moscow flight is serviced by Paphos Airport (PFO), 6 km away from the city center (buses No. 613 and 612 go here). While waiting for their departure home, travelers can settle in the VIP-lounge, have a snack in one of the cafes, stroll through duty-free shops, and, if necessary, visit the first-aid post and the bank branch. As for travelers with children, there is a mother and child room for them..
Things to do on the plane?
During the flight, it is worth deciding how not to deprive the attention of numerous friends and acquaintances, and decide which of them will get the souvenirs purchased in Paphos in the form of olive oil and soap, Cypriot wines "St. Panteleimon" and "Commandaria", pottery masterpieces, halloumi cheese, bags and wallets made of leather, products with embroidery lefkaritik, wicker baskets, silver products.
Photos