Water parks in Prague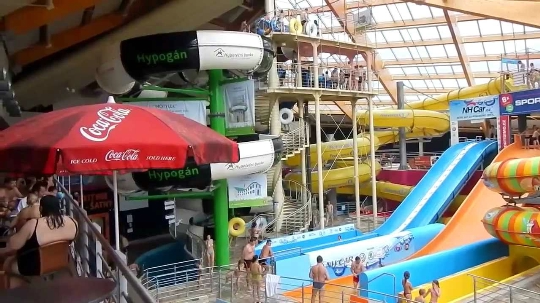 Do you like splashing in the water and having fun? At your service - Prague water parks.
Water parks in Prague
Aquapark "Aquapalace Praha" has:
Water world (there are water slides, water attraction "spacebowl", hydro-pipes);
Relax zone (at your service - 19-meter swimming pool and hot tubs);
Sea area (children will be delighted with the pirate ship, slides and artificial sea - at certain hours "included" waves);
Underwater zone (you can explore the underwater world with starfish, fish and night shark in one of the two aquariums);
Diving tunnel (those who wish will be able to dive to 1.5, 4 and 8 meters depth);
The world of saunas (at guests' service - Roman baths, Finnish saunas, a Russian bath; it is worth considering that it is forbidden to visit the baths in swimsuits, but at the entrance you can get a sheet).
If you wish, you can order beer, snacks (sandwiches, salads), soft drinks in the bar or look into the dining room (Czech cuisine) on the 2nd floor.
As for the cost of staying in the water park, in the Aquatic World 1 hour of stay costs for adults 210 CZK (whole day - 705 CZK), and for children 145 CZK (whole day - 465 CZK). Baths are charged separately: an hour-long visit for adults is charged at the price of 285 CZK (whole day - 800 CZK), and for children - 230 CZK (all day - 540 CZK). It should be noted that children who are less than 100 cm tall do not need to pay for their stay in the water park..
There is another water park in Prague that you should visit - this "Aquadream Barrandov": it has an indoor pool (there is a 115-meter slide, an attraction "Wild river" with an artificial stream, a children's pool with slides and a mini-waterfall), a wellness center (here guests will find a sauna, a fitness room, a jacuzzi with a hydro massage, a solarium, a massage room) and an open summer area (it has grounds where you can participate in tournaments bowling and volleyball, as well as swimming pools for adults and children). Cost of stay: adult ticket costs 100 CZK / 1 hour, child ticket (3-15 years old) - 70 CZK / 1 hour.
Water activities in Prague
Travelers who love water activities should be advised to visit the summer swimming complex "Stirka" (entry fee - 130 CZK / adult and 80 CZK / child) - it is equipped with an outdoor and children's pool with a slide and a water fountain. If you wish, here you can lie on a sun lounger, play darts, volleyball, croquet, have a snack in the snack bar or on the restaurant's terrace, resort to the services of a massage therapist.
You can also look into the pool "Klanovice" (an adult entrance ticket costs 100 CZK / full day, and a child ticket costs 50 CZK) - here you can not only swim, but also play table tennis, volleyball, petanque, jump on trampolines designed for children and adults.
Photos