Karlovy Vary in the New Year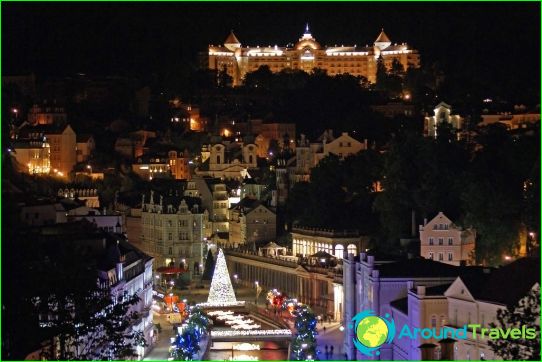 The main Czech spa, Karlovy Vary is famous for its mineral springs, professional approach to the treatment and prevention of many ailments and unique infrastructure. Tens of thousands of people visit the city every year and many of them prefer to spend their winter holidays here. Beautiful in any season, Karlovy Vary seems especially attractive on New Years. «The fault» to this there is a light frost, and beautiful landscapes, and the warm care of the hotel staff, and the opportunity to combine a pleasant stay with useful opportunities.
Sylvester and his companions
The New Year's holiday in the Czech Republic is called Sylvester, after the name of the saint, with whose day it coincides. It is customary to give gifts to Sylvester, decorate the Christmas tree with delicious pieces of confectionery art and visit each other. Children hang out socks for Mikulas outside the window, into which he always puts gifts. This Czech Santa Claus does not take his granddaughter Snezhinka on his hikes, but he himself is not averse to sitting with kind people at the festive table..
Karlovy Vary seems especially beautiful on New Year's Eve. The city sparkles with amazing garlands, gold foil, candles and lamps. Every hotel, shop or restaurant tries to surprise its visitors and guests with pleasant prices, new dishes on the menu, nice presents and bonuses.
Dozens of New Year's souvenir shops are opening in the city, fairs and Christmas tree markets are noisy until late. For those who like to shop around, sales are arranged, and fans of Czech beer will enjoy tasting new and favorite sorts..
Photos of New Years celebration in Karlovy Vary