Best restaurants in Karlovy Vary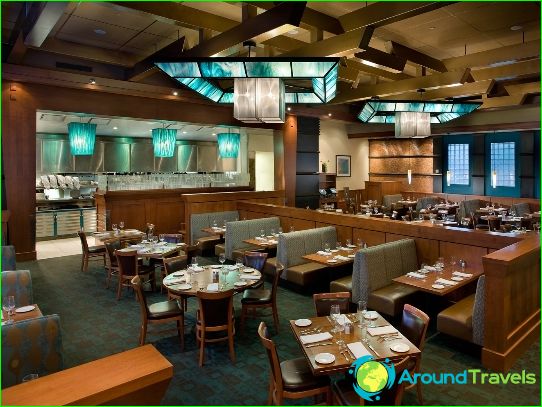 Not far from Prague there is a fairytale city, a resort city, quite small in size, but surprising with a multitude of offers. It is clear that first of all tourists come to heal their health with the help of mineral springs. But the best restaurants in Karlovy Vary are ready to offer another healing drink that promotes recovery - the famous «Becherovka».
There are not many free-standing restaurants in the city; most of these establishments are located in hotels and inns. Therefore, the life of holidaymakers is divided into two parts: in the daytime they are trying with all their might to improve their health, and by the evening they are again ready to visit another fashionable institution..
On the promenade
Walking along the streets and the main avenue of Karlovy Vary is perhaps the main entertainment for tourists. Perhaps that is why the Promenada restaurant has appeared here, inviting you on a delicious journey. The menu includes not only Czech, but also French and Italian cuisine. There is also a zest - wines from Moravia, famous for their unique aroma.
Was Stirlitz?
Another very cozy Karlovy Vary restaurant is Elefant. Sly waiters came up with a legend that it was in this cafe that the shooting of the most mysterious and most famous meeting of Stirlitz with his wife took place. Gullible tourists simply cannot ignore such a fact, and therefore there are always a lot of people here..
The restaurant's hall is decorated in a very interesting style, the cuisine is excellent, as the locals, who are regular customers of the institution, are well aware of..
Beer dilemma
Make a choice in favor of mineral water, or still try to find a balance between a healing drink and Czech beer? Many doctors find it very useful (in small doses and for certain diseases). Therefore, tourists prefer barley, a delicious drink, they can often be found in the Chodovar restaurant..
This cozy establishment is proud of its own brewery, albeit a small one. This means that you can listen to an amazing story about the origin and development of brewing in the Czech Republic and take part in tasting various varieties of the freshest beer.
All about Czech waffles
The thinnest, crispy confectionery product with a variety of fillings has become a kind of symbol of the Czech Republic. Karlovy Vary has its own varieties and flavors of waffles. A huge assortment of such products can be seen and, of course, tasted in a restaurant «Colonnade».
Photos