Taxi in Karlovy Vary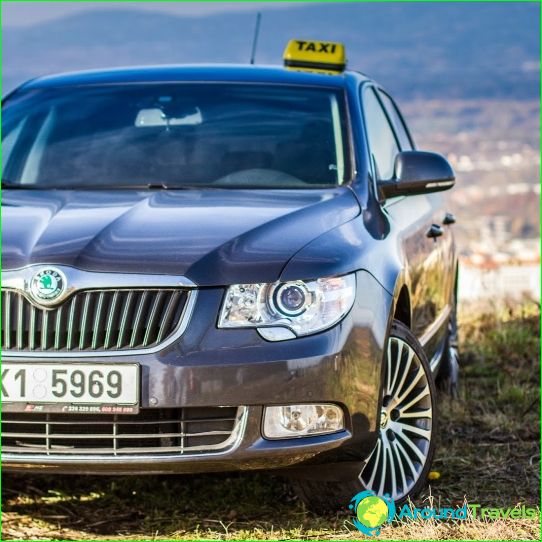 Taxis in Karlovy Vary are represented by cars equipped with meters (at the end of the trip, passengers receive a receipt from the driver). In addition, you will see the inscription on them "Taxi", registration numbers, carrier company name, price list with prices.
Taxi services in Karlovy Vary
To stop a taxi on the street, you just need to stretch your hand forward. And if you wish, for a free car, you can go to specialized parking lots (they are located near popular tourist places and next to shopping centers).
To leave a request for a car, you should call the well-known taxi companies:
Georgia Taxi Karlovy Vary (in addition to a large fleet of cars that can be called within 10 minutes, this company has minibuses and luxury limousines at its disposal): 14 014, 353 223 020, 606 605 605.
Karlsbad Travel (the taxi fleet of this company is dominated by "Mercedes", and local drivers speak English, German and Russian): + 420 602 160 560.
A Centrum Taxi: + 420 353 223 236, + 420 353 223 000. This service provides taxi services (drivers have basic knowledge of Russian and English) not only in Karlovy Vary, but also delivers passengers to other Czech cities and even outside the Czech Republic ... In addition, this company is engaged in cargo transportation, helping its customers to transport, for example, furniture or electronics.
Taxi Willy: + 420 353 221 040.
Advice: it is better to call a taxi yourself, because by using the services of employees of hotels or restaurants, you will pay much more for the trip, since they receive a commission from taxi services for attracting customers.
Taxi cost in Karlovy Vary
Anyone who is interested in how much a taxi costs in Karlovy Vary will be able to get an answer to this question after reading the below information on tariffs:
boarding costs passengers 30-40 kroons, and 1 km of travel - 17-25 kroons;
1 minute of waiting is paid by passengers in the amount of 5-6 CZK.
You can get from the airport to the center of Karlovy Vary by taxi for about 500 CZK.
Before setting off, you should make sure that the driver not only turned on, but also reset the counter after a trip made by other passengers before you (despite the fact that there is a counter in the cars, it is advisable to find out about the fare in advance, and so that the driver does not try deceive you, tell him that you intend to receive a receipt at the end of the journey).
If your goal is to get in the shortest possible time to any place within the city and beyond, you should definitely use the services of a Karlovy Vary taxi (you do not have to follow the public transport schedule).
Photos of taxi in Karlovy Vary