Where to eat in Karlovy Vary?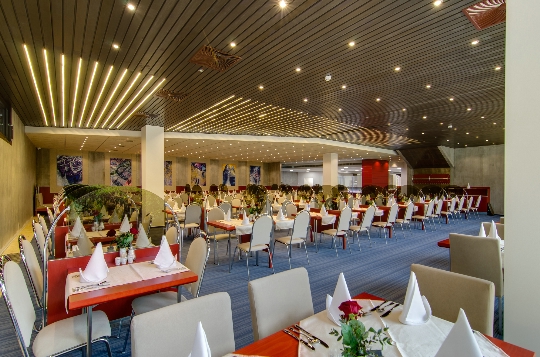 Wondering where to eat in Karlovy Vary? You will not experience problems with food here: you will find many restaurants in the old part of the city, inexpensive bars on Masaryk and Varshavska streets. In traditional establishments you can taste dumplings, smoked pork knee, baked duck with cabbage.
Where to eat in Karlovy Vary inexpensively?
In search of affordable food prices, you should visit a restaurant "Aura" - here you will be offered to taste Russian cuisine (borsch with sour cream, dumplings).
You can find reasonable prices in the Egerlander Hof: the local menu includes dishes from meat, fish, game (it is worth trying the baked duck with dumplings, "devilish mix" - spicy meat platter), as well as a variety of drinks (grog, beer, becherovka and others). You can eat inexpensively at fast food restaurants such as McDonalds and other similar establishments (average bill - 3.5-4.5 euros). You should look for them in Republic Square..
Where to eat in Karlovy Vary delicious?

Chodovar: This restaurant serves Czech cuisine and fresh beer. Since there is a brewery on the territory of the restaurant, it is worth coming here every day at 14:00 for an excursion (duration - 45 minutes) and beer tasting.
Grand Restaurant Pupp: this luxurious restaurant with an exquisite interior (amazing chandeliers, stucco ceilings, huge mirrors) invites its guests to enjoy dishes based on turkey, chicken, veal, beef, salmon, which are served here with original sauces.
"Colonnade": in no case should those with a sweet tooth pass by this cafe - delicious waffles with vanilla, lemon, chocolate and other fillings are baked here.
Embassy: in this restaurant you will be offered Czech cuisine - spicy goulash, classic roast pork.
Charleston: This restaurant is great for fun parties, business meetings, family dinners. In this place you can taste dishes of English and Czech cuisine, prepared according to original recipes. In addition, here you can taste both Pilsen and strong unfiltered beer..

Gastronomic excursions in Karlovy Vary
For lovers of gastronomic tourism, the guides will offer a stroll through local establishments serving Czech cuisine. You will definitely visit Le Marche - 6 days a week, guests are treated to a 2-course lunch and a 3-course dinner (the menu does not repeat). And for culinary delights based on meat, fish, vegetables, wine, beer, champagne are served here. As for desserts, in this place you can enjoy original fruit and chocolate desserts with excellent coffee..
You can come to Karlovy Vary not only for the sake of treatment, but also for the sake of delicious national food..
Photos