Holidays in the Czech Republic in July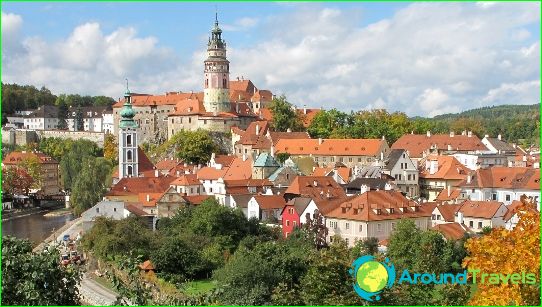 This state has already gained fame as a leader in the tourism market among the countries of Central Europe. There are many factors contributing to the annual increase in the flow of visitors to the Czech Republic. There are gorgeous plain or mountain landscapes and a large number of preserved monuments of architecture, culture, as well as wonderful sanatoriums based on healing water from local mineral springs..
Holidays in the Czech Republic in July, on the one hand, will delight you with a long daylight hours and the possibility of endless excursions, walks along cozy streets. On the other hand, Prague and other cities on these summer days are overflowing with crowds of thirsty impressions, and therefore it may be difficult to check into a hotel or try to get into your favorite beer restaurant..
July weather
Midsummer in the Czech Republic will undoubtedly bring many good sunny minutes to the traveler in this beautiful country. Even clouds falling from time to time, shedding heavenly tears, cannot spoil this holiday of meeting the beautiful. On the contrary, moisture refreshes dusty streets, disperses curious tourists, giving the bravest an opportunity to walk on wet cobblestones and admire the washed old houses and monuments..
The temperature in July is ambiguous, the thermometer itself travels from +23 ºC to +28 ºC. The number of sunny and rainy days is about the same, but this does not bother tourists at all, as many museums, art galleries, cafes and restaurants are ready to shelter wet travelers.
Tasty Czech Republic
In addition to all other beauties, another attraction of the country is the traditional cuisine. Soup, which is prepared directly in bread, famous dumplings with 1000 recipes and the same number of sauces for them. And, of course, Czech beer, without which no tourist feast is complete, be it a modest breakfast or a sumptuous dinner in a restaurant..
Day of Slavic Writing
This is one of the most important Czech holidays, which is celebrated at the state level and at the same time included in the church calendar - this is the day of Saints Methodius and Cyril. Magnificent divine services are held in all churches of the Czech Republic, inviting local residents and guests of the country to join the celebrations.
Bethlehem Chapel
One very small chapel, located in a cozy corner of Prague and symbolically not belonging to any of the existing Churches in the world, on July 6 cannot accommodate everyone. On this day, people of different confessions come here to participate in the solemn mass together and remember with a kind word «Master of Liberal Sciences» Jan Husa.
Photos of rest in the Czech Republic