Water parks in Brno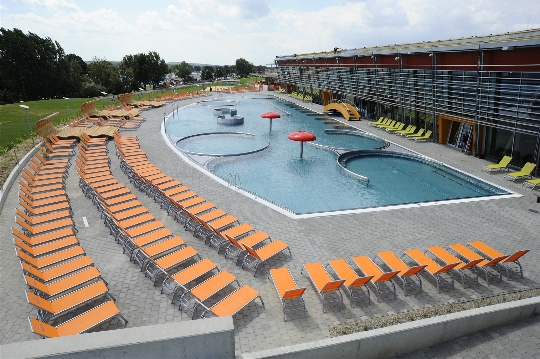 Guests of Brno can not only delight themselves with the inspection and visit of ancient castles - they should definitely include the local water park in the recreation program..
Aquapark in Brno
Aquapark "Aqualand Moravia" equipped with:
12 swimming pools (indoor and outdoor);
20 water slides (total length of slopes - almost 2 km) - "Kamikaze", "Blue trio", "Wild river", "Sky drive", "Yellow crash", "Magic hole", "Niagara", "Abyss", "Boomerango";
wellness center with 4 jacuzzis, 9 types of saunas (infrared, Finnish, tepidarium, Roman bath, bio-sauna), cryochamber (procedures are carried out here at a temperature of -110-140˚C); and also here they carry out medical procedures using geothermal water, the temperature of which reaches + 46˚C (treatment of renal and musculoskeletal diseases);
children's playground;
cafes and bars.
Entrance fee (all day) - 390 CZK / adults (discounts for children).
Vacationers in Brno can delight themselves with a trip to a small water park "Aquapark Kohoutovice", disposed "wild river", a slide 90 m long, a sauna, a jacuzzi, a recreational swimming pool with 6 lanes, a massage room, a children's corner, a sun terrace, a gym, catering points (tickets for a 1.5 hour visit - 100 CZK / adults, 50 CZK / 6-14 year olds, 80 CZK / seniors aged 65+).
Another water park located not far from the city may deserve the attention of travelers - "Vyskov": it provides visitors with a swirling slide-pipe, playgrounds, 4 swimming pools (with hydromassage, outdoor, large, children's "paddling pool"), in which the water is maintained at a level of + 28-34˚ C, "aquatic mushroom", sauna, jacuzzi, cafe. Entrance fee (120 minutes) - 110 CZK / adults, 90 CZK / children under 16, 25 CZK / children up to 6 years. And a visit to the Finnish sauna for adults will cost 115 CZK / 90 minutes.
Water activities in Brno
Is your goal to pamper yourself with swimming in the pool every day? It makes sense for you to pay attention to hotels with a swimming pool - on "Hotel Rakovec", "Maximus Resort" or "Parkhotel Brno".
If you are interested in spending time on the water, then you should know that since Brno is located near the confluence of the Svratka and Svitava rivers, you can go boating or have a picnic on the banks of one of these rivers..
If you wish, you can visit the Moravian Karst - a system of karst caves (1,100 caves, but only 4 are open for visiting) with grottoes, underground lakes and rivers, along which tourists ride a boat (walks along the dry part and "wet road" organized as part of excursion groups). On average, a boat trip costs CZK 170 for adults and CZK 80 for children..
Photos