Copenhagen prices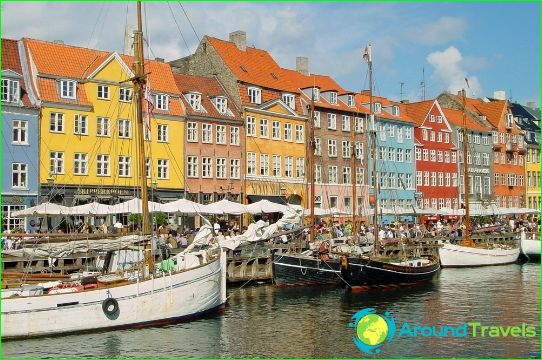 Copenhagen is one of the best cities in the world in terms of living standards. It is second only to Zurich and Helsinki. Copenhagen prices are high. Hotel and transportation services are expensive. The tourist is recommended to stay in the area of ​​the city where he plans to spend more time. This will minimize costs. Denmark uses its own currency - the Danish krone. But payment for goods and services is accepted not only in Danish kroner, but also in euros..
Accommodation in Copenhagen
Renting a hotel room is a very expensive undertaking. Accommodation is expensive at any time of the year. In the summer, when the tourist flow increases, prices skyrocket..
If funds permit, you can rent any accommodation in Copenhagen: from a luxurious room in a prestigious hotel to a place in a youth hostel. Dormitories built under the state program Danhostels are considered budgetary institutions. Dorms can get crowded during the summer months. Therefore, you should book a place in advance. A room for 1 night in an inexpensive hostel can be rented for 15-30 euros per person. You will find more comfortable conditions in the room for 150-200 euros per day. 5 * hotels provide rooms from 1000 euros.
Excursions and entertainment
By purchasing a special Copenhagen Card, you can visit museums, parks and other interesting sites in the city. Among them - Rosenborg and Amalienborg castles, Tivoli park, zoo, etc. This card also acts as a ticket for all types of urban and suburban transport, including river trams and trains. Some Copenhagen restaurants offer a 20% discount to the holder of this card. Its cost is 31 euros for a day and 62 euros for 72 hours..
A sightseeing tour of Copenhagen includes visiting such famous sights as the Little Mermaid, the Round Tower, the Nyhavn area, etc. Each participant of the excursion program pays 100 euros for 1 hour. A private tour with a visit to the most famous castles costs 750 euros. A guided walking group tour of the city will cost at least 120 euros. The duration of the program is 2 hours. Private walking tour costs 200 euros.
Dining in Copenhagen
Most cafes and restaurants in the city offer Danish cuisine. The people of the country focus on seafood, natural food and organic fruits and vegetables. A traditional Danish lunch always includes sandwiches made from rye flour with different fillings. Danish delicacies - meatballs, Danish bacon, mushroom and bacon pate, white sausage. Olsen cafes are popular in Denmark. The average cost of a lunch for 1 visitor is 15 euros.
Photos