Where to go with children in Hurghada?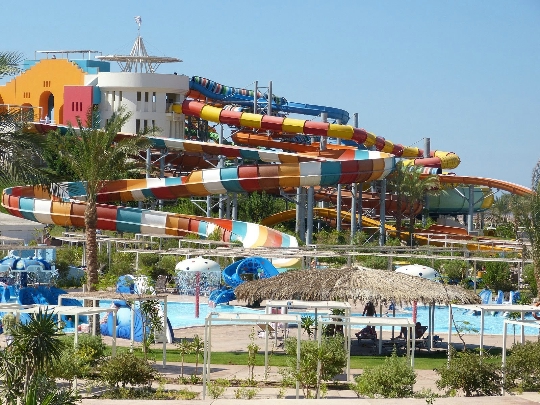 Hurghada is a resort town that attracts tourists from all over the world. Its main advantage is beautiful beaches with golden sand..
Fun for the whole family
Hurghada has wonderful entertainment centers with attractions for children. In the center of the city, the embankment is the best place to relax. There are slides, trampolines. Draws and competitions for children are held right on the street. While the child is having fun, parents can relax in a cafe. Another center of children's street entertainment is located on Sheraton Street. There are merry-go-rounds, trampolines, cars, a Ferris wheel. The whole family can go to the Sindbad water park. The entrance costs $ 30. For this money, it is allowed to have fun there all day.
If you love shopping, visit Senzo Hypermarket. For children there is a playground with trampolines, game machines, cars, tram and labyrinth. There is a cinema in this center.
In the old part of the city, there is an aqua center, where representatives of the marine world are kept in aquariums. With a school-age child, you can go to the open-air cinema, which is located in El Gouna. Watching movies is free. Attractions for children are installed on the beach town in the Arabia region. A popular holiday destination is the Titanic water park, on the territory of which there are many different attractions for people of different ages. This is the largest water park in the resort, inviting children and adults.
Cognitive rest
Many parents are thinking about where to go with their children in Hurghada to broaden their horizons. For educational leisure, it is better to take advantage of the classic excursions around the city and the surrounding area. Travel agencies offer trips to Luxor, the Valley of the Pharaohs and other places. Tourists inspect the pyramids, visit the papyrus workshop, the monastery of St. Catherine, Mount St. Moses and other objects. If you prefer to relax by the sea, then take a trip to the coral islands. Those interested can hire a diving master to teach them the art of diving.
At the tour desk, you can purchase a tour to go to the monasteries of Saints Anthony and Paul, to the Coptic church, Elshazi mosque or to the ruins of an ancient settlement in the desert. Desert ATV safari is considered one of the most extreme entertainment..
To get acquainted with the history of Egypt, it is recommended to visit the Museum of Egyptian Antiquities. It is located in Hurghada, in the palace «Thousand and One Nights». This institution contains antique art objects, miniatures of temples and pyramids..
Photos